Award-winning supportive housing experience earns passionate team another opportunity to engage the community to uncover best design solution.
National award recognizes LEO A DALY'S dual-purpose lighting design
Hennepin County Medical Examiner facility receives IES Illumination Award of Merit for dual-purpose lighting design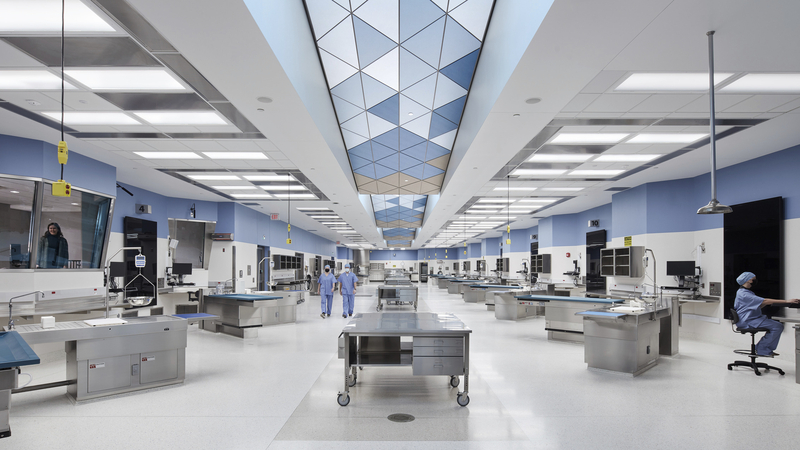 The Illuminating Engineering Society (IES) adds LEO A DALY to its list of recognized lighting designers for the 50th Annual Illumination Awards. Receiving the Illumination Award of Merit for the complex considerations in the dual-purpose lighting design of the Hennepin County Medical Examiner facility is a celebrated achievement for the design team.
"Clarity of color, visual fatigue and mental wellness were at the top of our planning list," explained Senior Designer, Greg Lecker. "The lighting carefully considers the privacy and technical needs of forensic death investigation as well as the wellness of the professionals completing this important work."
While lab space often feels cold or sterile, the laboratories at the Hennepin County Medical Examiner's Office are flooded with reflected ambient light. The unique detailing of centered skylights distributes diffused reflected light throughout the autopsy area improving clarity and lessening visual fatigue. The lab's south-facing roof monitors allow for daylight to enter the space while preventing direct views into the space from the exterior.
Natural light also streams in through large sidelights in the office wing. The lighting for this portion of the building offers respite from the high-stress laboratory activities. Large windows and automatic daylighting controls optimize the views of the surrounding forests, prairies, and wetlands. Vertical illumination, accent, and display lighting draw attention to the natural materials throughout the space creating a calm, welcoming environment that encourages restoration.
"IES recognizes projects that demonstrate ingenuity, originality and professionalism," chimed Trevor Hollins, Practice Lead, Lighting and Electrical. "Our integrated design team is honored knowing our work contributes to the important efforts and well-being of these dedicated workers."
Energy efficiency is also included in the award-winning design demonstrating results 30% better than International Energy Conservation Code (IECC) 2018. A building-wide lighting control system reduces energy use through occupant sensing, daylighting and dimming control strategies tailored to the building's unique spaces. In the autopsy laboratory, custom lighting control stations housing both lighting and HVAC control functionality were created to withstand rigorous cleaning to ensure a clean space free from contaminants and pathogens.