University of Maryland's Thurgood Thomas Hall earns Global Architecture & Design Award.
20 Massachusetts Ave. NW Awarded "Best Renovation" by NAIOP DC | MD Chapter
The recently completed

LEO A DALY Washington, D.C. studio-led

project was awarded for the successful conversion of a government office building into a

Class A office and sophisticated hotel mixed-use destination.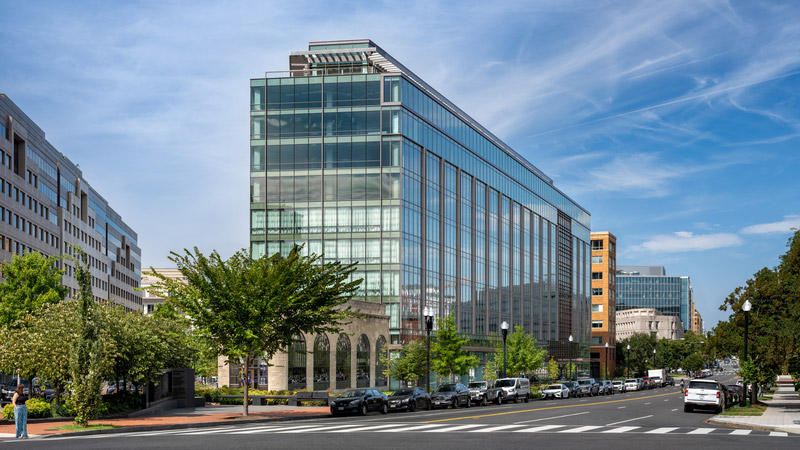 © Photo Credit Ron Blunt Photography
The mixed-use repositioning of 20 Massachusetts Ave NW, guided by innovative design from concept to delivery, received recognition at the 2023 NAIOP DC | MD Awards of Excellence. The building won "Best Renovation" for its merits in design and construction creativity, revitalizing a D.C. neighborhood blocks from both Union Station and the Capitol Building, through adaptive reuse. A team of DPR Construction, The RMR Group and LEO A DALY accepted the honor at the awards gala on October 11th at The Waldorf Astoria Hotel in Washington, D.C.  
Janki Bhatia, AIA, Senior Project Architect for 20 Massachusetts Ave. NW accepted the award with the team and states, "In an era where carbon footprints are of utmost concern, the careful, even painstaking, reuse of existing buildings is important work. Thanks to the resilience and dedication of the entire team, we are very proud of how this project transforms an outdated building into a destination filled with character, connectivity, and sustainability."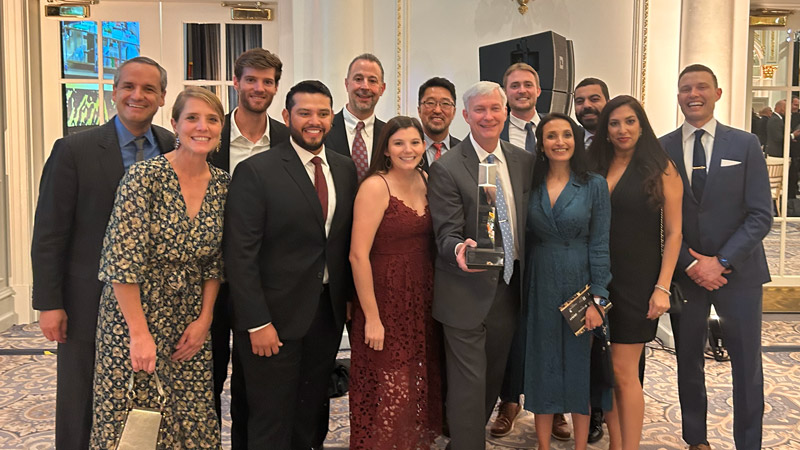 20 Massachusetts Ave NW revitalizes a 1970's seven-story government office building into a ten-story mixed-use development, delineated into horizontal interconnected layers of retail, four-star hotel and Class A office uses. The renovation completely guts the interior and exterior while retaining the entire structure, adding three additional floors, and extending the footprint of the building to increase the building's total size to 485,000 SF. Originally opaque and dominating, a new glass curtainwall facade was installed, and two atria were cut into the existing structure to bring in more natural light for seamless indoor-outdoor connectivity.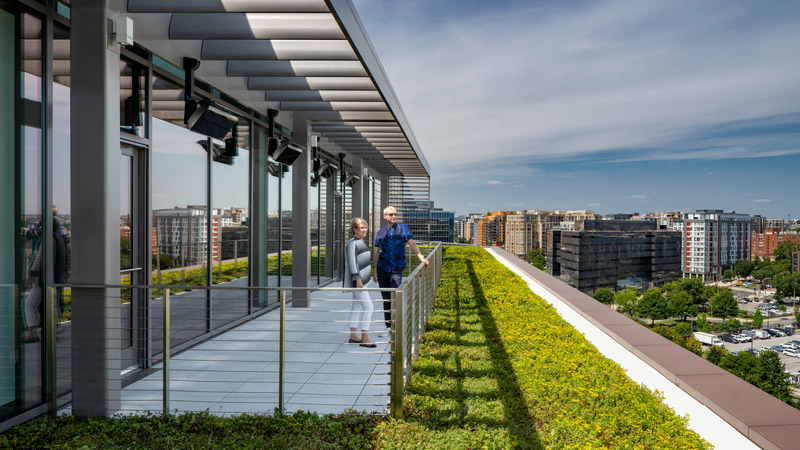 © Photo Credit Ron Blunt Photography
Andrew Graham, AIA, NCARB, Senior Associate and Senior Architect chimed, "We're all very appreciative of the award and the team's recognition. It was through our collective, creative visioning during the pandemic era that we've made something amazing out of very little. By strategically removing and adding floors we've delivered unique and amazing spaces throughout the building. The light-filled, 10-story atrium is simply spectacular to experience." 
A LEED Gold and Well-Certified project, the high-performance building was designed with extensive modeling of the envelope, maximizing energy efficiency in the lighting and HVAC systems. Interior window shading, low-e glazing, textured terracotta panels and matte/opaque finishes are deployed strategically to combat unwanted solar effects and ensure occupant comfort. High-performance glazing contributed to more than a 20% reduction in estimated energy consumption and low-flow filters will reduce water consumption by 40%. The Royal Sonesta hotel utilizes prefabricated, identical SurePods in the guest room modules in an effort to minimize waste. A 14,500-SF open-air amenities penthouse with views of the Capitol features a green roof with drought-resistant plants to passively capture stormwater. LEO A DALY provided master planning, architecture, and interior design services for the project.