Award-winning supportive housing experience earns passionate team another opportunity to engage the community to uncover best design solution.
LEO A DALY completes integrated facility for VA mental health services
This paradigm-shifting clinic will be the first to combine every mental health service the VA offers into one full-service resource for veterans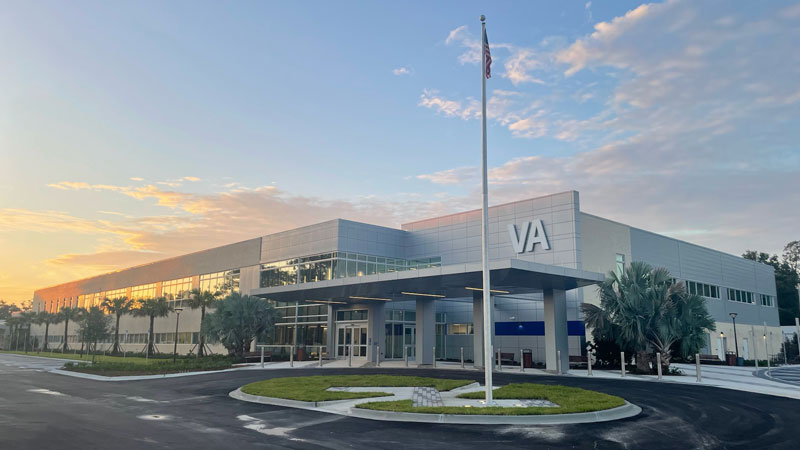 Photo Courtesy of Cullinan Properties.
LEO A DALY announces the completion of the new,
state-of-the-art mental health clinic for veterans
in Temple Terrace, Florida. The $
100 million facility broke ground in 2022
and will begin welcoming patients in January 2024 for VA mental health services. LEO A DALY provided full design services including medical planning, architectural, Green Globes design, interior design, structural
engineering
and MEP services for the project. Cullinan Properties is the developer, with Hoar Construction providing general contractor services. Prosser Inc. is the civil engineer and Lincoln Harris is the property manager.
The 150,000-SF one-of-a-kind facility replaces three local outmoded and undersized mental health clinics and integrates mental health care services including homeless veterans care, PTSD treatment, suicide prevention services, substance abuse treatment and an inpatient treatment program. The two-story VA mental health services facility sits on 20 acres of land and includes a clinic with 265 consult rooms, 60 in-patient beds, 800 parking stalls, an activities courtyard, a full-service kitchen, dining room and social activities room with access to computer education to help veterans engage back into society.
With enhanced outpatient and inpatient mental health services under one roof, the functional layout of the clinic aids to create a warm, therapeutic environment to treat veterans with multiple levels of trauma.
Kuo-yi (Ken) Shen, AIA, Associate, Architect and Digital Practice Manager for LEO A DALY says that balancing the needs of both staff and patients was paramount to designing such a complex mental health clinic, stating, "It was important that our design for safety bring a sense of calmness to instill trust between veterans and caregivers- all while upholding sensitivity to patient dignity and privacy. We are honored our work contributes to providing an important resource for our nation's service men and women."
The design considers the unique experiences of veterans and translates them into an environment tailored to their needs. The dimensions, orientation and interiors of every space are designed with trauma-informed principles in mind, reinforcing a sense of personal choice, safety and space. Calming elements like ample natural daylight, access to nature views and pathways to outdoor gardens and walking paths help the facility feel less clinical and more home-like.
Stephanie Webster, Senior Vice President, Director of Development for Cullinan Properties added, "The LEO A DALY team has been an instrumental project team member providing extensive experience and knowledge of VA design. They developed a straightforward solution to enhance the VA's ability to facilitate patient recovery. We continue to look to find ways to work together in the future."
The project achieved a two-globe score through the Green Building Initiative's Green Globes New Construction program, one more than the one-Globe required by the VA. This designation emphasizes the project's commitment to the environmental sustainability, health and wellness of its occupants.