Women's History Month: Anindita Mukherjee thanks her mentors
Anindita, healthcare planning director in our Atlanta studio, has had many mentors. She is grateful to her family, a professor and colleagues for helping her learn to become strong and resilient.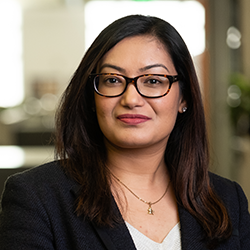 Q:   Discuss some of the challenges you have experienced as a woman in your field, and how you have overcome them.
A:   I have been fortunate to partner with some very talented women professionals throughout my career. However, I will say that we still don't see enough experienced women professionals in the AEC world for a balanced representation in our industry.
As a woman of color with Indian roots, who is also petite, I do notice that there is an initial scrutiny or curiosity to ascertain my capability and personality. I just have to be myself and over time, any hesitation and apprehension is alleviated.
Q:   Who has been an important mentor for you and how did they impact your career?
A:   I have had several great mentors. My dad for teaching me to not let gender discrimination curb my dreams, my mom and sister who taught me to be resilient and adapt to life's challenges. My professor at Clemson, David Allison, who taught me to stand up for myself. My professional mentor, Leslie Saunders, for teaching me to not to be afraid of failure and to learn from it and my colleague and friend, Patty Smoak, who taught me to manage work-life balance as a new mom.
Q:   Who do you look up to and why?
A:   My mom for her calmness and quiet resiliency. She was a stay-at-home mom all her life, supporting us in everything. Then about a decade ago my dad passed away suddenly. My mom stayed strong and adapted to being an independent woman living by herself. She is now an independent financial investor.  She has taught me that responsibility and independence are two sides of the same coin.
Q:   What book is on your nightstand?
A:   The Alchemist by Paulo Coelho.
Q:   Is there anyone specific who would be a dream to collaborate with?
A:    Yes, often times we work with clinicians to design patient and family spaces. It would be interesting to have former patients and families collaborate with us on a project to get their unique perspectives.
Q:   What words of advice do you have for passionate young women early in their career?
A:   You need to discover and know what you want and have your priorities set. If you don't know, others won't know. Everyone who supports you will guide you, but you need to lead because it's your decision and you should own it.