Resilient design proved critical to Hurricane Ian relief efforts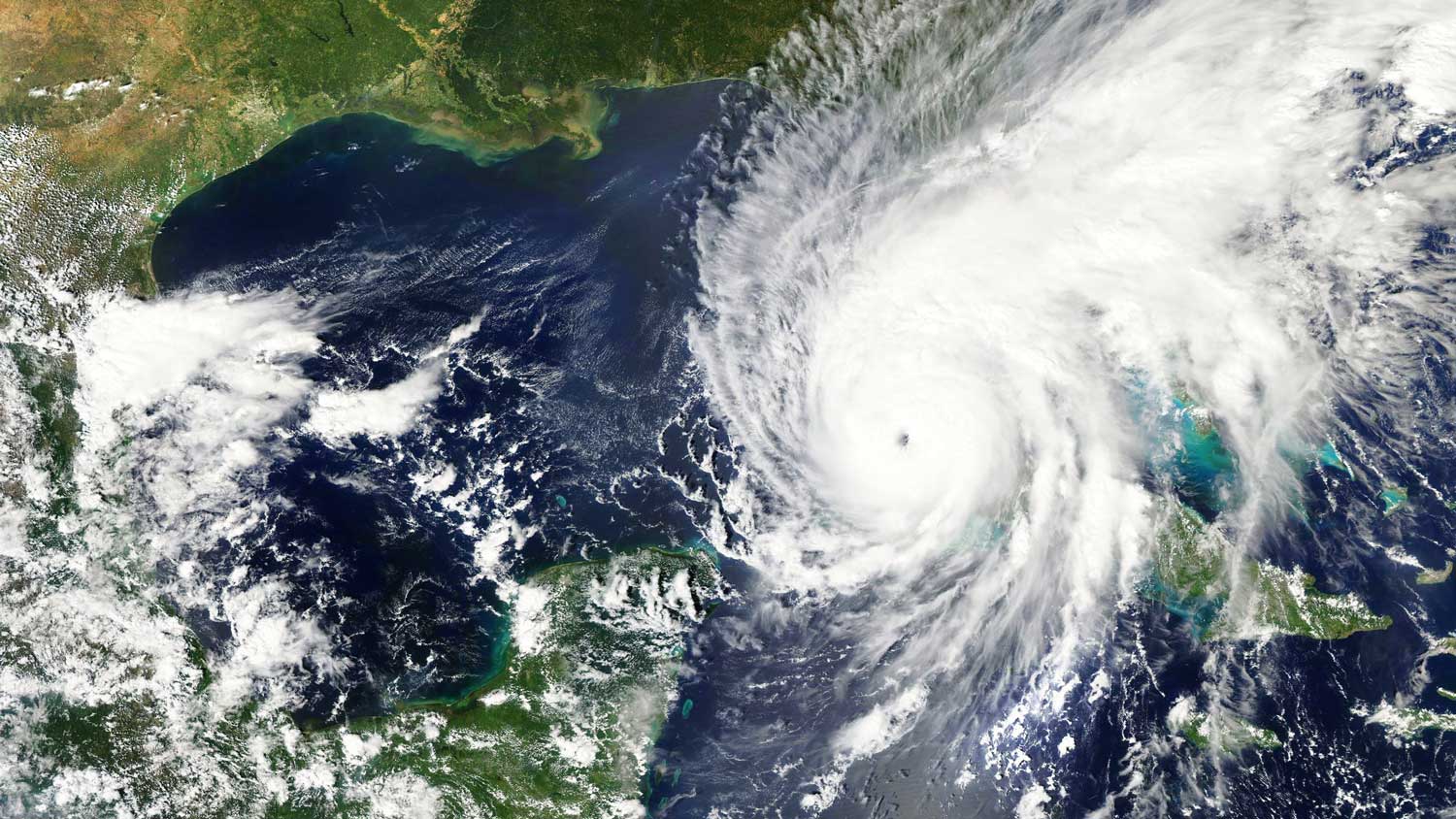 Earlier this year, when Hurricane Ian ripped through Florida, a 450,000-SF food distribution center turned into a bastion of safety. With a hardened envelope, reinforced mechanical systems, blast-resistant openings, and full backup power, resilient design did more than maintain operations at the Cheney Bros. refrigerated food-distribution center.
While wind surges dragged houses down the street in nearby Fort Meyers and gusts of 170 miles per hour mangled planes and hangars at the airport, the refrigerated warehouse offered respite to local emergency response teams as a home base for relief efforts. Emergency responders set up their headquarters on site, and hundreds of EMS personnel lived and operated out of the warehouse properties for weeks. Cheney Bros. supplies food to communities throughout the region, and while maintaining operations, its warehouse doubled as a shelter for staff displaced by the storm.
"Adjacent buildings were completely destroyed," said Cheney Bros. Director of Development Warren Newell. "A company next to us that rents heavy equipment — wiped out. Many businesses, large and small, were destroyed."
Newell credits LEO A DALY's design with enabling both the company and emergency crews in the area to mobilize and deliver goods and services to the community.
"Even if you are not servicing restaurants in the immediate aftermath, you're servicing hotels, retirement communities, detention facilities, and other places where people need to be fed," Newell said. "Events like these can be catastrophic to our industry and business. If you lose the building envelope or refrigeration, you're shut down. LEO A DALY designed the building to stay 100 percent operational in the face of a major storm, and that's exactly what it did."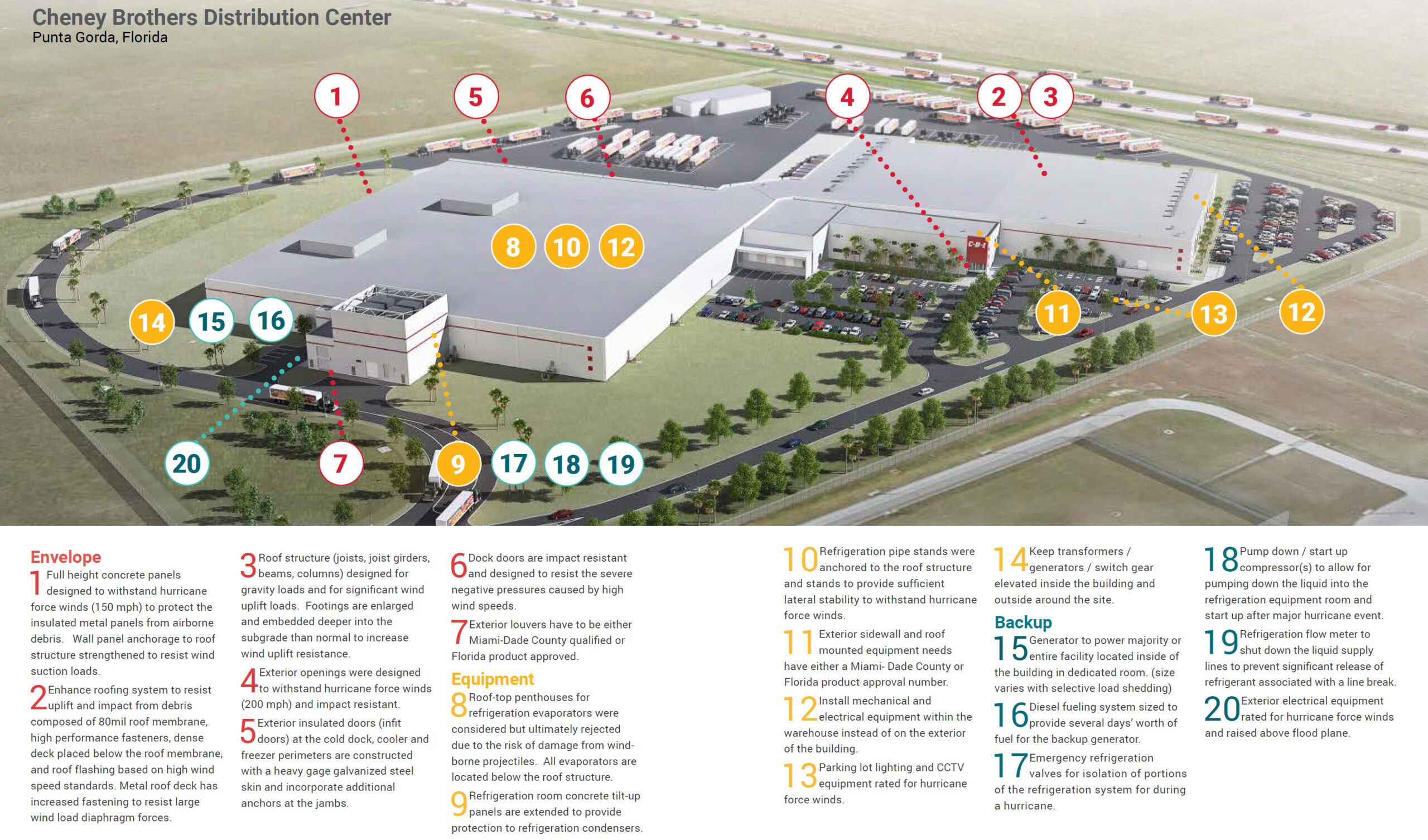 Resilience against super storms
In 2012, as LEO A DALY was kicking off design for the Cheney Bros. facility, 2004's Hurricane Charley was a distant memory for some — but not for the design team. Charley was one of the deadliest hurricanes in U.S. history, and it was top of mind during design. They were determined to create the most resilient refrigerated warehouse in the nation.
"We built in more tonnage of steel and a roof system way beyond any normal design," said Michael Schmidt, AIA, NCARB, LEO A DALY's Food, Distribution & Manufacturing Market Sector Leader in West Palm Beach. "Our goal is to eliminate weak spots in the envelope. Once a storm breaks the envelope of the building, that's when you have really catastrophic damage. If an opening is compromised, it would rip the roof off."
The tilt-up concrete panels that compose the exterior skin are 11 inches thick, compared to 8 inches required by code. Condensers on the roof are encased in steel and cross-braced to remain structurally resistant to hurricane winds. The integrity of the building envelope, which includes walls, roof membranes, windows and doors, was critical because of the extreme physical forces at play in a major wind event.
"The building is located exactly where Hurricane Charley struck," Schmidt said. "Ian tracked almost the exact same path. The storm came in from the Gulf, passed over Boca Grande and Cayo Costa, and then into Punta Gorda. Both times, the eye went over the edge of this property."
A final consideration was power, which is critical for the safe storage of refrigerated goods. The generator system is 100 percent, meaning it can take the entire electrical load of the building with enough fuel supply for many days.
Put through its paces
Since the facility's 2015 construction, it has been expanded once. Another, similar facility is currently under construction. Both projects used the resilient design elements prototyped by LEO A DALY in the Punta Gorda facility.
"That [Punta Gorda] project made the mold," Newell, from Cheney Bros., said. "It became the prototype for our facilities layout and infrastructure design going forward."
The facility behaved exactly as designed throughout the hurricane, and Cheney Bros. was able to make good on its commitment to the community, its customers and the region – something Schmidt said was a design driver from the start.
Being a Florida-based company with nearly 100 years of family ownership, Cheney Bros. is accustomed to severe weather. And as climate change continues to increase the frequency and severity of storms, resilience will remain a watchword.
"You can't avoid it. You need to expect it," Newell said. When you expect it, you take into account those hardening effects. You take into account health, safety and welfare."