A Letter to Entry-Level Engineers
Advice for today's young engineers on their way to becoming tomorrow's engineering leaders
By Ryan Curtis, PE, EDAC, LEED AP BD+C
Senior Structural Engineer and Project Manager

They don't teach you everything you need to know, in school.
That is the message behind Ryan's latest article for Modern Steel Construction, the magazine of the American Institute of Steel Construction.
Read the full article for sage advice about thriving in the AEC industry while cultivating your talent and leadership potential with support from strong mentors.
Learn to:
Work smarter
Engage your colleagues
Not be overwhelmed
Embrace learning opportunities
Expand outside your comfort zone
Contribute to your community
Understand the AEC business
Navigate post-Covid work environments
Implement communication technology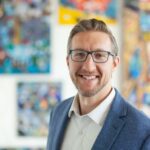 About the author
Ryan is an award-winning structural designer and project manager. In addition to designing celebrated work such as the Omaha VA Ambulatory Care Center, Ryan stays active in the industry locally and nationally. In 2019, he was appointed to the Architectural Industry Advisory Committee (AEIAC) at the University of Nebraska. His thought leadership has been featured in Modern Steel Construction and Structure Magazine. He is a frequent presenter to both engineering students and working design professionals.