Bringing pro sports to Las Vegas
The rebirth of Las Vegas as a sports destination shows how designers, city planners and visionary clients can unite to transform a city
by Arnie Martinez, AIA, Director of Architecture
LEO A DALY has been a dedicated design partner for our clients in Las Vegas for more than 50 years, helping shape the city as a gaming mecca through projects such as Vdara, the Cromwell and South Point.
Now, the arrival of NHL and NFL franchises is helping to reposition the city as a pro sports destination. LEO A DALY is once again at the forefront, partnering with our clients to envision athletic facilities that maximize fan engagement while creating a more livable Las Vegas for local communities.
But what does it take to create a vibrant fan culture from scratch? And how can cities like Las Vegas leverage the design of new sports facilities to spur development and placemaking? Read on to find out.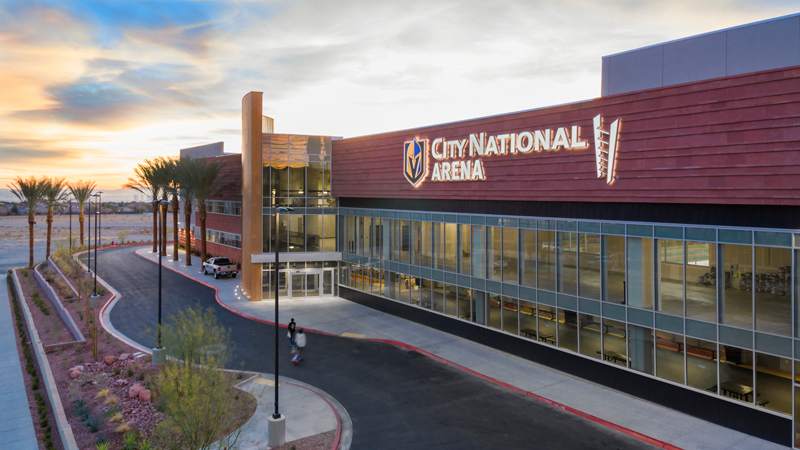 City National Arena
Launching a new NHL team in the middle of the Mojave Desert was a gamble, but thanks to the visionary leadership of Vegas Golden Knights team owner Bill Foley, it's one that paid off. His stroke of genius: build an organic fan culture from scratch by making the Las Vegas community a part of the team's Cinderella story.
It starts with City National Arena, the Golden Knights' training facility and team headquarters. LEO A DALY's design for the arena is all about fan energy and giving fans up-close access to the team. Six hundred seats line the team's rink, where practices are free and open to the public. A restaurant and bar overlook the ice, creating the perfect collision of sports and entertainment. Practices are filled with a game-like energy, which players and coaches say has helped motivate players and build public interest in the team.
LEO A DALY worked closely with Murray Craven, a 17-year NHL veteran and Golden Knights VP, to combine the best elements of professional practice facilities throughout the world. Players-only spaces meet the athletes' every conditioning and nutritional need while offering teammates an attractive social environment to connect during downtime.
A professional kitchen allows the team's private chef to serve meals that meet the personalized nutrition goals of each player. A state-of-the-art gym and sports-medicine facility keeps them in peak physical form. A small theater allows the team to review practice and game footage together in order to improve their teamwork. And a player's lounge offers multiple flat-screen TVs with gaming systems and tournament-ready ping-pong tables where they can unwind.
Craven's vision was to create "a home away from home," telling the Las Vegas Sun, "Maybe you stay that extra 10 minutes in the gym waiting for your lunch to be prepared, and that can make a difference."
In their inaugural season, the Vegas Golden Knights dazzled the world by reaching the Stanley Cup Finals. They set records for straight wins, most points by an expansion team, and were the first NHL team ever to sweep their first playoff series. According to reporters for the Sun and ESPN, City National Arena was a big part of their success.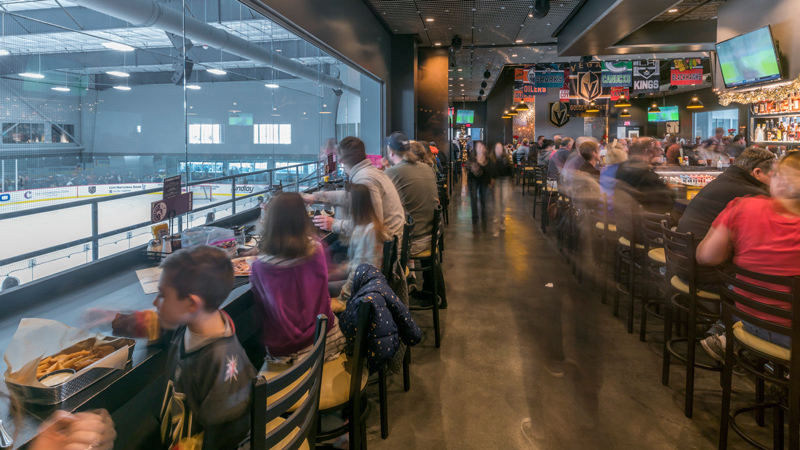 Vegas Golden Knights at Henderson
Part of Foley's vision for sustained Golden Knights success is to encourage the growth of youth hockey throughout the Las Vegas area. As he told local news outlet KNTV, "The more kids we have playing hockey that are 5, 6, 7, 8, 9. Their parents are going to want to take them to our hockey games."
City National Arena started the ball rolling by including a community ice sheet where local and college teams can practice. The next step: partner with local communities to create Golden-Knights-branded community ice rinks throughout the region.
LEO A DALY is currently designing the first such facility in the Las Vegas suburb of Henderson, and it's set to open in 2020. Like City National Arena, Vegas Golden Knights at Henderson includes two NHL-sized rinks, retail space and a restaurant overlooking the ice. The facility will build on the region's growing enthusiasm for hockey, hosting youth and adult hockey leagues and figure skating programs, free hockey play and open skate events, tournaments and camps for hockey and figure skating. It will also host watch parties for Golden Knights games, as well as player and executive appearances.
"This project will be a game-changer for downtown Henderson," Henderson City Manager Richard Derrick told KTNV "The entertainment venue we envision building in partnership with the Vegas Golden Knights will invigorate activity on the Henderson Events Plaza and attract people from all over the region to dine, shop and play in the Water Street District."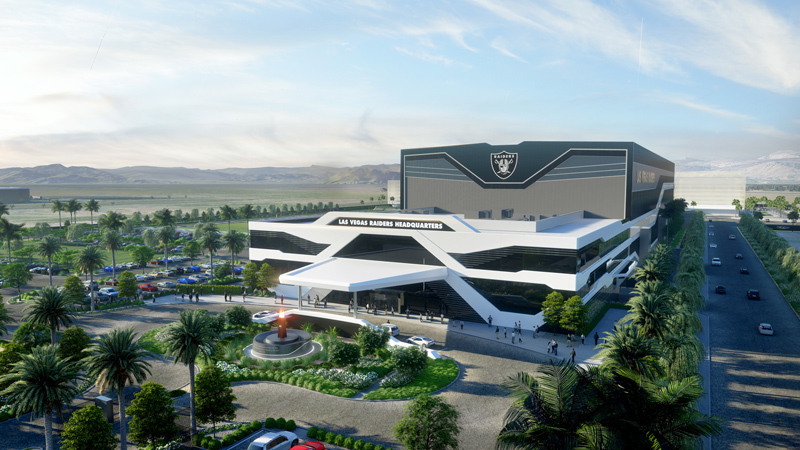 Las Vegas Raiders headquarters and practice facility
Another major project in Henderson is set to add to the community-focused energy that pro sports are bringing to Las Vegas. LEO A DALY, in partnership with MANICA Architecture, is designing the new training facility and headquarters for the NFL's Raiders, who are set to relocate from Oakland, California, to Las Vegas in 2020.
Located about 11 miles from the under-construction Allegiant Stadium in Paradise, Nevada, the new 336,227 square-foot facility will be built on 30 acres, with an additional 25 acres planned for future development.
In addition to team offices and a performance center, the design offers one and a half indoor fields to help players escape the blistering summer heat. The field house features an AV system that can adjust lighting and inject crowd noise to emulate game day experiences at other stadiums. The 110′ roof is high enough to allow footballs to be punted without hitting the ceiling. An outdoor training area features three regulation football fields, an outdoor pool, a grassy hill for agility training and a sand pit for resistance training.
Like City National Arena, the Raiders facility brings fans into the action. A café will be open to the public, and glass partitions will allow fans to view field house practices and other events. The facility promises to be the best in the NFL, and will serve a major role in the development and growth of Henderson. The city anticipates 250 permanent jobs will be created to run team operations and it's expected that many Raiders' players will move close to the new facility.
Repositioning a city
The image of Las Vegas as a gaming town is outdated. Las Vegas today is a thriving community with the size and vibrancy to support two pro sports teams. It's up to us as designers to infuse those projects with the kind of fan energy and sense of place that brings people together and enhances the livability of the region. Projects like these are examples of community-centered design at its best. LEO A DALY is proud to contribute to making Las Vegas a vibrant, dynamic place to live, work and play.