Award-winning supportive housing experience earns passionate team another opportunity to engage the community to uncover best design solution.
LEO A DALY receives two design excellence awards from AIA Minneapolis
The Anoka-Ramsey Community College of Business and Nursing and the Historic Fort Snelling Revitalization Museum & Visitors Center are chosen for 2023 AIA Minneapolis Merit Awards for Excellence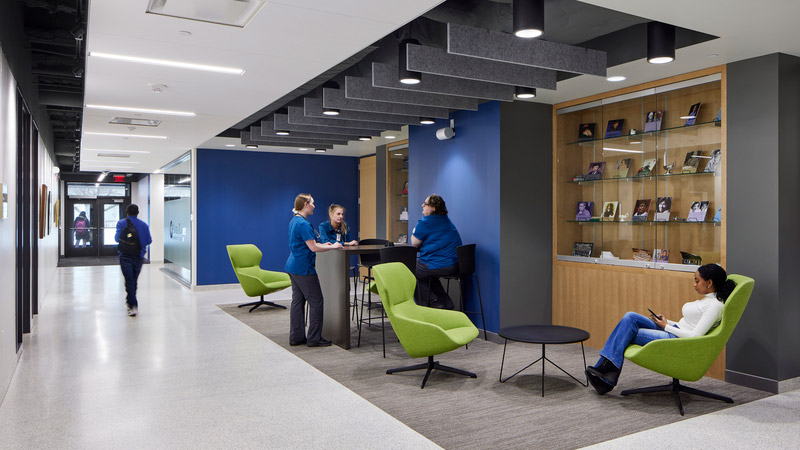 The
2023 AIA Minneapolis Chapter Merit Awards for Excellence
recognizes projects by
AIA Minneapolis
architects that tell the story of excellence beyond design, give importance to public interest design and embrace the varied forces that shape a building. Using a myriad of criteria, projects were chosen by a diverse jury consisting of architects, business professionals, real estate developers, community advocates, and academic leaders.
"Winning these two awards is a testament to our firm's commitment to designing occupant-driven spaces that make a community impact beyond their boundaries and that are responsive to the diversity of values within our communities." said Cindy McCleary, LEO A DALY Minneapolis Managing Principal. LEO A DALY is the only firm to have received AIA Minneapolis Merit Awards for Excellence for projects each of the last four years.
Anoka-Ramsey Community College (ARCC) School of Business and Nursing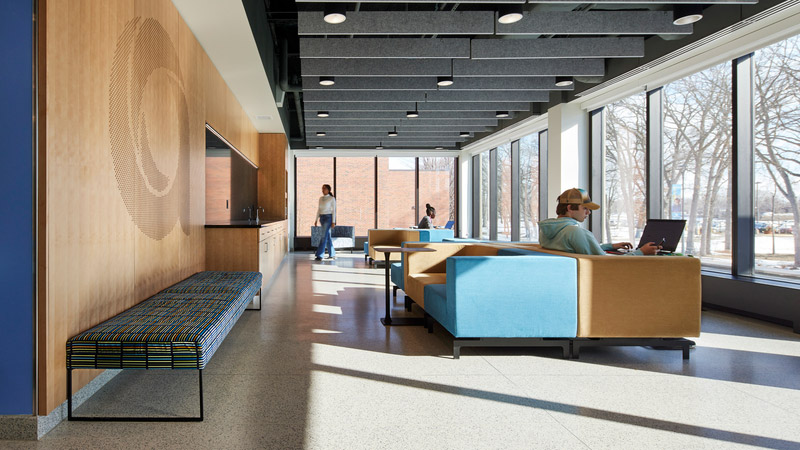 Minnesota state colleges and universities experienced massive growth in the 1960's leaving a legacy of campus buildings that are no longer optimal for modern teaching methods. The
Anoka-Ramsey Community College
School of Business and Nursing
renovation is a prototype
for the sustainable transformation of these outdated mid-century academic structures, transforming them into
modern environments for hands-on learning, teaching and connection
, while being judicious of economic and environmental resources.
The multi-discipline classroom building serves as the primary home for the largest program on campus, nursing, as well as the business program and general-purpose classrooms. The design process, influenced by the COVID pandemic, emphasizes the importance of providing modern, effective training for the future generations of nurses. This focus prioritizes the creation of high-quality patient simulation labs and eliminating obstacles to enhance effective teaching. With input from students and faculty, the design caters to a diverse range of activities while supporting students during the rigorous coursework of nursing education.
"Early in the project, the design team saw immense opportunity to create a student space for future program growth, while carving out opportunities to support the well-being of the students," said Adam Luckhardt, Senior Architect for LEO A DALY. "Recognizing that nursing education is extremely demanding, it was important to incorporate numerous areas where students can focus, relax and socialize."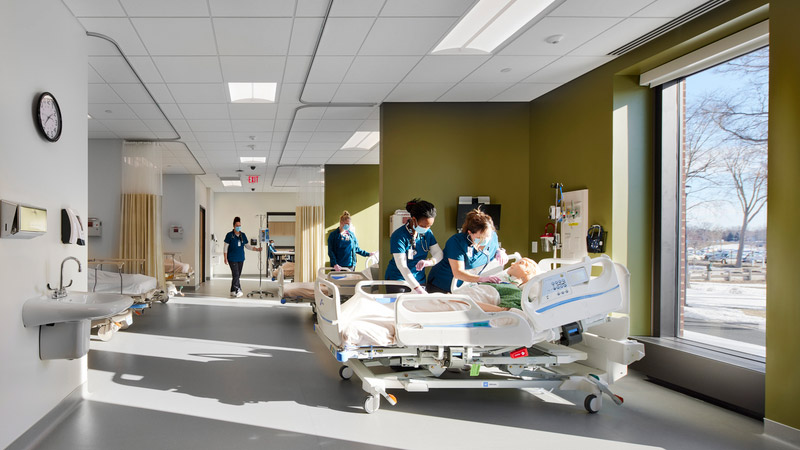 The interior renovation includes modernizing classrooms which combined patient simulation beds with debrief areas to encourage connectivity through hands on learning. Robust social spaces and more windows for improved daylight harvesting are included in many spaces inside the building. On the exterior, a new gateway plaza provides a much-needed outdoor terrace, while activating a formerly dormant campus corridor that is the primary entry point to the rest of the campus.
Fulfilling sustainable and economic priorities, the project preserves the original concrete and steel, which results in a 60% reduction in embodied carbon emissions through reuse of existing structure. The building envelope, infrastructure, façade, existing mechanical system, windows and degraded masonry are upgraded, bringing the building closer to modern standards. Notably, the project was completed on time and recycled more than 90% of all project construction waste, exceeding the 70% minimum requirement mandated for state-funded higher-education projects.
"While buildings like this could be demolished, we believe these structures have value and can be reimagined," said Daniel Yudchitz, AIA, NCARB, LEED AP, Director of Design for LEO A DALY. "This renovation illustrates that buildings no longer optimal can be transformed into high-performance facilities that support modern learning, enhance student experience and are economical to construct."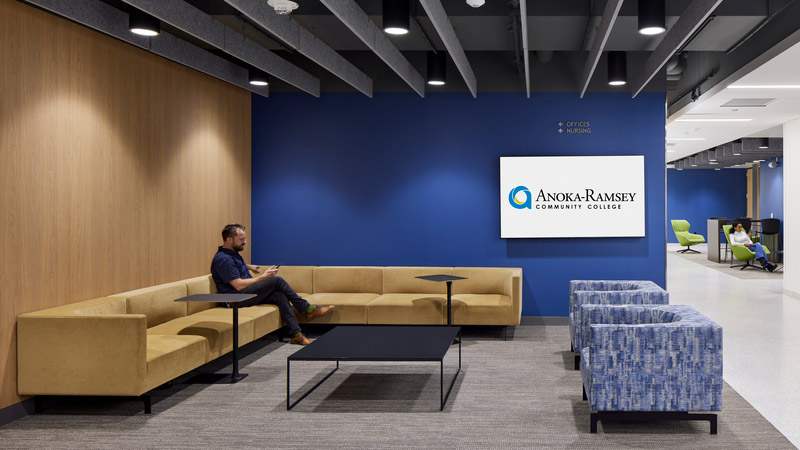 Historic Fort Snelling Revitalization – Plank Museum & Visitor Center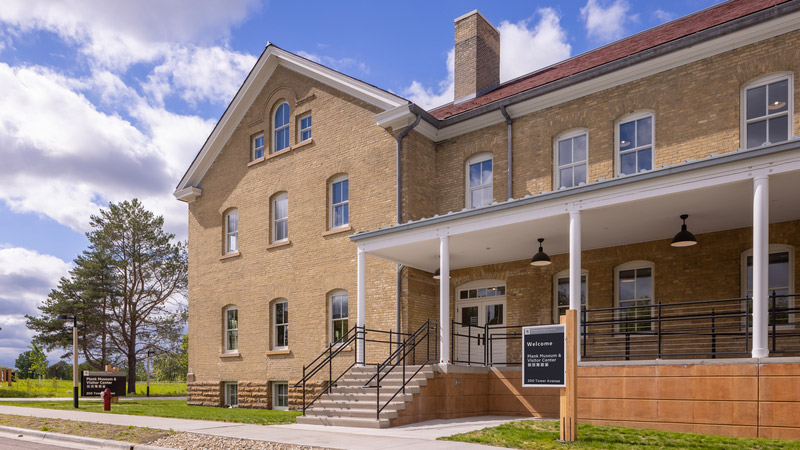 The former underground visitor center at Fort Snelling had experienced structural concerns and water infiltration that rendered the building unsafe and complicated usability. After years of study, it was demolished and an entirely new experience came to life. In its place, the Historic Fort Snelling Revitalization Museum & Visitors Center project reimagined this National Historic Landmark campus and transformed the place into a major destination that integrated
the site, diverse histories, cultures and experiences
and revitalized aged structure within the greater Fort Snelling Historic district. The
Minnesota Historical Society's
rehabilitation of the former military barracks building and surrounding property embraced a vision to improve the building's inclusion in its natural, physical environment, while providing a backdrop for the telling of the site's complex history of both pride and shame, making its stories accessible and relatable to all who visit.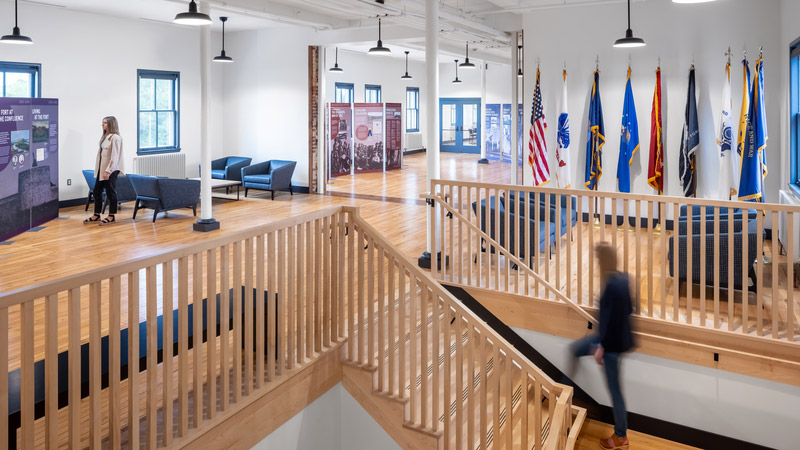 A cornerstone of the project was a complete 22-acre rethinking, which included restored landscapes, restored viewsheds to the river and both downtowns and set a broad vision as an interpretive and history telling site, including places for gathering, education on historic treaties and a place for remembrance. A prairie restoration was critical to the project and relied on input from the Dakota Community Council, representing the voices of the many native communities that know this site as the homeland and beginning of their people, as well as a place of great pain.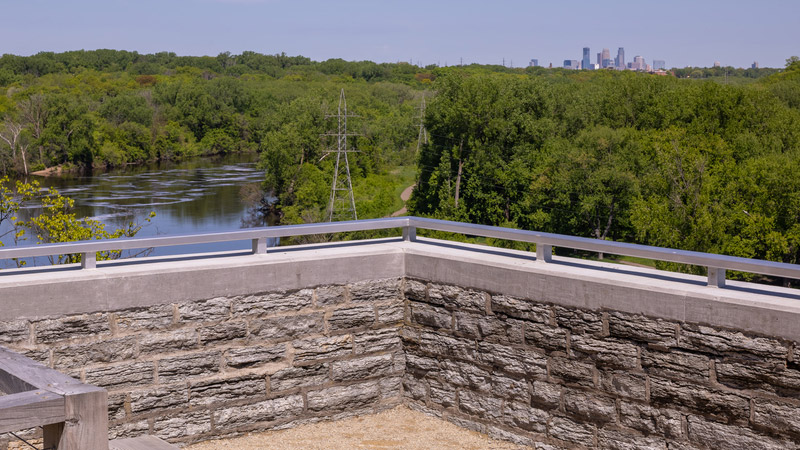 The rigorous design process included documentation of historic and existing conditions and establishment of a rich account of the site's cultural landscapes and physical changes, beginning with geological formation of the landscape through its current condition. Through adaptive reuse, the project preserved and expressed the physical skeleton, construction methods and materials of a 1904 cavalry barracks, selectively removing walls and physically marking those with delineations as shadows of the past, transforming the building into The Plank Museum & Visitor Center. The building now includes exhibits, classrooms, gathering space, a museum retail store, offices and event space and the site serves as the welcome center and outdoor learning environment for the district.
"The design for the visitor center sought to celebrate its built history and retain the character of historic elements while creating innovative, thoughtful spaces to serve modern needs," said Matthew Keenan, Project Manager for LEO A DALY. "Every wall and surface, every window and door and their trace patina were considered and commemorated with each proposed intervention."
Sustainable design measures focused on integrating modern, efficient MEP systems in an historic building and the use of native and healing plant species across the entire restored site. Upon visiting the site, a wider and more diverse range of visitors can now visualize and understand its complicated histories and potentially, their own connection to this place.