Providing calm in the storm: Healthcare staff respite spaces
The pandemic has drastically shifted the operations of our nation's hospitals and clinics, but so far many of the adjustments have been temporary. We will no doubt see a major shift in healthcare design as we learn from this past year and improve our methods. While the industry is exploring ways that we can best provide optimum flexibility for future construction and renovations, one thing stands out as a major priority — we need to support the caregivers who have sacrificed so much over the last year.  Prior to the pandemic, there was already a movement towards creating better spaces of respite for caregivers, but now, more than ever, it is imperative to push for the implementation of strategies to support these exhausted caregivers and hospital staff.
Mental Health
Healthcare systems must make a concerted effort to address the mental health of their staff and set strategies in motion to retain, rehire and train professionals. Many healthcare providers have retired, left the hospital environment or healthcare field altogether in the face of the virus and the conditions created by lack of supplies, safety measures, and fear. Repeated trauma from long shifts and enduring the loss of patients' lives have caused havoc on our healthcare workers' mental health. Lack of availability of staff, in turn, added pressure to the staff that stayed. In addition to mental health outreach programs, help lines and counselors, the built environment can be a part of a comprehensive mental health strategy by providing respite spaces for staff.  Health, wellness, and physical healing all benefit from spaces designed to calm, rejuvenate, and replenish; staff and visitors alike could benefit from places of respite.
Respite Spaces
If you are a fan of Grey's Anatomy, you may have noticed the addition of 'mood rooms' created as an alternative medicine approach a few seasons ago. They utilized a plant room, a 'blue' room altered with strong blood-pressure reducing light, and a game room. These concept rooms are centered on real-world strategies based in environmental psychology. Environmental psychology is the study of how humans adapt and interact within an environment, whether natural or built.  Designers have been slowly trying to incorporate more respite spaces into healthcare settings in real life but are often met with resistance. Real estate is at a premium; patient floor space is coveted, which means situations arise such as nurse managers being thrilled to garner an actual storage closet as an office. Privacy and moments of reprieve are not readily available. Most respite spaces we see going into hospitals and clinics now also double as a place for breastfeeding and private prayer. It's often a small interior room with a chair, maybe a table, maybe a small refrigerator and, if you are lucky, a sink. Dimmable lights are a luxury. These rooms are often locked tight with only a few gaining access and are often located in an unused area that requires a long walk.
Biophilic Design
The most rejuvenating spaces incorporate biophilic design, which is the use of nature-derived elements.  Biophilia moves beyond the oft-used phrase 'bring nature indoors' and delves deeper into the environmental psychology. Biophilic design has features that you would expect, such as natural views, ample daylight, plantings and natural materials (or at least a visual that simulates natural materials, like wood). Biophilia also incorporates less obvious elements, like repeated organic patterns and geometry, asymmetry, circadian lighting, thermal controls, airflow variability (think breeze), and presence of water.
Creating a Biophilia-Based Respite Space
A respite space does not have to be large; it can be accomplished with a series of small rooms or booths aligned near a window with a landscaped view, or a corner carved out of a staff break or meeting area.  Furniture manufacturers have modular acoustical booth solutions that are marketed to the workplace and corporate environment that could be modified for a healthcare application. Lesser-used waiting areas with excellent views could even provide a landing spot for these spaces. A break room could have a small respite booth in the corner. A storage closet could be converted if it is wheelchair accessible. These spaces should be readily available and not require staff to walk halfway across campus to an unused old building, as they are less likely to be used if they are not near the patients.
Let's look at what the ideal respite space might look like. It is important that these spaces are private and provide a spot to rest and reflect. Dimmable lighting helps the user control the atmosphere they need for that moment. HEPA air filtration is a must, and the option of a small fan to provide air movement can garner the feel of a natural breeze. The addition of an essential oils diffuser for scent would provide a break from the smell of disinfectants and healthcare odors. Digital artwork has been used in patient rooms for years now; an LED screen that provides a pre-determined series of nature photography or the users own photos can give a much-needed distraction and moment of connection. Providing speakers for pre-selected music such as nature sounds like the ocean or a breeze, or the users own music can provide a mental break as well. Acoustics are important in these spaces, as the user needs to be able to drown out the world outside and find peace and calm in a sanctuary.  UV systems and low emitting violet light could readily sanitize these spaces throughout the day. A real, preserved, or faux plant would provide a small piece of nature, while the wall graphics inside the pod can easily be a biophilic design.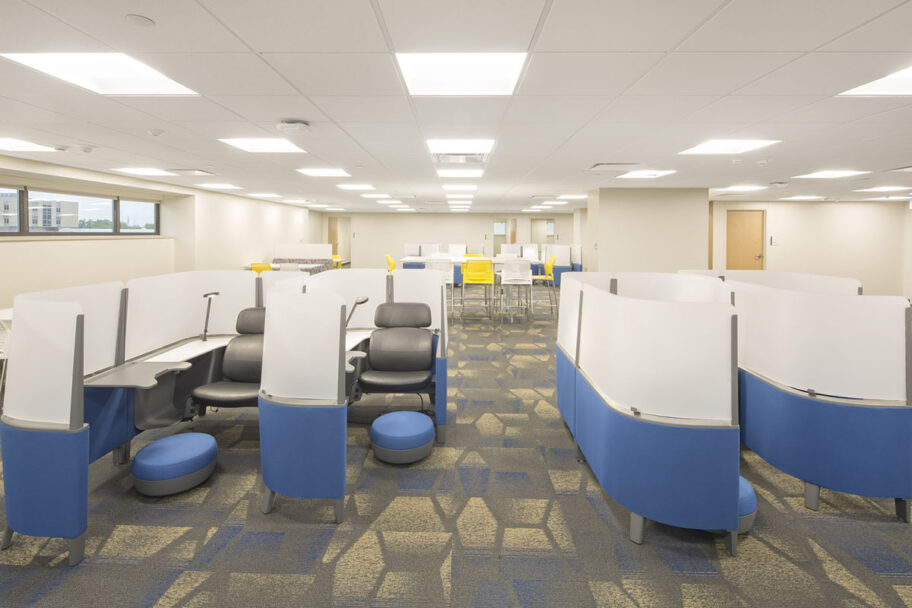 Beyond the Pandemic
There are many changes that can and should be implemented into healthcare design moving forward.  We are poised to make critical decisions that impact future flexibility and resiliency. Let's start with making a concerted effort to focus on the mental health of healthcare workers as we determine what post-COVID healthcare will look like.  As we have learned from the pandemic, we cannot survive without our caregivers.