University of Maryland's Thurgood Thomas Hall earns Global Architecture & Design Award.
Two LEO A DALY projects earn AIA Central States design awards
Omaha VA Ambulatory Center and Omaha Police Department West Precinct are awarded for design excellence
LEO A DALY joins 2023's roster of winners with two design awards from the American Institute of Architects Central States Chapter. These accolades recognize outstanding design submitted by AIA members in the states of Oklahoma, Iowa,
Nebraska
, Kansas, and Missouri, with eligibility extending to projects completed within the past five years.
The winners were announced on September 15, 2023, at the AIA Oklahoma and Central States Architecture Awards ceremony held at the First National Center in Oklahoma City, Oklahoma.
Omaha VA Ambulatory Care Center
Receiving an AIA Central States Citation Award, the Omaha VA Ambulatory Care Center is a $86 million outpatient facility funded through the first ever public-private partnership (P3) and enables state-of-the-art clinical care for 400 patients per day in a region home to about 40,000 veterans. It houses eight primary care clinics, including one clinic dedicated to women veterans, a specialty care clinic, ambulatory surgical suite and a radiology department.
The facility's architectural features honor military service throughout its three levels and 157,000 square feet of floor space. Organization is clear and intuitive with space for social connections between veterans and ample connections to nature. The design prioritizes abundant natural light, access to views and physical access to outdoor walking paths and areas for reflection.
The project has won more than sixteen design, engineering and lighting awards since 2020, including the 2021 ENR Best of the Best, Project of the Year Award and the prestigious Interior Design Best of the Year award in the healthcare category in 2020. LEO A DALY Senior Associate and Design Director Jonathan Fliege elaborates on what has made the design so compelling, stating, "Through an integrated design process encompassing architecture, interiors and engineering, we were able to create very unique expressions of freedom, sacrifice, honor and duty to convey a singular focus on the veteran."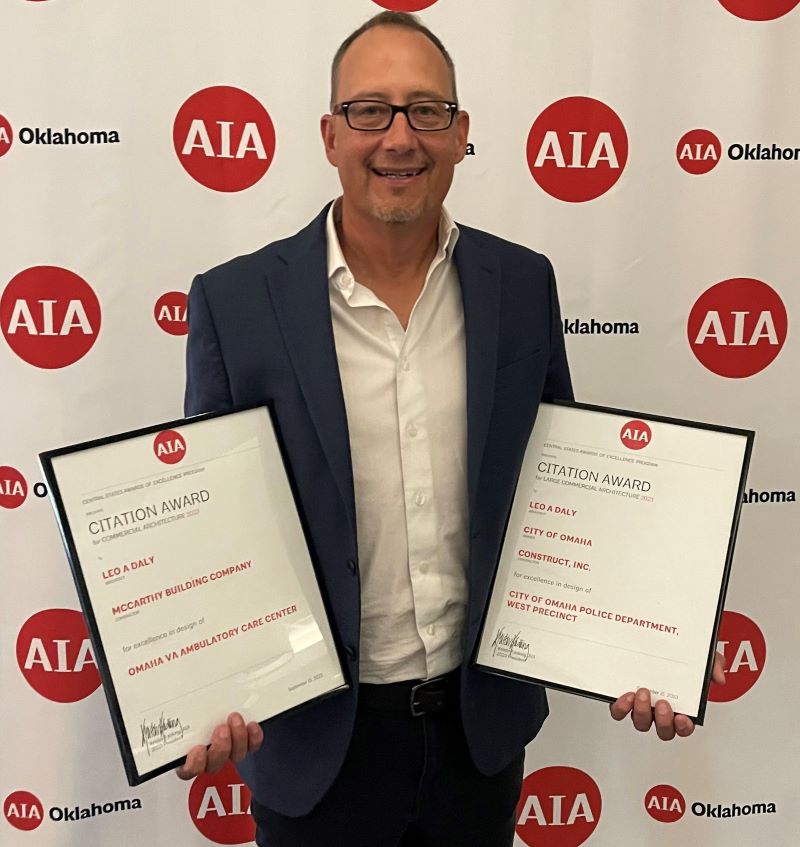 Jonathan Fliege, AIA, NCARB, Senior Associate and LEO A DALY Design Director accepting the awards
Omaha Police Department West Precinct
The Omaha Police Department West Precinct was also recognized for design excellence, receiving an AIA Central States Citation Award.
The $8.2 million, 35,850-SF facility in Elkhorn, Nebraska houses three police units, including emergency response, traffic investigations and patrol, as well as multi-purpose rooms that are available for community use. The need for an established, secure police precinct to serve a fast-growing enclave of Omaha accelerated the project, which was delivered on time and under budget by $1.8 million.
"More than any previous OPD precinct, this station's design reflects the city's philosophy of community policing," says LEO A DALY Associate and Senior Architect Stacy Feit. She adds, "We're looking forward to continuing our partnership with OPD on the design of their new downtown headquarters."
The design for the building is divided into two distinct zones– an extroverted public face, and a more introverted secure zone, delineated through material choices and expressive form. Design strategies connect the two zones in a seamless, harmonious way. Ribbons of wood sweep from interior to the exterior front overhang that gestures toward the street, uniting the outdoor plaza and public interior spaces. Adaptive spaces on the interior are designed for both police and community needs.