University of Maryland's Thurgood Thomas Hall earns Global Architecture & Design Award.
New Goodwill retail and donation center breaks ground in Elkhorn
The LEO A DALY designed facility will be Goodwill's first ground-up, free-standing build in the Omaha metro in a decade.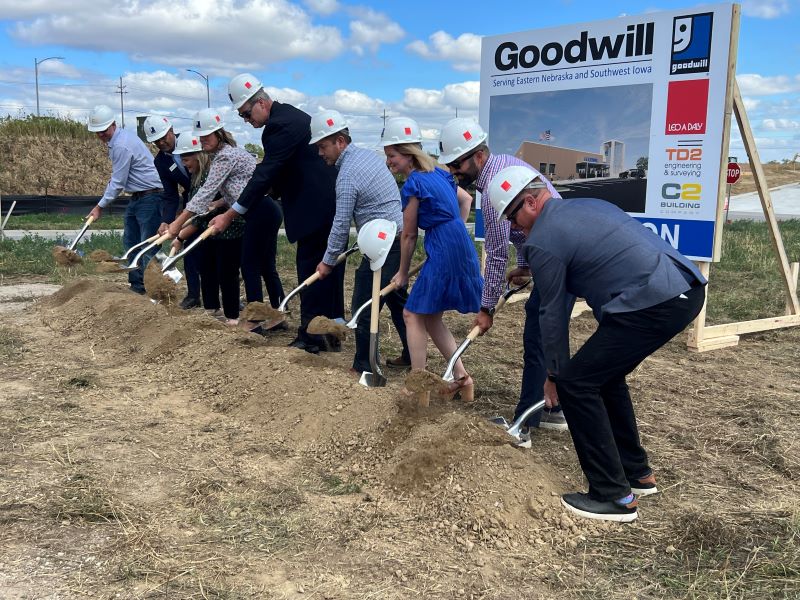 LEO A DALY has completed design on Goodwill Industries, Inc. newest retail store and donation center, located at 18905 Evans Street in Elkhorn, Nebraska. A ground-breaking ceremony was held on September 26th, 2023. LEO A DALY provides architectural design and engineering services for the site adapt project and was chosen in part due to experience and success in retail design. C2 Building Company will provide construction services.
The new 15,000-SF facility is Goodwill's sixteenth store and includes a retail sales floor, drive-thru donation center, online pick up, a training room, and will employ up to 35 people. The project expands Goodwill's commitment to furthering their mission of generating essential funds to support programs that help those with disabilities and other barriers find employment.
Erin Froschheiser, LEO A DALY Associate and Project Manager on the project says the team is excited to bring new occupant benefits to Goodwill's sixteenth store location, "The retail design will balance the familiar look and feel Goodwill patrons and employees are accustomed to with new features, including sustainability, design for employee wellness and enhanced shopper experience and wayfinding."
Through charettes and extensive lighting studies, it became clear that both the retail areas and sorting rooms at Goodwill outlets lacked sufficient natural light. As a design solution, clerestory windows were strategically placed to flood the facility with natural light. This not only boosts employee well-being but also reduces the facility's reliance on artificial lighting. Thoughtful lighting strategies facilitate a more even light distribution, enhancing merchandise visibility throughout. Converting outmoded display windows to regular windows has also further maximized daylight, floor space, and fitting room availability.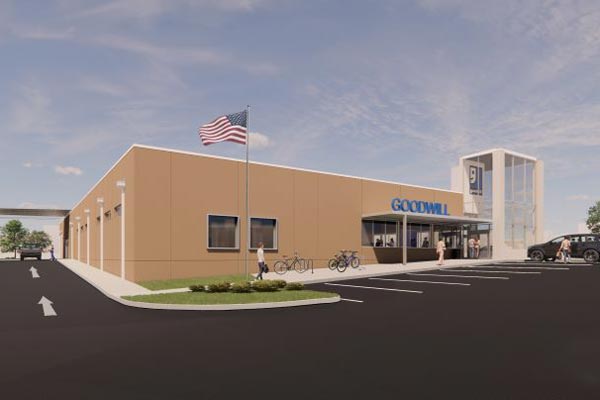 The Goodwill Elkhorn facility will serve a new part of Omaha
"We've prioritized creating a workplace environment that fosters well-being," shares Sheila Ireland, LEO A DALY Associate and Senior Architect on the project. "In addition to maximizing natural light, our retail design includes an expanded break room and outdoor seating area with green space for employees to enjoy their breaks and lunches. Further, safety considerations, like a window in the manager's office door, have been integrated for the benefit of both managers and employees."
Pragmatic design choices important to the client have been seamlessly incorporated, including a dry pipe in the entry vestibule to safeguard the sprinkler system from winter freezing. Shade canopies over windows not only provide weather protection for shoppers entering and exiting the building, but also enhance the facility's energy efficiency. High-performance design elements, such as occupancy sensors and automated, low flow plumbing fixtures, have been implemented to reduce energy consumption and conserve water resources.
The facility seamlessly integrates into its suburban surroundings and goes above and beyond Omaha's Urban Design Guidelines. Exterior modifications were executed to meet these requirements, along with an increased exterior wall height to enhance visibility from Maple Street, an arterial road. The taller walls also serve as rooftop screens to discreetly house mechanical equipment, and the addition of trees along the east perimeter will provide shade and establish a natural boundary between the facility and the adjacent residential neighborhood.
The new Goodwill retail store is anticipated to open Fall 2024.