Award-winning supportive housing experience earns passionate team another opportunity to engage the community to uncover best design solution.
"Topping Out" ceremony celebrates construction milestone for Carson corporate headquarters
Tradition marks the completion of framing for 194,000 square-foot commercial campus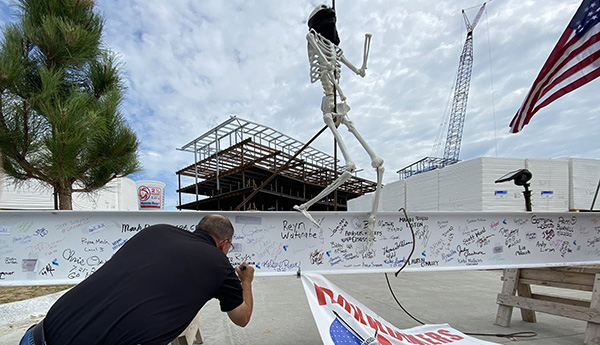 The $80 million Carson headquarters in West Omaha achieved a significant construction milestone July 24, about two weeks ahead of schedule. Steel framing is now complete for all three buildings that comprise the Carson corporate headquarters campus in Omaha's Heartwood Preserve development. A "topping out" ceremony was held at the site, during which all stakeholders signed the last steel beam, painted white, before it was craned into place.
The milestone signifies the completion of framing and marks the beginning of the next phase of construction. As the project's lead designer, LEO A DALY participated in the ceremony, joining contractor JE Dunn Construction and representatives from owner Carson Wealth and project manager Tetrad Property Group. Despite challenges throughout the industry caused by the pandemic, the project continues to move forward thanks to good weather and few delays with steel fabrication and delivery
In the next phase of construction, the buildings' combined 194,000 square feet will be enclosed using electrochromic glass, which darkens and lightens throughout the day.