Reimagining the vertical school
Andrew Graham, AIA, discusses how LEO A DALY and BIG collaborated to design the most progressive public school in the United States.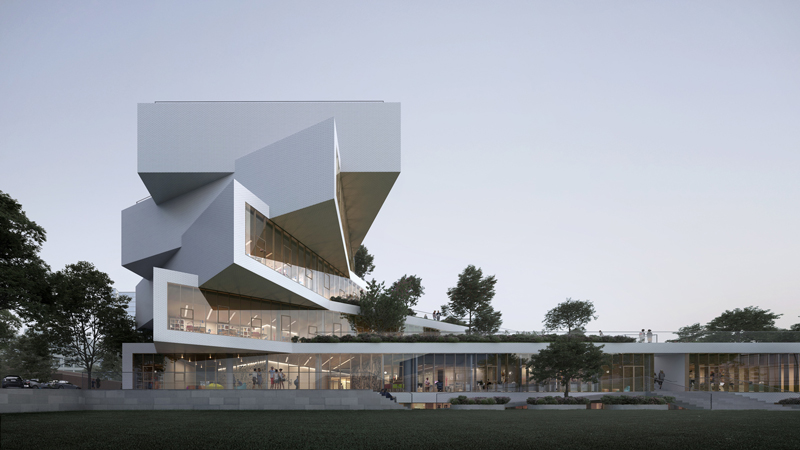 The Heights Building in Arlington, Virginia, houses two of the most innovative educational programs in the United States: HB Woodlawn, a democratic alternative magnet program, and the Stratford Program, which serves students with severe intellectual disabilities. LEO A DALY served as executive architect, working closely with design architect Bjarke Ingles Group (BIG) and Arlington Public Schools (APS) to realize the building's innovative academic program and wild, twisting geometry.
As construction finishes up, we sat down with senior architect Andrew Graham, AIA, NCARB, in our Washington, D.C., studio to discuss the design in depth.
What's unique about HB Woodlawn and Stratford as academic programs?
The Heights co-locates two secondary school programs that are each very different. HB Woodlawn is a secondary school based on the liberal education movements on the 1960s and 1970s. It's very egalitarian. Students can create their own courses, call teachers by their first names, give input on administrative decisions, etc. The program is very strong in the arts – including visual arts, like painting and graphic design, and performance arts like theater and music – as well as math and science. We collaborated with APS and BIG to create a building program that embodies that flexibility, supporting students as they self-select learning pathways that inspire them.
The Stratford program focuses on the needs of students aged 11 to 22, many of whom use wheelchairs and have sensory and motor disabilities that require them to have a personal companion during the day. The curriculum is individualized to each student and focuses on vocational and community skills such as daily living, communication, leisure, recreation and other skills that help with independence.
Images by BIG – Bjarke Ingels Group 
How does the architecture support learning?
BIG and LEO A DALY worked together throughout the project to infuse learning into every detail. BIG's design concept performs more like a university campus than a typical secondary school, full of environments that support opportunistic, independent, and project-based learning. The large, open lobby, for example, offers tiered seating for students to gather between and after classes, engage in self-guided learning and investigate their interests alone or in groups. Outdoor learning environments are located on roof terraces adjacent to each floor.
Even where there are structured spaces for traditional classroom learning, flexible furniture layouts allow the environments to be rearranged for different learning formats according to the class or lesson type. State-of-the-art smart panel screens allow students to share screens from their own school-issued tablet devices for more interactive learning. The building also includes an art studio, two theaters, science labs, and music rooms.
The Stratford Program has two levels within a dedicated wing of the building. This provides some privacy and ease of accessibility, with both floors directly accessible from grade. It has its own dedicated gymnasium and courtyard, occupational physical therapy suite, and a sensory cottage with various types of sensory-specific equipment to help students calm down and relax. Learning spaces are designed to support APS's Functional Life Skills program, with distinct areas dedicated to different skills.
Image by BIG – Bjarke Ingels Group
How does the design respond to its local context?
The Heights is located in a rapidly densifying business district just across the Potomac River from Washington, D.C. The area is undergoing a major transformation through the West Rosslyn Area Plan (WRAP), which focuses on increasing density in the neighborhood, creating an urban mixed-use corridor full of civic-minded public spaces and a blend of retail, office and residential uses. Much of the surrounding area is composed of suburban single-family homes built primarily in the post-WWII era.
A major challenge facing the BIG design team was to reconcile these two contrasting styles of development, tying them together to create a vibrant urban-suburban fabric. BIG focused on the question of what makes a school "urban," and what design scheme would result in a successful vertical program. There was an opportunity here to reimagine the prototypical school for a new type of environment.
What makes an urban school different from a suburban school?
A suburban school can be thought of as a greenfield development where the school buildings are completely stand-alone and surrounded by a school yard or property. The site allows for a large spatial buffer between the buildings and the surrounding context, accommodating almost any type of site design. There is typically a hierarchy that favors vehicles over pedestrians because most people come and go within vehicles. Parking lots can be provided for visitors and building a bigger footprint may be more cost-effective than building up.
An urban school has to integrate more precisely within its context. Space is tight and the school is likely to be next to neighboring buildings, roads, alleys and sidewalks. Pedestrian access is the dominant means of approach to the site and building. Building services, including vehicle access, is largely defined by the outside context of the urban environment. An urban site typically has limited space available because of the site, and higher construction costs per square foot. With building space costing more, it becomes even more important to minimize space that is secondary to the mission of the project.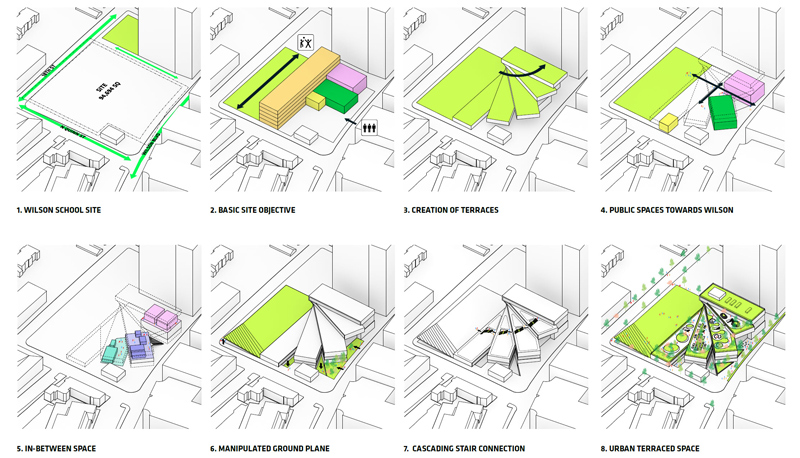 Image by BIG – Bjarke Ingels Group
How does the design help resolve these challenges?
BIG's concept for The Heights leverages verticality to create an efficient building form that retains the sense of openness that is desirable in a suburban school. The building takes the form of a "fanning bar." Classroom blocks are stacked on top of each other, but rotated horizontally around a fixed axis, or central spine, like spokes on a bicycle wheel. The building core is located at the pivot point, where services are stacked and the elevators are located. The corridors connect the building core to more specialized and unique programmatic parts of the school, which on the lower level are the gyms and theater, and on the upper levels are the library and classrooms.
How does the rotation of the building change the way learning and teaching happen?
The rotation exposes part of the roof area of each level to the sky as you go from higher to lower blocks. Here, each floor transitions to an open green space on the roof deck of the block below it. This gives each floor its own occupied roof terrace directly next to classrooms. Teachers and students can go to the exterior for classes or informal gatherings. It's a unique attribute for the school to provide outdoor learning space – organized and informal for classes. These are secure spaces for the students and teachers to take advantage of throughout the year.
The locations between blocks, tiny angular slivers, are utilized in different ways. They allow light to filter deeper into the building and create voids that are used as exterior sunken courtyards at the lower levels. Because these exterior areas create secure courtyards at grade, they are perfectly suited to be next to the primary and secondary gyms of the project. These are secure outdoor areas that allow activities to flow to the outside.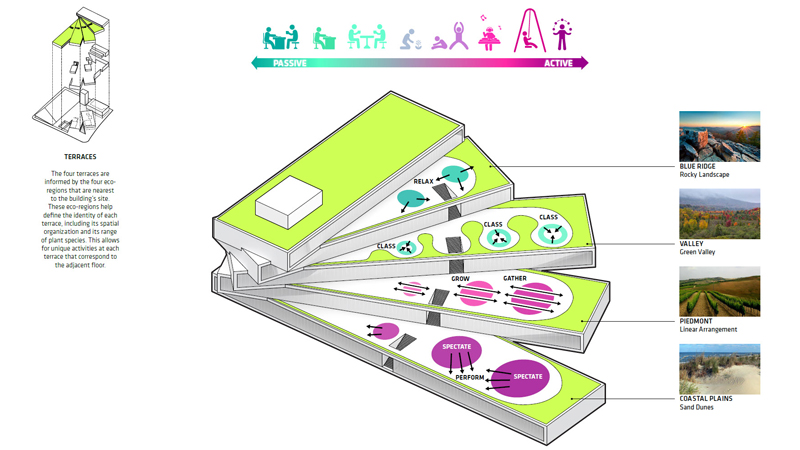 Image by BIG – Bjarke Ingels Group
What kind of technical challenges did you face in executing such a structurally complex design?
LEO A DALY and BIG worked closely with our structural engineer, Silman, to create a unique structural system. Because the columns grids do not stack as simply as they would in an orthogonal shaped building, there are multiple sets of grids that shift as the building rotates. We had to be very careful with the shift at each level and to transfer loads and make sure there were no columns located in classrooms or other large program areas. The gym and theater specifically use trusses to transfer column loads from above, allowing us to achieve large open spans within each block on the lower levels.
At the end of each program bar there are large full-height trusses. These serve to take the lateral loading at each level and to transfer loads into the building core. Behind each solid opaque wall is a full-height truss that spans the depth of each floor. These spanning bars and heavy truss assemblies are capable of transferring large structural loads, but they required a very specific erection sequence to pull off.
With such a dense program, there are also serious acoustical considerations. Schools are noisy, and a vertical school has the potential for sound to bleed out of gyms, theaters, hallways and other spaces. Our response began with programmatic separation – a passive first step that places the very loudest spaces on grade. Spaces located within the interior of the school use more sophisticated means to achieve acoustic isolation. For example, the music rehearsal rooms have isolated floor slabs and isolated suspended ceilings to buffer them from surrounding classrooms. The large auditorium theater has conditioned air supplied through an underfloor plenum below the seats. This isolates the theater from the adjacent mechanical room and supplies air directly to the theater occupants.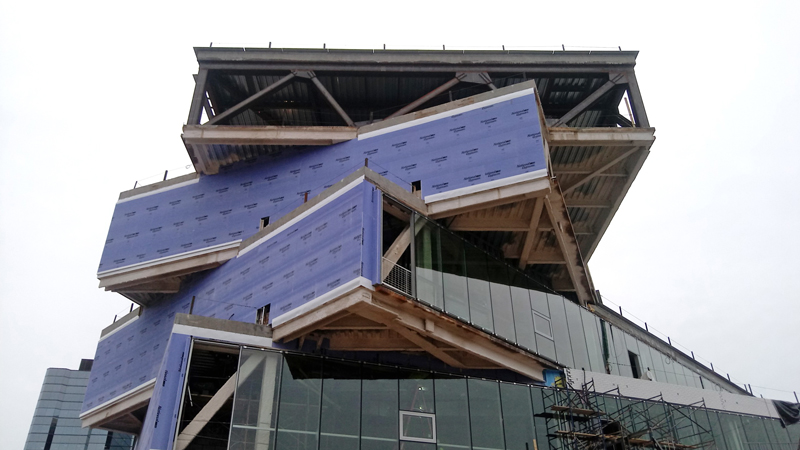 What about the terraces? How did you make those possible?
This was a very collaborative project, and the terraces are an area where collaboration really payed off. The terraces required an army of specialty disciplines working together, including landscape architects, civil engineers, structural engineers, life-safety and security experts. The intensive green roof system on each level is deep enough to grow plants and large trees, and required the involvement. The soil depth is very specific to the site's stormwater requirements and the ideal soil volumes that trees need for a growing medium. The trees and additional soil loads were all strategically placed to work with the structural system. The trees are irrigated and tied into the rain-water reuse system for the site. The access stairs that connect each level, as well as a guardrail system and security controls, were also key important details to work out.
Any other big technical challenges?
BIG's design creates a dramatic entry sequence for students in the main lobby, which we wanted to keep as transparent as possible through the use of glass and multi-story ceiling heights. This required upgrades to the school's fire protection system and life safety design. We used a deluge sprinkler system to strategically locate sprinklers, and hidden fire curtains that deploy in the event of an emergency to contain different parts of the building. These all worked to create a safer school and more open school environment during normal use.
The biggest MEP challenge was maximizing each floor plate for program space. This meant we needed to have very efficient equipment layouts in each equipment room. There were also many cost constraints not unique to this project. The construction market has been quite volatile because of low labor availability, longer than normal lead times, and higher material pricing due to tariffs. All were behind the scenes challenges that the design and construction teams had to work through to get the project built.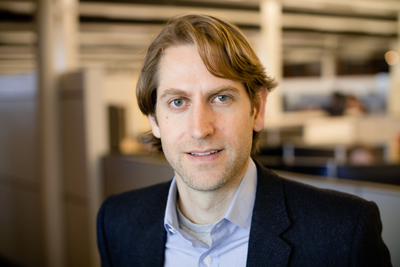 About the author
Andrew Graham, AIA, NCARB, is a senior architect in LEO A DALY's Washington, D.C., design studio.