Are healthcare facilities prepared for the next outbreak?
COVID-19 has rocked the healthcare industry. Facility Conditions Assessments will be critical in its recovery.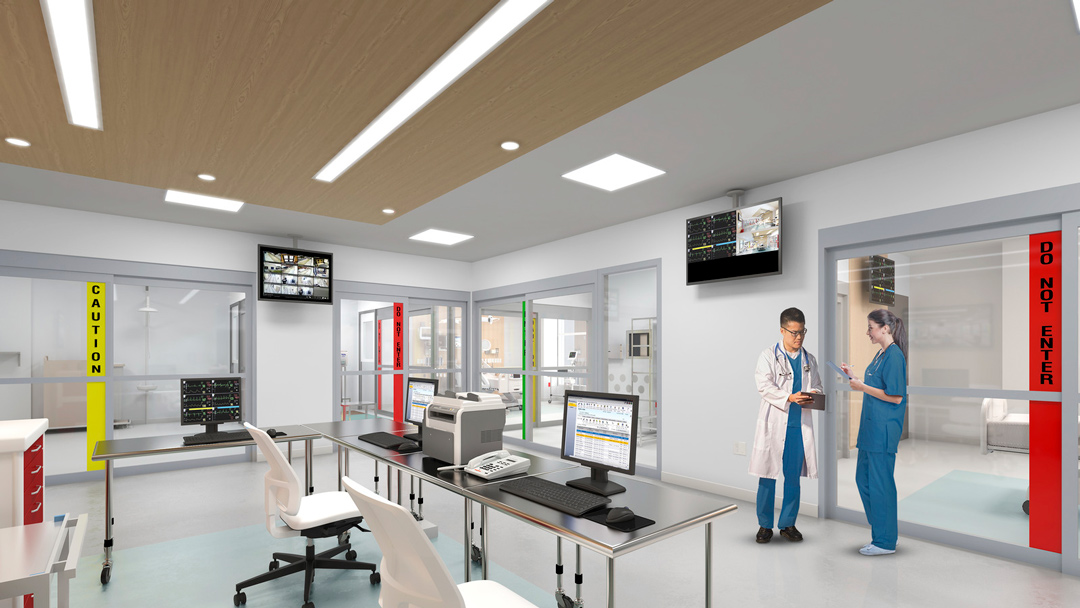 There is no doubt that even the best-prepared healthcare systems have been hit hard by COVID-19. Rapid changes in business operations were necessary to limit infection, leading to reductions in critical revenue streams. Because healthcare providers typically operate on a low profit margin, the financial impacts may be felt for the next two years.
The pandemic has also harmed public confidence in the healthcare system, leading to continued revenue loss. A sudden and dramatic reduction in patient volumes, which reached its peak of 70% in April 2020, continues to be felt today. Opinions vary on if and when patient volumes will recover, but analysis from the Advisory Board suggests that "providers can expect volumes to end the year at between 75% to 90% of pre-Covid-19 levels."
To dig out from the financial effects of the pandemic and make provisions for the next one, providers need to rebuild public confidence in the safety of the care being delivered. The way facilities are designed and used is critical to this effort. Patient confidence begins with a health system's response to community concerns, and with demonstrated efforts to create physical and operational environments that say, "we care." For many providers, this will require a forensic assessment of their facilities and operational processes in the context of COVID-19.
In this article, we will share strategies for conducting a Facility Conditions Assessment as part of an overall pandemic-response plan. Our goal is to show how facility planning and design can help health systems ensure the safety and trust of patients and staff while continuing business operations and maintaining revenue during a population health emergency.
Assessing existing facilities
In developing a pandemic preparedness strategy, it's important to understand how the design and operational flow of a healthcare facility contribute to successful operations in the midst of the catastrophic event or highly contagious disease scenario. To do this, the first step is the completion of a comprehensive facility assessment. A Facility Conditions Assessment (FCA) can help determine whether the care environment is designed to remain available to all patients, regardless of need. This is critical to maintaining a continued revenue stream.
An FCA is a report, prepared by a multi-disciplinary planning and design team, that evaluates the existing conditions of a facility. A typical FCA reviews all aspects of the facility, including parking, site utilities, accessibility, signage and mechanical, electrical and plumbing (MEP) systems. With a pandemic in view, that assessment would also encompass existing patient and staff flow patterns, air filtration and pressurization, the ability to convert nursing units into isolation units, and signage related to the disease in question. All of this is geared toward improving the patient and staff experience as they enter, use, and leave the facility.
The FCA is critical to identifying gaps in a healthcare organization's preparedness for future public health emergencies. It consists of examining the organization and infrastructure of current spaces, understanding how staff interacts with patients and each other, and documenting the patterns and protocols that govern how the facility is utilized. An FCA reviews every entity and component within that system, including physical and operational aspects, rules of conduct, the expected lifespan of equipment, costs of replacements and upgrades, and priority for attention within the overall facility management strategy.
An FCA provides a road map for improving the care environment, making decisions that enable maximized use of the facility during a pandemic, and improving staff efficiencies and community trust.
Trouble spots
Regardless of facility type, there are several common trouble spots to note when conducting a pandemic-preparedness FCA. The fundamental goal is to understand deficiencies and suggest ways to mitigate potential cross-contamination. The assessment team studies existing functional configurations and applies medical planning principals to optimize the patient's journey from intake to discharge. It may also reconsider practice models within the context of a pandemic, including systematic and operational changes.
Planning and organization
When the risk of airborne infectious disease is high, it is important to minimize unnecessary contact between staff, patients and visitors. Every encounter must be planned and have a purpose with positive measurable outcomes. Designers will work to identify designated, controlled entry points and pathways for patients, staff, visitors and materials. Adjustments to the physical plant will be considered to allow patients to follow a single, unidirectional path without the need to retrace steps.
Movement patterns
The assessment team must understand the routes to care and any routine interactions required between patients and staff. The assessment team will evaluate the facility's layout and look for solutions to reduce infection. Three main types of facility situations must be considered.
Patients should be given a dedicated entrance where they can be screened for health risks prior to entry. All of their movements within the facility should be orchestrated and their whereabouts monitored.
A separate entrance should be considered for staff, as well as physically distant work environments, and sanitary areas with lockers, toilets and showers to use upon entering or before exiting.
Visitors must be screened prior to entry and given direct routes to follow. Security should have the ability to monitor and separate visitors, including vendors.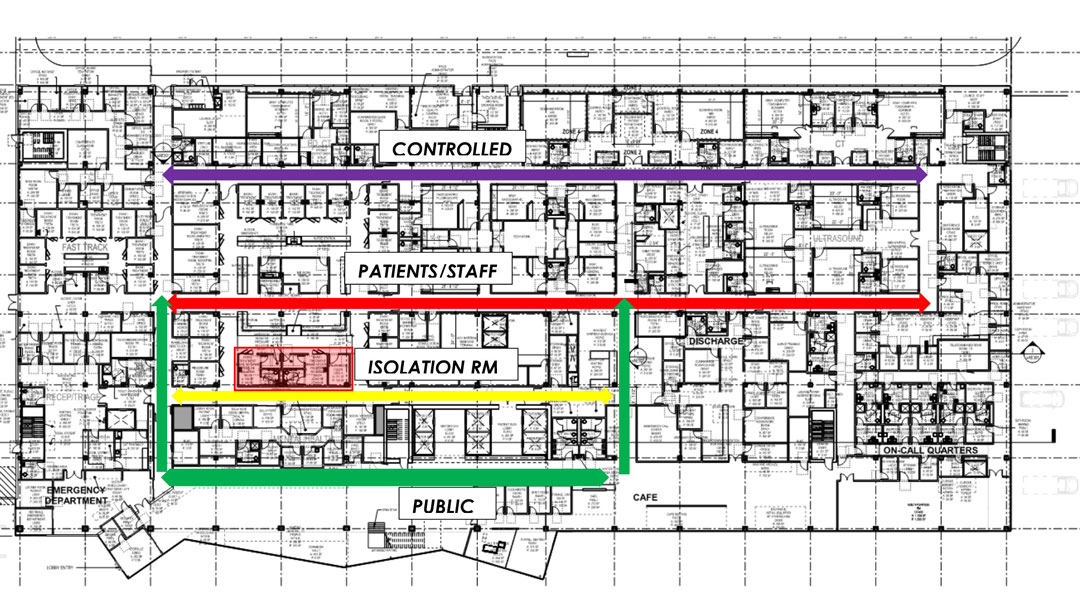 This diagram illustrates how movement patterns can be isolated to improve accessibility and safety.
Sanitation systems
Personal sanitation, always critical in healthcare settings, is exacerbated during a pandemic. Healthcare facilities must ensure that proper handwashing stations are available, and that all interior finishes, such as chairs and exam tables, are not allowed to harbor infectious particles or pathogens. Information must be given to patients, frequently and visibly, communicating the facility's expectations for personal behavior and sanitation, including at intake/discharge, touch points and any area where a potential contaminant is passed through.
Support/Staff spaces
Any space where a patient spends time between encounters must be evaluated for risk in terms of design and use, including reception counters, waiting areas and restrooms. Some changes may be required in circulation spaces, including the addition of areas for equipment outside of treatment areas, mitigating the need for staff to frequently enter care areas. Larger corridors may be needed to enable equipment parking outside of patient rooms.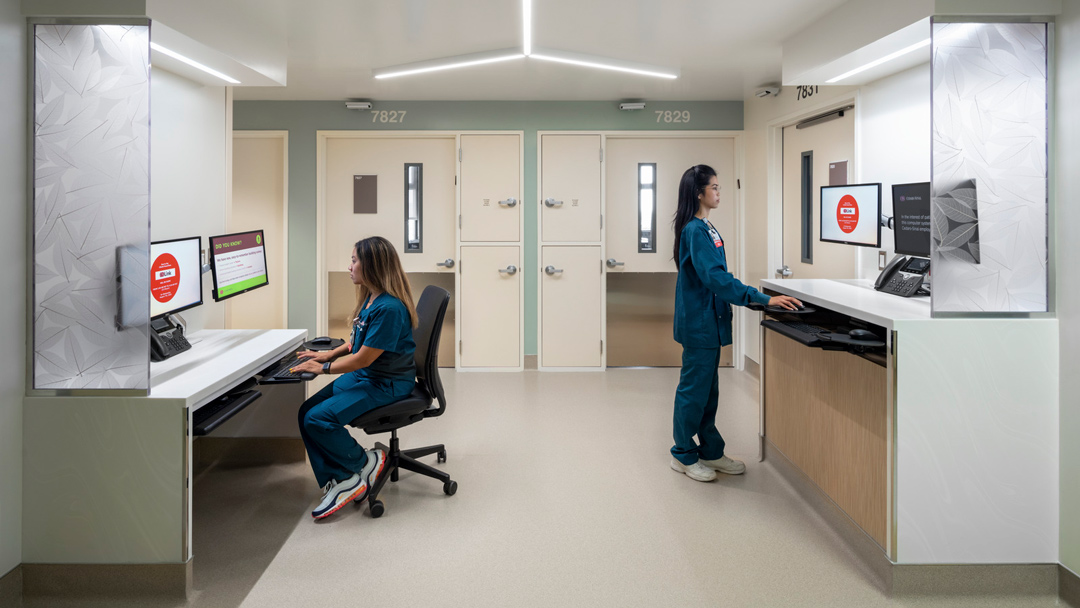 Shown above is a staff work area implementing proper distancing for staff members.
HVAC systems
Air flow is another potential trouble area. The assessment team should review the facility's filtration methods, air change rates, air pressurization between spaces, and the location and design of diffusers. Air distribution systems from points of supply, return and mixing must be reviewed to ensure that no cross-contamination or leakage is occurring, and if needed, re-zoning will be recommended to improve safety. Traditional modalities of supply/return should be revisited to ensure the facility avoids stagnant air pockets. Concepts currently in use in operating rooms, such as high supply and low return, may be warranted throughout the facility.
For more information on how HVAC affects disease transmission rates, check out our white paper on reducing winter humidity to reduce the spread of COVID-19.
Reviewing functional areas in the hospital
The Emergency Department
Emergency departments will continue to be the front door to the hospital and care. Due to the potential of infected individuals who enter here, special protocols must be implemented to contain individuals and the care members they bring in with them. The emergency department needs to become an isolation unit and buffer to the rest of the hospital. Within the ED, there is also a need for more isolation rooms and zones/suites.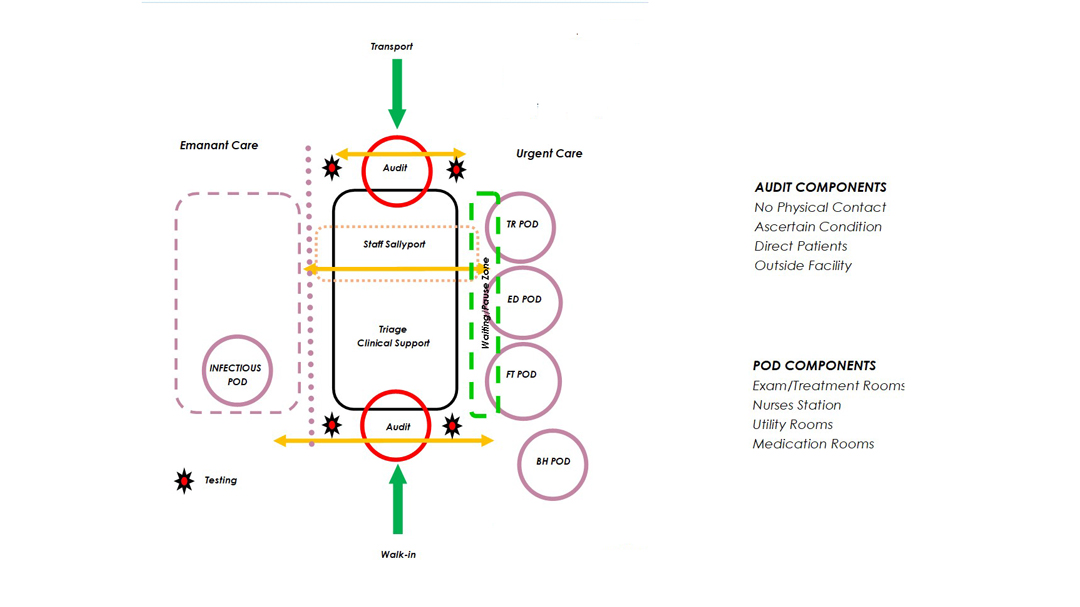 This diagram suggests an optimized framework of pods to care for patients based upon acuity and need. A seperate care zone is used for contagious and possible contagious patients while maintaining operations of the primary ED in a SAFE zone. Staff and support areas are shared and provide decontamination spaces.
Patient Bed Units
Upon a patient being admitted, they must be separated from others until their risk level has been determined. Infectious patients may be given a separate path of travel to units specially designed for biocontainment. Once in a unit or room, keeping the patient separate from others for safety is still vital, new and renovated bed units need to be designed with more space adjacent to the patient rooms for equipment may be needed to allow staff to care for the individual while minimizing close interactions and conserving PPE equipment.  
The above two bed unit diagrams describe varying ways of  arrangements for isolation rooms and patterns of access that will provide for a protected environment. 
Operating/Procedure Platforms
Because most operating procedure rooms are designed as positive pressure air environments, operating on an infectious patient can cause surrounding spaces to be compromised. To maintain the positive airflow over the patient, that air must not escape to the rest of the hospital or be recirculated, as it may include contagions.
To guard against this, operating rooms with anterooms will become the norm, providing a buffer zone against infection. The anteroom will provide space for staff to safely don and doff surgical wear and re-scrub prior to reentering the surgical area. Medical process may need to shift, for example, intubating infectious patients in the negative pressure anteroom before being taken into the operating room to protect from expectorated contagion during this procedure. Similar conditions should be considered for imaging rooms and other areas where sedation or anesthesia are utilized.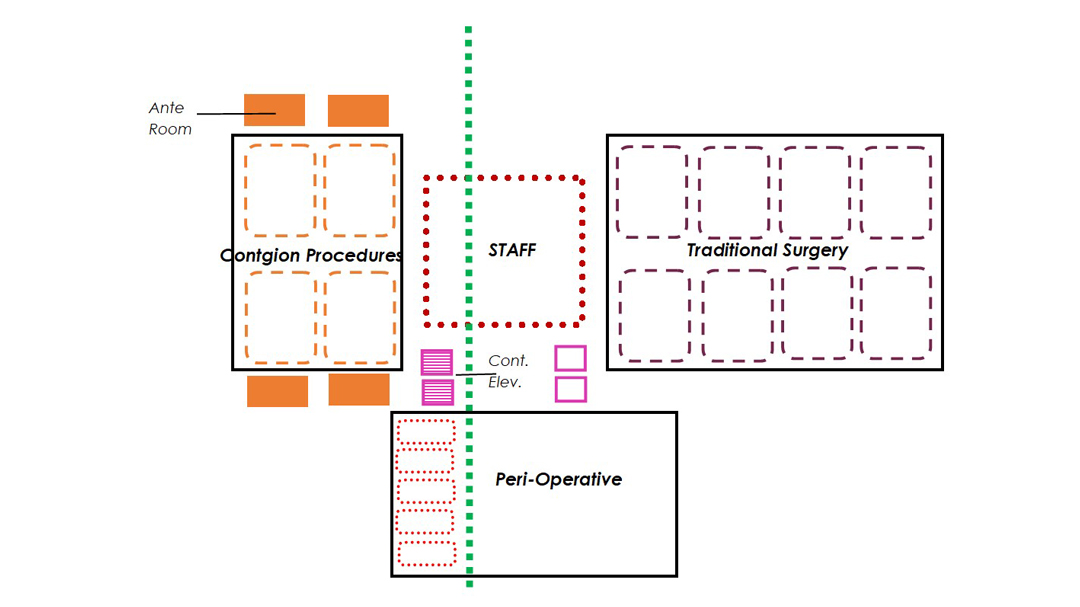 The above illustration describes an alternative modification to new or existing surgical arenas.
In the clinics
Outpatient clinics looking to improve infection control should look to implement design features now common in hospitals. Like hospital emergency departments, clinics should consider placing a first look/triage nurse at all "front doors" to evaluate visitors. It may be beneficial to offer separate entries for scheduled and unscheduled patients, and separate pathways for patients with basic visits versus those with urgent, unscheduled needs.
Protocols for staff workflow as they come in and out of the facility should be reviewed and revised as required. Personal work zones and staff change areas should be provided to avoid employees bringing potentially infected work attire out of the facility and into personal living situations.
Patient access should be limited to designated patient zones, thus reducing the number of areas that need to be cleaned throughout the day. This will assist in turnover of rooms and promoting efficient throughput.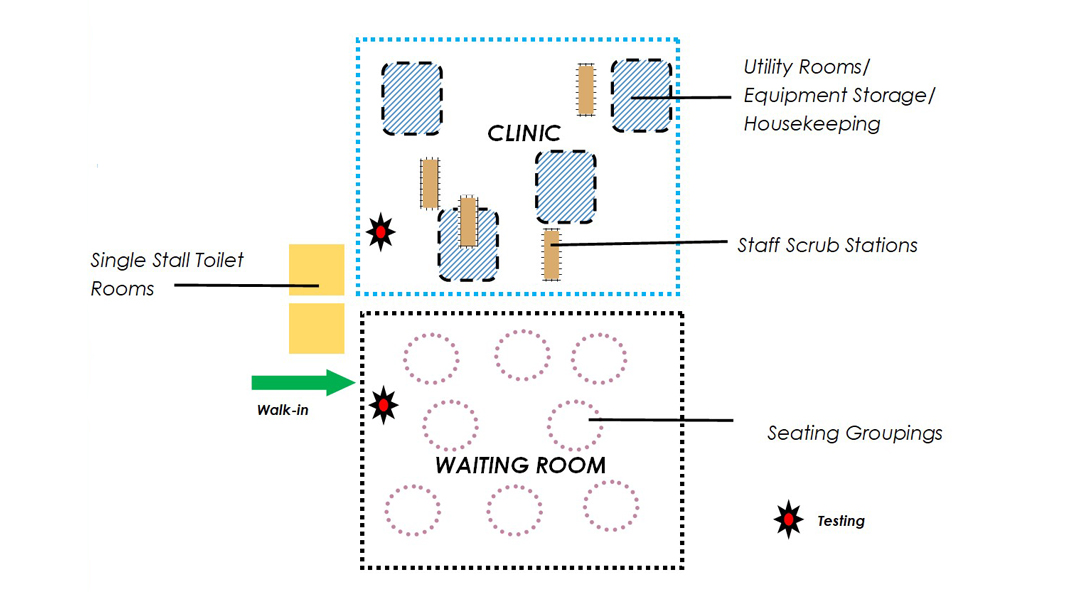 As throughput is vital in a clinical setting, this diagram describes notions for clinical configurations.
Preparation pays off
By conducting an FCA, healthcare providers gain an understanding of their facility-related shortcomings for their pandemic-preparedness plan and receive recommendations that will directly improve their ability to continue care delivery without catastrophic interruption. With the report in hand, the organization can evaluate the recommendations with executive leadership and consider budgeting. After making the recommended changes, healthcare providers will have confidence in their ability continue operations and retain revenue throughout a pandemic.
An assessment also highlights and demonstrates progress in addressing safety concerns, thereby building trust and confidence in staff and patients. By maintaining regular operations, including elective procedures, providers may even gain additional patients that would typically go to other facilities that are not providing these safety measures. Judging from the financial hit healthcare systems have taken from business-line interruptions during COVID-19, these changes would have a significant ROI.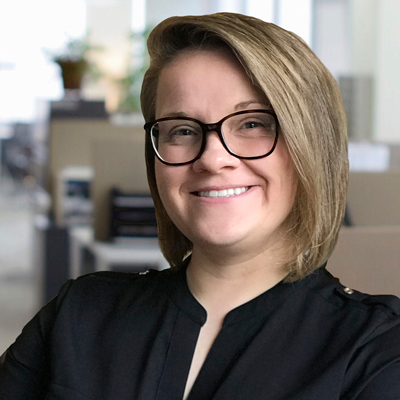 Nicole Cirrincione, RN, BSN, MIA is an experienced interior designer and has 7 years' experience as a registered nurse in the trauma surgical ICU prior to entering the design world. She brings a pragmatic and contemporary approach to her designs in both healthcare and commercial projects. She has dedicated her career to designing with the health and safety of patients and staff at the forefront.
Robert Counter, AIA Healthcare, leads LEO A DALY's healthcare design team in Los Angeles. With his expertise in healthcare planning and OSHPD submittal, Robert Counter has directed various design teams to complete new tower additions and medical facility renovations. Additionally, he has experience working with science and technology, with lab projects both in healthcare and in higher education institutions.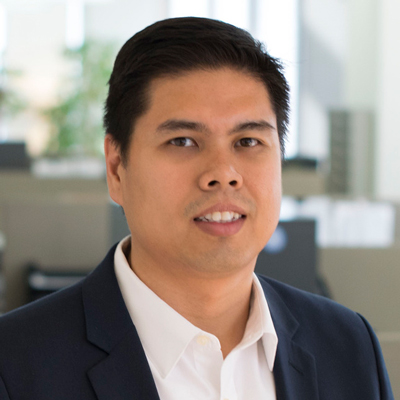 Gerard Gulpeo, AIA, has healthcare project experience encompassing highly technical upgrades for healthcare facilities. His project experience coupled with active engagement in healthcare associations offers an in-depth understanding of related operations and addressing program complexities. He has also led several OSHPD projects and understands the review process.
Thomas Reuter RA, NAM, has over 40 years of healthcare planning and design experience, and is committed to creating environments that are healing and provide for wellness. He has dedicated his career to understanding the "business of healthcare" and promoting improved patient satisfaction with better outcomes, within quality/safe environments.