With retail design complete, the newest Goodwill location will begin construction and is scheduled to open in late 2024.
LEO A DALY introduces public-setting furniture inspired by hospitality and healthcare design
The Leo Collection of wait-seating furniture blends hospitality styling and healthcare durability for use in public environments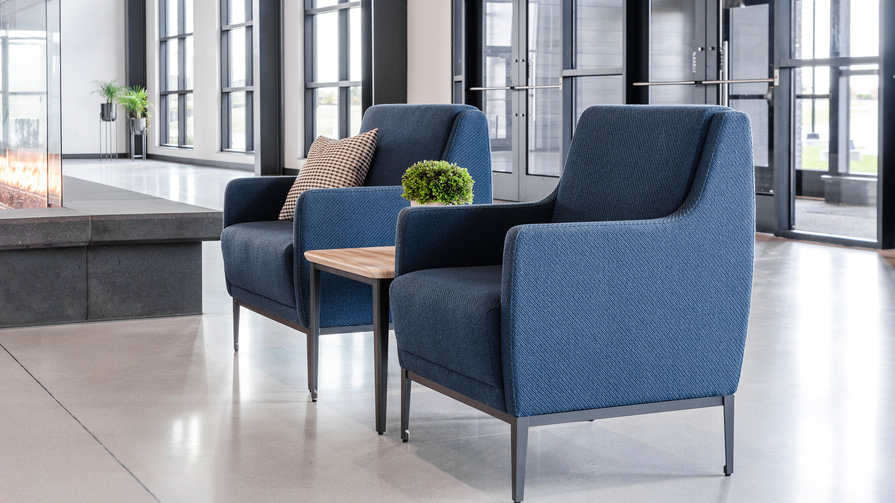 International design leader LEO A DALY has partnered with IOA Furniture to create a versatile furniture collection at once elegant, resilient, adaptable and appealing. Made in North Carolina, each customizable table, chair and bench in the Leo Collection draws on decades of interior design experience for a variety of clients. It is well suited for high-volume public environments.
"Cleanable and easy-to-maintain furniture can sometimes make public environments feel cold and institutional, and we wanted to develop furnishings that retain the same functionality while adding elegance and style," said Senior Interior Designer Sabrina Ahern. "That was really the genesis of the Leo Collection."
Over the years, a gradual convergence has blurred the lines between furniture for spaces like luxury hotel lobbies and healthcare waiting areas. On the one hand, hospitality environments combine sleek lines, contemporary colorways and a wide range of patterns and fabrics. On the other hand, healthcare environments sometimes require bariatric options, moisture barriers and bleach cleanability. The nexus of those two is where the Leo Collection finds its home.
Chairs feature precision depth and posture, and armrest angles aid in mobility. Each piece is welded by hand and features adjustable glides to adapt to uneven surfaces. With comfortable proportions based on accurate human scaling, the Leo Collection combines artisan construction with the robustness to stand up to the rigors of daily usage, making it ideal for high-volume lobbies, waiting areas and other public environments.
Browse the Leo Collection