With retail design complete, the newest Goodwill location will begin construction and is scheduled to open in late 2024.
LEO A DALY Signs Mentor-Protégé JV with HFS Company
LEO A DALY will mentor the service-disabled veteran-owned, woman-owned design firm as part of the Small Business Administration's All Small Mentor-Protégé Program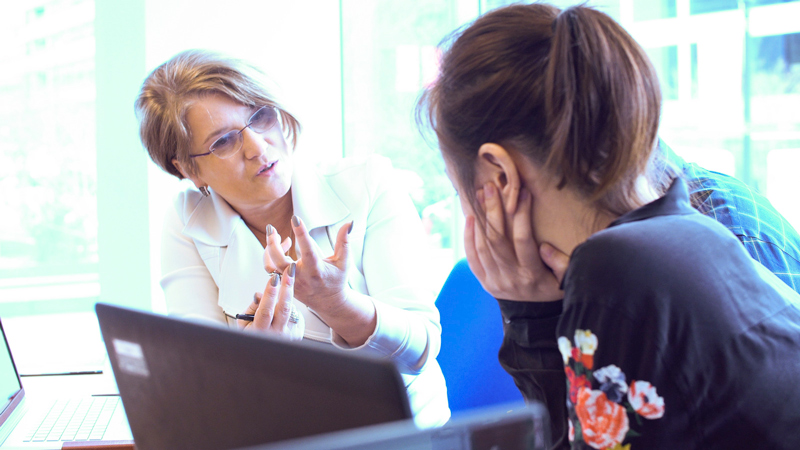 LEO A DALY today announced that it has received Small Business Administration approval of a formal Mentor-Protégé relationship with HFS Company, an award-winning service-disabled veteran-owned, woman-owned small business. 
Under the agreement, LEO A DALY and HFS Company will compete for federal projects as a single entity. Throughout the  six-year term of the agreement, LEO A DALY will support HFS in gaining knowledge and experience in federal contracting and help them successfully compete for government contracts. For clients, the JV allows agency clients to receive small business utilization credit for small, woman-owned, and service-disabled veteran-owned business classifications, while combining the full qualifications and past performances of both companies into an integrated team. 
LEO A DALY is one of the top design firms in the federal arena, ranking  #1 in the nation for Veterans Affairs projects. The firm has provided design services for the federal government for more than 70 years across a variety of federal agencies, including the Department of Defense, Department of Veterans Affairs, Department of Homeland Security and General Services Administration.   
"The Mentor-Protégé Program allows large firms, like LEO A DALY, to mentor smaller businesses and help them in their path toward growth. Our long-standing working relationship with HFS makes this a well-suited match. It emphasizes our commitment not only to growing small businesses, but to pushing socioeconomic equity in the architecture and design field," said Steven Lichtenberger, AIA, president of LEO A DALY. 
Founded in 2003, HFS provides nationwide architectural, engineering, construction management, and facility optimization services on a variety of federal and military medical projects throughout the US and abroad. HFS has enhanced over 400 facilities across the Defense Health Agency and Veterans Affairs, including Walter Reed Military Medical Center, Naval Medical Center San Diego, and Audie Murphy Memorial VA Hospital in San Antonio. 
"Being a service-disabled veteran and businesswoman, I'm looking to learn how to work smarter, not harder, in our federal work. A formal mentor-protégé relationship with LEO A DALY will allow us to pull back the curtain to see how a successful federal design contractor does things.  The things we learn will make us more competitive and create new client opportunities. In addition, as a firm that does 90% healthcare design work, this will give us the opportunity to branch out into new areas of design where LEO A DALY's experience can open doors," said Michele Torres, president of HFS. 
"This is LEO A DALY's first foray into the Mentor-Protégé Program, so it was important to find a good fit in a small business to mentor," says Debra Crafter, small business programs manager with LEO A DALY. Both firms thoroughly vetted each other to gain confidence in the pairing. 
"For a multitude of reasons, many joint ventures fail," Crafter said, "so we were very careful in the protégé firms we considered. HFS has been in business for 18 years. They demonstrate the kind of dedication to continuous improvement that we know leads to growth and success. Michele's maturity and temperament as a previous project partner gives us a great deal of confidence that we can work together to each of our benefits as a JV."