The Nebraska chapter of the American Institute of Architects has honored LEO A DALY's City of Omaha Police Department, West Precinct, with a Citation Award
LEO A DALY named Sustaining Medium Business of the Year by SAME DC Post
The Society of American Military Engineers honored its longest continuously serving Sustaining Member at the National Press Club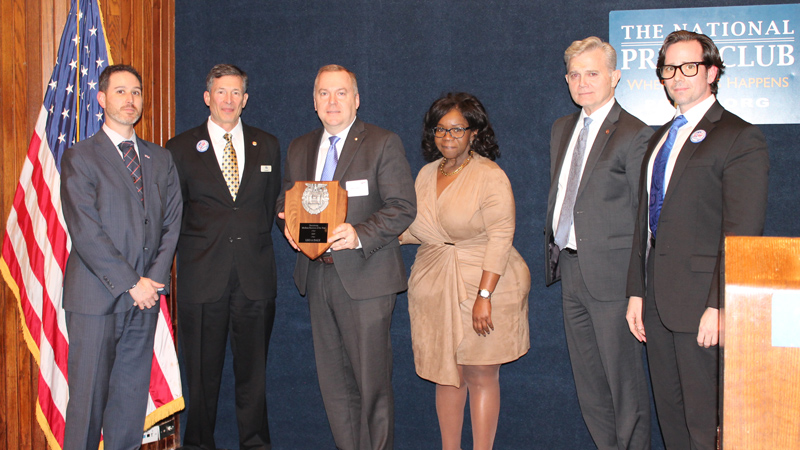 The Society of American Military Engineers (SAME) Washington DC Post honored LEO A DALY as 2019 Sustaining Medium Business of the Year. Les Shepherd, FAIA, Debra Crafter, Roark Redwood, AIA, and Mike Huffstetler, Assoc. AIA, accepted the award on behalf of the firm during the 24th Annual Awards Luncheon on January 16 at the National Press Club.
In 1958, LEO A DALY became one of the society's first Sustaining Member firms. Today, we have the unique distinction of being SAME's the longest continuously serving Sustaining Member firm.
"SAME is entering its 100th year, so it's fitting that the DC Post chose LEO A DALY," said Shepherd, principal and national director of GSA programs.
2019 has been an active year for LEO A DALY's support for the DC Post. In January, the DC Post presented the firm with a service award honoring 60 years of support to the society. In 2017, Chairman Leo A. Daly III received a 50-year service pin as a Life Member of SAME.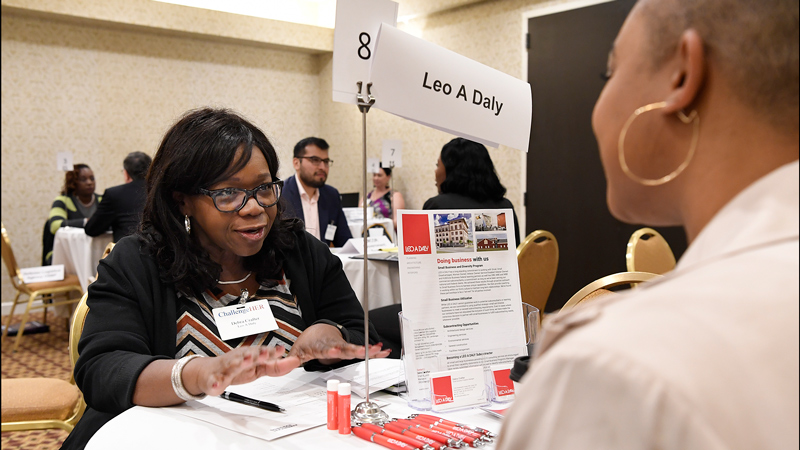 LEO A DALY is an important contributor to the Washington DC Post in 2019. We have sponsored several local and regional SAME events and continue to make an impact sponsoring Small Business Programs and conferences throughout the National Capital Region. SAME members from LEO A DALY have increased awareness of the architecture and engineering professions by partnering with local universities as guest lecturers and design jurors, and mentoring and volunteering at numerous K-12 schools and community outreach events. This work strengthens SAME's mission of enhancing partnerships between the federal government, private sector, education institutions and communities.
"We will continue to have an active presence within SAME, with our employees volunteering for post leadership roles, serving on post and national committees, and participating in both national and regional SAME conferences," said Huffstetler, corporate director of federal programs.