University of Maryland's Thurgood Thomas Hall earns Global Architecture & Design Award.
Innovative Design Strategies Revolutionize Veterans' Mental Health Access in New and Renovated Facilities
This Veteran's Day, LEO A DALY proudly commemorates its impactful journey in designing state-of-the-art VA mental health facilities from coast-to-coast.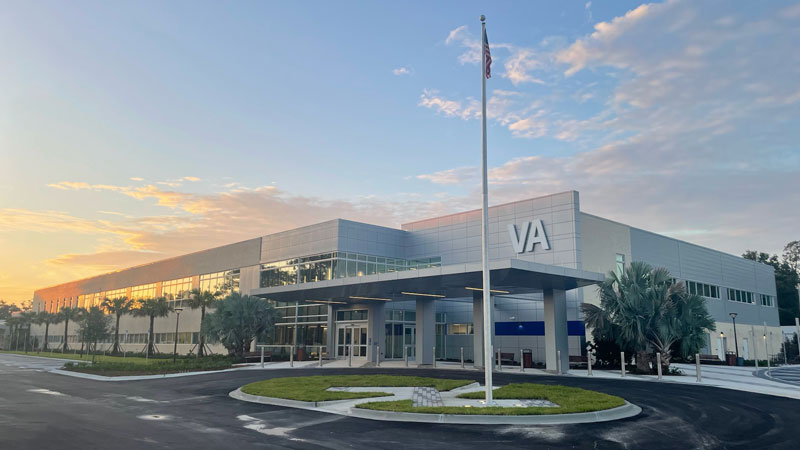 Image courtesy of Cullinan Properties
The 2019 Commander John Scott Hannon Veterans Mental Health Care Improvement Act was introduced to strengthen suicide prevention efforts and expand access to integrative health services for all Veterans. From coast to coast, LEO A DALY, a leader in VA healthcare facility design, is collaborating with the VA and its healthcare providers to implement innovative mental health design strategies into both new constructions and renovated facilities. The goal is to streamline mental health access as an integral component of comprehensive Veteran care. 
Pete Yakowicz, LEO A DALY VP and National Director of Veterans Affairs Programs has dedicated over 42 years to working with the VA, including VA medical centers and clinics across the nation. He says, "We're learning through collaboration with Veterans and their healthcare providers that prioritizing safety, comfort, and deliberate, trauma-informed design elements that reflect empathy, understanding and choice, can enhance the Veteran's treatment experience and produce more positive outcomes. We are honored our work contributes to this important resource for the men and women who have defended our nation."  
The Temple Terrace VA Clinic and Domiciliary in Tampa, Florida, which will begin seeing patients in January 2024 is the first facility to combine nearly every mental health service the VA offers in one location. It replaces three outmoded and undersized mental health clinics and integrates homeless Veterans care, PTSD treatment, suicide prevention services, substance abuse treatment and an inpatient treatment program.  
On the west coast is a renovated Building 209 on the West LA VA campus, which serves as a therapeutic and supportive residence for chronically homeless Veterans. A new Critical Care Center, which includes a 44-bed inpatient mental health unit and renovation of Building 500, the existing hospital, will result in an advanced, comprehensive, and pedestrian-centered medical campus dedicated to caring for the whole Veteran.