University of Maryland's Thurgood Thomas Hall earns Global Architecture & Design Award.
Food, Distribution & Manufacturing team grows in Minneapolis
LEO A DALY expands Minneapolis staff to keep up with growing demand for logistics design services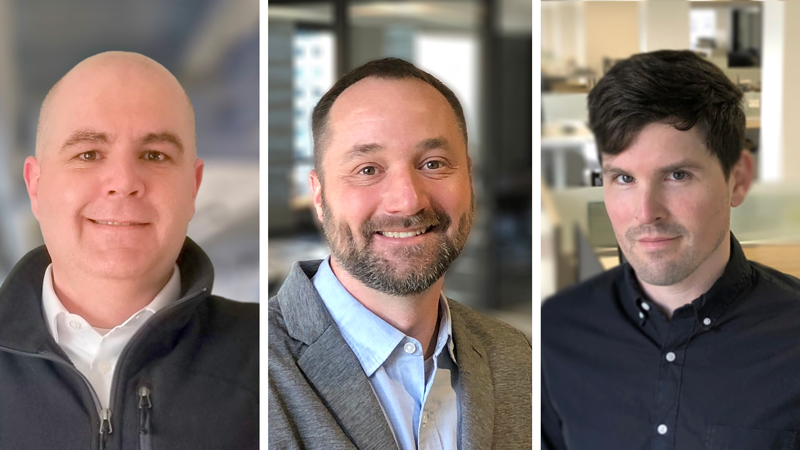 Left to right: Scott Wall, Michael Braun, AIA, and Robert Holley
LEO A DALY announces three new hires in our Minneapolis studio's Food, Distribution & Manufacturing (FDM) design team. Scott Wall, Michael Braun, AIA, and Robert Holley bring expertise in supply chain solutions and the design of large, complex facilities to enable niche growth for the firm.
"These individuals add expanded expertise to our FDM team. Their talents will position LEO A DALY's Minneapolis team to increase our capabilities and our bench strength in distribution, manufacturing and production facilities," said Managing Principal Cindy McCleary, AIA.
Project Manager Scott Wall has over 20 years of experience leading teams through the design of food production and industrial manufacturing facilities for Nestle, Land O'Lakes and Smithfield with T.E. Ibberson Company.
Senior Architect Michael Braun, AIA, brings a decade-plus of experience focused on large, complex, and multi-phased projects for commercial and industrial clients including the Polaris brand of products and phased projects while operational at the LaGuardia Airport.
Designer Rob Holley brings a personal background in manufacturing and logistics business operations and a focus on design functionality and project delivery.
LEO A DALY is recognized for innovation in the design of food distribution and manufacturing facilities. Its center of excellence in Minneapolis has served clients for over 70 years designing facilities to improve their supply chains. The three new team members will bring a focus on client service and project delivery, tailored to these types of critical logistics, e-commerce, food and manufacturing facilities.
"Our passionate FDM team believes that smart design has big impacts to the client's bottom line. We understand our clients' complex operational needs and develop tailored solutions. We are experts in designing responsible facilities, and use creativity and design thinking to optimize flow, increase speed to market and serve end users," said Ignacio Reyes, AIA, vice president, chief development officer.
Recent design work from LEO A DALY's FDM group includes Lidl's new grocery distribution center in Covington, Georgia; Sysco's new distribution center in Nashville, Tennessee; and Publix's new Distribution Center #10 in Greensboro, North Carolina.