Hennepin County Medical Examiner's Office and the Historic Fort Snelling Revitalization Plank Museum & Visitors Center receive Best of B3 Recognitions from the State of Minnesota.
Carson Group's national headquarters opens in Omaha's Heartwood Preserve
Enveloped in electrochromic glass, the campus adds sharp, modern architecture to West Omaha's newest mixed-use development
Video courtesy of Carson
Following two years of design and construction, Carson's $80 million national headquarters opened this summer. A sense of soaring and clarity pervade the new headquarters for the financial services leader, which comprises 1,400 member firms, more than 110 partner offices, and it manages $18 billion in assets. LEO A DALY led architecture, engineering and interior design services for the 200,000 SF campus. Carson employees, known internally as "stakeholders," commenced occupying the new headquarters in May, and an official ribbon cutting is scheduled for October. Project development was led by Goldenrod Companies/Tetrad Property Group, and JE Dunn served as general contractor.
The campus is composed of two main buildings, which are united by a central hub for amenities and a signature skywalk suspended above it. Viewed from Omaha's arterial West Dodge Road, the campus generates a shimmering presence near the highest elevation of the burgeoning mixed-use development at Heartwood Preserve.
Design that mirrors Carson culture
Each design detail embodies the company's obsession with being client-first and embraces a work-hard-play-hard culture. The regal exterior invites occupants into a modern, elegant atmosphere that encourages exploration. From the expansive main lobby, vertical lines flow upward along a sweeping walnut staircase, whose steps mingle smartly with platforms for sitting and standing. The open expression and rising lines lead occupants into the heart of the campus, and the stair-feature doubles as a casual space for productivity, congregation and vertical transport into Carson Commons, a premium amenity hub.
From the hub's daylit passages, "stakeholders" enjoy access to healthy indoor and outdoor dining, social spaces, meeting suites and a state-of-the-art fitness center.
Reduced energy profile and unobstructed views
Clad in electrochromic glass, the crystalline skin of the buildings convey Carson's core mission of "transparency." The envelope transmits close-to-ideal luminance to interior spaces throughout each day, dimming automatically in response to changing concentrations of daylight. This shields unwanted glare and reduces heat gain while eliminating the need for window coverings. Architectural inflections on the exterior create lines along each façade that lead the eye skyward. And ascending rooflines manifest the company's "guided by growth" mantra.
Designed for a multifaceted business
Programming, finishes and furnishings throughout reflect the company's multifaceted business. A posh sixth-floor penthouse, for example, serves as the landing pad for Carson Wealth, the retail-facing sub-brand that works directly with investors. Its perimeters spill out onto terraces with spectacular cityscape vistas.
Levels 3, 4 and 5 are composed of flexible arrangements of private and collaborative productivity spaces, and each floor is equipped with a refreshment oasis. Auditoria and event spaces occupy the second level and are frequented by Carson Partners and Carson Coaching sub-brands for advisor training, onboarding and education.
Integrated design process empowers flexibility, technology
Integrated design blends the building's architecture with its engineering and interiors. The majority of the building's utilities and mechanical systems are routed through the core to leave floorplans open and flexible. The electrochromic envelope informed LEO A DALY's energy models, which revealed significantly reduced cooling loads for mechanical systems. Cooling equipment was downsized in response, lowering costs and long-term energy consumption.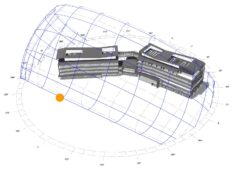 Electrical systems are robust and multi-redundant to support a substantial technology backbone that underpins Carson's sophisticated software development. Electric lighting is designed to optimize comfort in harmony with natural daylighting, and to enhance the visual experience of architectural features. The development of the structural framing system utilized cantilevered steel members to enhance the "ascend" design concept. When viewed from the north and south facades, the cantilevers project a "hovering" quality while minimizing vibrations for the open-office setting.
Smooth delivery during pandemic
Thanks to early planning and collaboration, designers and contractors secured structural steel and other manufactured materials according to the original timeline, and construction continued unimpeded by the turbulence of the pandemic year. While staying on schedule, the project also achieved its $80 million construction budget. Enhanced safety practices kept the project moving forward throughout 2020 and allowed Carson's headquarters to open on time even while other projects nearby were halted.
"One of the biggest opportunities we have is attracting people to Omaha, Nebraska," said CEO and founder Ron Carson. "Our mission at Carson is to be the most trusted for financial advice, and our new office campus will play an integral role to leading that charge and attracting global talent."
Building facts, at a glance:
Building One:
Six-story, 120,000-SF building
Two-story entry lobby with 16' x 14' video wall
Productivity space (individual and collaborative)
Flexibile, technology-rich training suite
Rooftop terrace
Premium gathering place with stunning views of the city on one side, Heartwood Preserve on the other
Amenity Hub:
Two-story, 20,000-SF "Carson Commons" focal point
State-of-the-art training facility and auditorium
Social spaces
Café
Flexible meeting suites
Building Two:
Four-story, 80,000-SF building
Lobby
Productivity space (individual and collaborative)