With retail design complete, the newest Goodwill location will begin construction and is scheduled to open in late 2024.
'Smart' ORBT Stations Debut in Omaha
Transit station design, led by LEO A DALY, creates simple, secure and enjoyable user experiences along Omaha's new bus rapid transit system.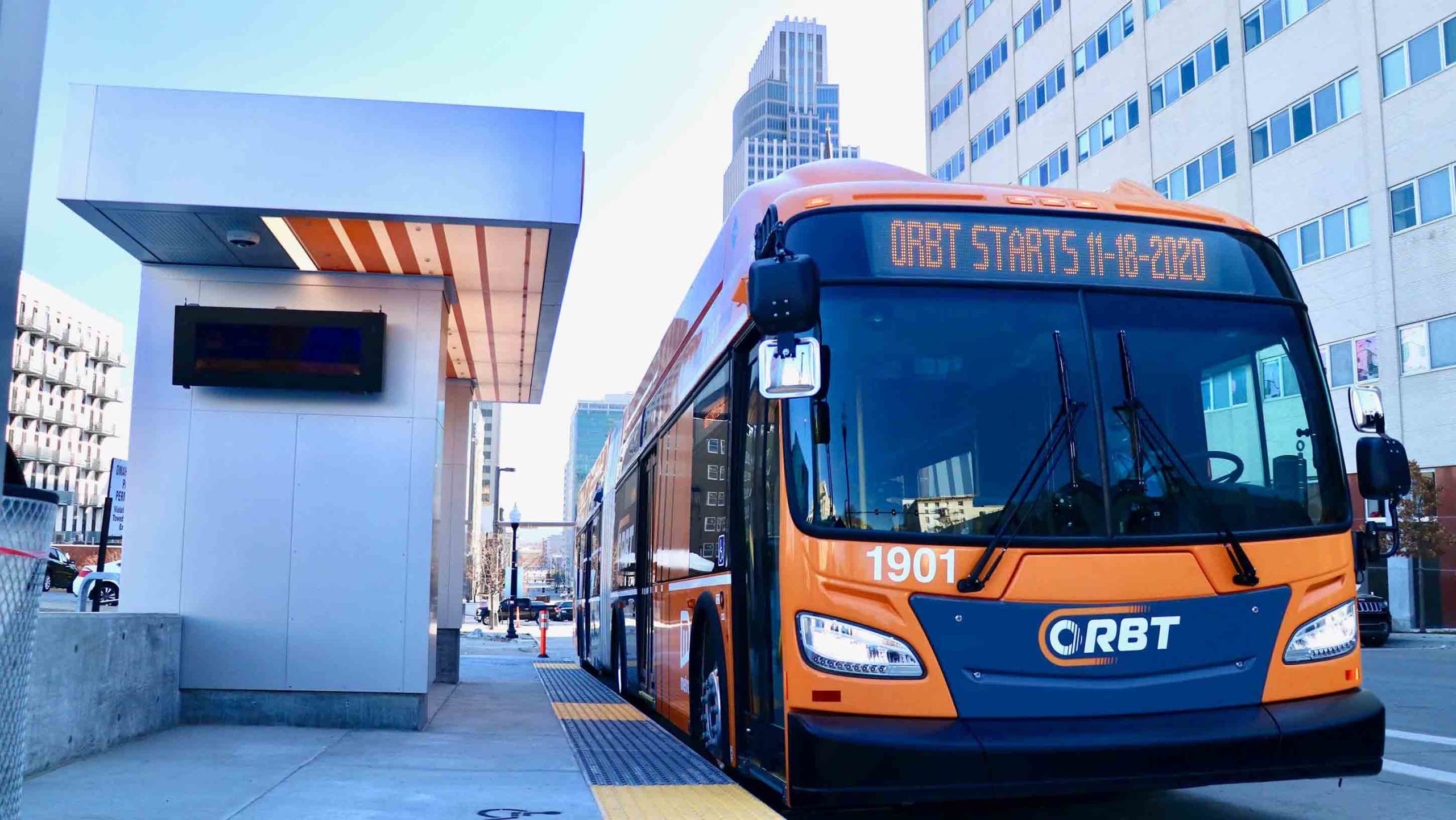 Designed by LEO A DALY, 24 iconic and state-of-the-art transit stations in Omaha now link some of the city's premier destination districts and neighborhoods. Omaha Rapid Bus Transit (ORBT) service is scheduled to start Nov. 18, with buses stopping at each of the stations, 12 in each direction, along the Dodge and Douglas Street corridors between the Westroads District and Downtown.
Each station expresses ORBT's brand aesthetic using smooth grey metal emblazoned with orange and black lettering. Sign pillars and colorful lighting features under the station canopy act as a wayfinding beacon throughout the city's urban core. The inner workings of each station include security infrastructure that leverages 360-degree cameras and fiber optic communication networks. Touch-screen kiosks and auditory equipment simplify ticket purchases while GPS tracking displays arrival times for inbound buses. Inbound buses are announced audibly and visually to alert passengers.
Designers specified pre-manufacturing of the station components. This allowed for precise fabrication in a controlled environment while dramatically reducing on-site installation times to about an hour, thus minimizing traffic interruptions.
While all stations share a uniform architectural appearance, each site presented site-specific structural, electrical, and civil engineering challenges. Station foundations were also designed in tandem with raised platforms, roadway improvements and travel upgrades. LEO A DALY's engineers worked closely with METRO Transit, the general contractor and local stakeholders to adapt the design of each site. Station power-and-communications cabinets provided local artists a canvas on which to create vibrant, original artworks through Art+Infrastructure from Omaha by Design.
User-focused design features promote universal accessibility for people of all capabilities. Stations include auditory announcements and visual cues for stop locations. Each station platform is precisely designed for level boarding, allowing bicycles, wheelchairs and strollers to easily roll on and off at any station.
Signage at each station indicates bicycle loading for easy access to bike racks inside every bus. Heating elements embedded in station platforms will keep them clear of snow and ice with minimal maintenance. The five anticipated busiest stations — including Westroads and the UNO campus — use 24-foot canopy spans to shelter more transit users. Other stations use 12-foot canopies.
"Metro led a visionary process to bring our region the first rapid bus transit system, and we were privileged to be a part of ORBT," said LEO A DALY Director of Planning Christine Rupert. "The resulting stations are not only attractive and comfortable. They are secure, efficient and easy to use, a big step forward for transit in Omaha."
Fares are free for the first four months of ORBT service, and Omaha Metro Transit has implemented additional precautions to enhance health and wellness during the pandemic. For more information about the Omaha Rapid Bus Transit system, go to the Omaha Metro Transit website.