Women's History Month: Pam Goff's words of advice
Pam Goff, senior interior designer in our Los Angeles studio, has wise words of advice for young women in our industry, from waking up early to leaning in. Get to know Pam this Women's History Month.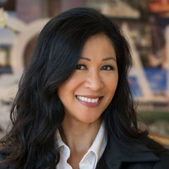 Q:   What words of advice do you have for passionate young women early in their career?
A:   Wake up early, excercise and meditate. Be willing to listen and be open to learning and leaning in. Think outside the box and always be willing to contribute. You can always be passionate about something and who or what you want to be, but do it humbly and with honesty and kindness.
Q:   Do you have any rules or philosophies that steer you in design and/or career?
A:   Six Ps: pride, perception, perseverance, persistence, patience and preparation.
Q:   Discuss some of the challenges you have experienced as a woman in your field, and how you have overcome them.
A:   Culturally, my father didn't think architecture was for a woman, let alone a Filipino American woman, and that I should instead consider a medical or accounting career. I decided to pursue architecture anyway. Being a double minority (Asian, woman) in a male-dominated field, I faced another challenge at orientation day in architectural school. It was literally a pep talk about statistics – how many women will survive the curriculum and how many will drop out. However, it didn't stop me from moving forward in school and graduating.
Also, there were were a few challenges as the first "intern" in the architectural department with a traditional, bureaucratic organization, and becoming president of the Association for Women in Architecture and creating the first symposium celebrating women in the industry. In both instances, it was the act of showing up, facing challenges and thinking outside of the box, which helped me move forward.
Q:   Is there anyone specific who would be a dream to collaborate with?
A:   I remember reading an article on Maya Lin's award-winning design for the Vietnam Veterans Memorial Wall and hoping one day that I would be featured for a project that I designed as well. It would be a dream to collaborate with her someday on a project that celebrates and integrates the built environment and commemorates humanity.
Q:   What's your favorite project that you've worked on and why?
A:   My favorite project was one that I managed during a low point in my life, before LEO A DALY, the Kaiser Permanente Independence Park Administrative Building in Downey, Calif. It became one of the most highlighted projects within that firm and was published in Architectural Record.
Q:   Who/what sources do you look to for drive and inspiration?
A:   Peers and colleagues, the built environment and the drive to create something different.