Traditional firms and transformational workplace design
by Ruth Jansson, CID, IIDA, LEED AP, Director of Interiors
Irena Savakova, RIBA, LEED AP BD+C, Vice President, Director of Design
and Kristina Crawley, AIA, NCARB, LEED AP, Commercial Market Sector Leader
LEO A DALY's Washington, D.C., studio
Commercial Workplace Design Case Studies
As we enter an age where workplace liquidity, mergers, acquisitions and entrepreneurship reign, it has become increasingly rare for family-owned companies to reach pinnacle anniversaries of 50, 75 or 100 years or more. The opportunity to design a new workplace for a company that has eclipsed those milestones requires a team whose focus, leadership and expertise can evolve a company's brand beyond even a century milestone.
Recently, LEO A DALY commercial designers have led this charge for clients and our own workplace in Washington, D.C. As a firm dedicated to enhancing the human experience, our team focuses on relationship building—something any company with a historic precedent understands well. In this case study, we've outlined our process for relocating and redesigning the office spaces of three historic companies. We'll analyze the elements that were important to maintain and the paradigm of change we implemented in each design quest to ensure continued success into the future.
Bernstein Management Corporation, Washington, D.C.
Established in 1953 (65 years in business)
The Bernstein Management Corporation is a real estate investment, ownership, management and development organization.
In 2016, Josh Bernstein, chief executive officer of the Bernstein Management Corporation, founded by his father in 1953, was ready to undertake a transformational office move. His charge for our design team was empowering—create a new, unique workspace that redefines outdated office synergies, promotes employee productivity and engagement and positions the company into a custom environment, reflective of the company's brand identity.
Bernstein Management Corporation was not searching for traditional design help with the relocation of its executive team into a new space, but was eager to plan a strategic transition to a new chapter of business operations, defined by agility and flexibility, while remaining true to the company's historic brand identity. The CEO envisioned a new space that would draw power from the past, celebrate the company's unique culture and accomplishments and refresh its brand by creating an open, light atmosphere and collaborative workplace.
As a young developer, Josh Bernstein grew up inspired by late developer and philanthropist Robert H. Smith, and his father, Charles E. Smith. Inspiration for the company's new space came from the canvasses of artist Clarice Smith, the wife of Robert H. Smith. Her equestrian paintings evoke power and grace, setting the tone for the architectural finishes, with warm neutrals of brown and gold found in the carpet, wood and guest chairs. The five accent colors of the workstations derive from the silks of the jockeys' shirts in her piece "Twilight Race" (1999).
Our design introduces and supports an open plan concept throughout the office, promoting transparency and fostering collaboration. A contemporary design planning approach translates the abstract canvas poetry of color and motion into a vibrant design. An elegant, streamlined layout allows natural light to fill the space while bright, warm, natural finishes modernize the office's look and bring a level of excitement and freshness to the space.
We coordinated the design of more than 30 low-profile workstations and a dozen private offices. The workstations underscore the office's open concept, promoting increased collaboration and communication among employees. All but three unique offices are located inboard and do not take over the glass perimeter, leaving it open for the entire staff to experience. Each office features glass fronts and sliding glass doors, further emphasizing the openness and transparency of the space. The elegant new office, shaped by color, will inspire The Bernstein Management Corporation through the next decades of operation.
The Lenkin Company, Washington, D.C.
Established in 1929 (89 years in business)
The Lenkin Company is a family-owned, full-service construction and management company. For 40 years, the company headquarters was based in Bethesda, Maryland, but in 2017, the company strategically relocated to a property in northwest Washington, D.C.
We collaborated with Edward Lenkin, president and third generation of his family, to lead the company and develop a design concept that pays homage to the company's history and brand identity, while preparing for the future. The design features unique nods to the past while integrating a contemporary aesthetic. Modern finishes are punctuated with historic references in the form of refurbished heirloom-quality furniture from the company's former headquarters.
The new office, located on the top floor, has an expansive 14-foot floor-to-slab space to accommodate generous 11-foot finished ceilings and glass-fronted offices with sliding glass doors. Visitors exiting the elevator are greeted in the reception lobby by an elegant archway veneered in antique walnut.
Through the archway is an open sitting area with stylish period Corbusier lounge seating. Staff offices walled in stand-alone floor to ceiling glass allow natural light to flood the center of the suite. The technology-equipped conference room is accentuated by a refurbished George Nelson credenza shelf unit repurposed from the former headquarters. The executive office suites feature operable Japanese shoji screens in front of exterior windows and Dunbar-tufted furnishings reupholstered with rich leather.
Designers paid equal attention to the support and circulation spaces, which feature custom compartmentalized storage, modern LED lighting, custom finishes and The Lenkin Company art collection.
LEO A DALY, Washington, D.C.
Established in 1915 (103 years in business)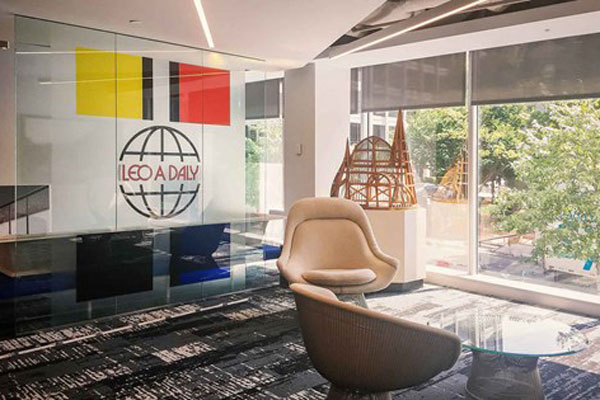 We relied on our own team of designers for the relocation and design of the Washington, D.C., office, which opened May 1, 2018. After 34 years at Connecticut Avenue, the firm's leadership made the decision to move to a new Class A office space on 19th Street NW. We recently profiled the design of the new office in our blog section.These companies embraced the design of their new workplaces as an opportunity to improve transparency and connection while setting a new paradigm for company transformation. We are proud of the accomplishments of our clients and look forward to helping others realize their potential–for the next 100 years and beyond.

About LEO A DALY's Commercial Market

As an industry leader in workplace design, LEO A DALY works closely with clients to create distinctive environments that strengthen brands, enhance operations and reflect values. Our expert team is passionate about delivering comprehensive workplace design solutions to serve each client's business goals, improve culture, enhance collaboration and respect the environment. Learn more about our workplace design experience.