The drone-powered hospital
Drone distribution could enable a more resilient future for rural and hurricane-prone health systems.
LEO A DALY is dedicated to helping health systems respond to a changing environment through the planning and design of resilient facilities. Our Miami design studio is now working on a concept for a drone-powered hospital, which uses autonomous aerial vehicles to deliver food and medical supplies directly to patients. The idea was inspired by managing principal Eduardo Egea's experience aiding relief efforts in Puerto Rico following Hurricane Maria. With roads out across the island, he thought, how could we provide better healthcare services to more people, more reliably.
We spoke with Eduardo Egea, AIA, NCARB, about the drone-powered hospital, how it can help rural and hurricane-prone health systems stay resilient, and how it suggests future opportunities in healthcare and beyond.
How did hospitals in Puerto Rico suffer during and after Hurricane Maria?
During Hurricane Maria, the entire island of Puerto Rico lost power. Some facilities had emergency power, but that only lasted until their diesel fuel ran out. Many of the roads were either destroyed or unusable because of fallen debris, so access to hospitals was limited for staff, family members and suppliers. Patients were pretty much stranded without access to food, medication, and air conditioning. Some of the staff was unable to get to the hospital to take care of the patients.
How did your personal experiences inspire the drone hospital?
I was involved in extracting family members out of the island, including my 78-year-old father and 79-year-old mother. One is a dementia patient and the other is a cancer patient in remission, so very limited in their ability to take care of themselves. Meanwhile, my brother was organizing a convoy of ships from a local yacht club to deliver generators, food, and other supplies to the neighboring British Virgin Islands. The experiences of my family are what ultimately inspired the drone hospital.
If any of my family members had fallen or had a stroke and needed medical care, there would have been no place to go. The hospitals were not able to be used at their full capacity due to lack of power, water, access to clinicians and medication. When barges finally began entering the port with supplies, there were still cases where they were unable to get those supplies to those who needed it, including the elderly and critical patients who can't move from those facilities. There was also an issue finding people to clean roads and drive trucks with supplies.
I thought, why couldn't we bypass all that and have whatever is in the barges taken directly to the hospitals, and directly to patients?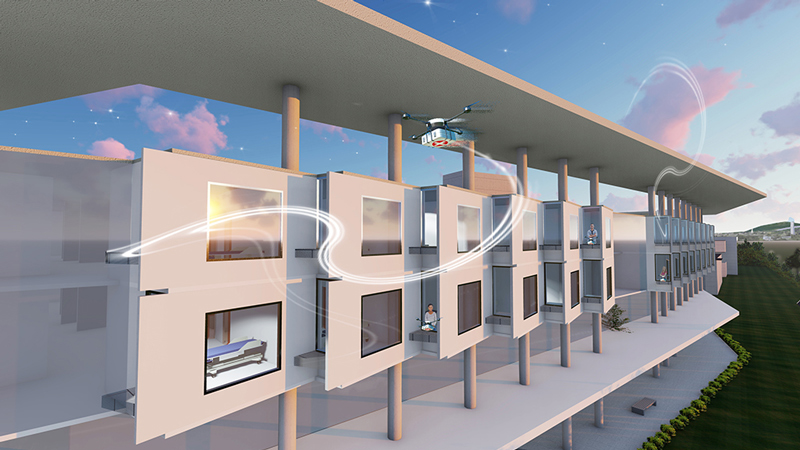 What is the drone-powered hospital? Big picture.
The drone-powered hospital is a new type of acute-care facility that incorporates autonomous aircraft into its supply chain. Supplementing the existing network of terrestrial distribution channels, the drone-powered hospital takes advantage of a new network of fulfillment centers that utilize drones to provide for last-mile delivery. Food, medicine and other medical supplies are delivered directly to patients as needed via a drone port integrated into the exterior wall of each patient room.
The drone-powered hospital concept has several advantages for hurricane-prone healthcare systems, the most obvious of which is an added layer of resiliency in the case of a natural disaster. Additionally, by moving certain materials management, storage, food production, and pharmacy functions off-site, drone-powered hospitals would shrink their square-footage by 15 to 17 percent. The reduced footprint would change the economics of population health management, allowing more, smaller facilities to be built closer to the communities that need them.
How does the drone port work?
The drone port is essentially a valve at the outboard wall of the patient room. On the exterior, there is a net into which the drone drops its cargo. After drop-off, the cargo slides through the valve, where it is accessed by a cabinet on the patient end. The valve is designed to keep any moisture and dirt out.
Tell me about the design process that led to it.
Our design charrette was inspired by the news that Amazon had acquired Whole Foods. That news allowed our team to think big about the future of supply chains. We fell in love with the idea of Amazontopia, Amazon's vision of a food distribution and fulfillment network using drones and blimps. One patent for their fulfillment center is inspired by a bee hive, from which Amazon will deploy drones with cargo to be delivered to customers.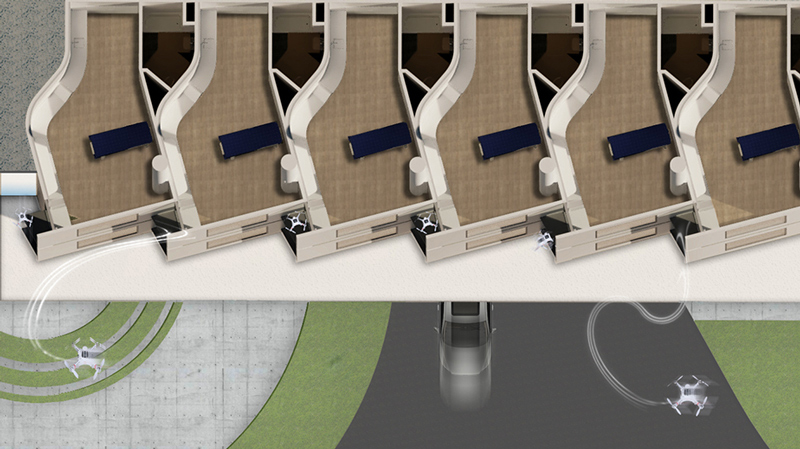 We were curious why no one was talking about receiving end. If you live in a hi-rise condominium without a balcony, like many do here in Miami Beach or Puerto Rico, how would a drone approach someone at 31st floor? And how would that play out in that hospital that is a 5 to 20-story bed tower. We started sketching, beginning with a template for a universal patient room that is flexible to accommodate anything from acute to ICU. By simply sliding the exterior wall a foot and a half, we were able to provide a louver on the outside of the building for a placing a drone port. If you look at building from the outside it looks like a shark's gills. Those gills are the drone ports.
It sounds like there are applications for this that go beyond healthcare.
Yes. Because of LEO A DALY's strength in multiple markets, we have the ability to work with experts in different areas of design to build on our ideas. We look forward to seeing how this concept evolves as our workplace, mixed-use, hospitality, food distribution, manufacturing and residential groups get involved. At this point the applications are limitless.
What other kinds of applications do you see?
The concept of a drone-powered hospital touches many other industries, and involves many logistical, security, and technological questions that suggest business opportunities. On the healthcare side, there are opportunities to partners with pharma companies, food retailers, supermarkets, and others to help them access new markets. On the tech side, partnerships with existing online retailers will be helpful in in creating a fast, secure, pleasant customer experience. Logistically, there are just a whole range of opportunities to reinvent supply chains and rewrite the rules of population health management.
How will the future look if this idea is implemented?
I see more patients being treated, with better care, for less money, and with better reliability. The decentralization of healthcare services and minimizing the infrastructure would allow us to create more healthcare delivery settings embedded in places within communities that couldn't be accommodated before. The healthcare industry is getting away from the idea of large, complex facilities, and moving toward more ambulatory care. A drone-powered micro-hospital could be easily assembled and introduced into any community, supported by the strength of drone-assisted last-mile fulfillment.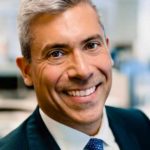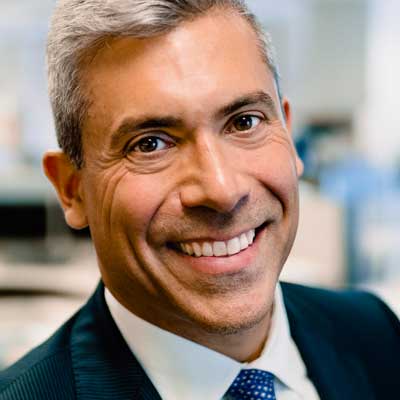 About the Author
Eduardo Egea, AIA, NCARB, is vice president and managing principal of LEO A DALY's Miami design studio. In this role, Eduardo facilitates a collaborative and iterative design process, using simulation and prototyping, to research and test the effectiveness of promising design solutions that may impact patient safety in high-stress healthcare environments. He has focused his 25-year career on using a multidisciplinary approach to improve patient safety in healthcare through the development of tools and built-environment solutions. He can be reached at esegea@leoadaly.com.