Space optimization through relocation
LEO A DALY's diverse and creative teams combine planning, architecture, engineering and interiors expertise to offer a holistic response to our clients' challenges. With this broad view of a project from beginning to end, and involvement in every step of the way, we know that planning is a vital component in a successful project. Our healthcare team knows the path to a successful project at completion, begins at inception. In our Dallas studio, the healthcare team strives to plan medical spaces that allow healthcare systems to provide uncompromised care and transform the patient and caregiver experience through design.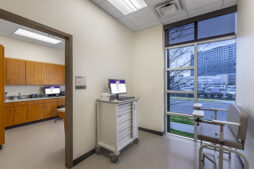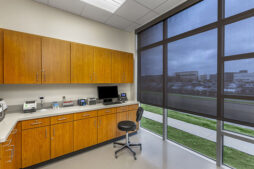 As part of preparations to sell the Old Parkland Hospital Campus, our team was commissioned to help facilitate the move of eleven departments, clinics, and community outreach programs into six different buildings. After project kick-off, the team toured and analyzed each department in their existing spaces to gain an understanding of their processes, flows, and needs as they relocated into a new space. Many of the departments were feeling cramped since their services, client and patient population, and community service programs had grown since first occupying their current spaces. Through user interviews, information gained from the tours, and the existing floor plans, the team formulated new space programs. These new programs demonstrated that most of the eleven departments required more square footage than their current space. However, each department was limited to a new footprint equal to their current square footage. This limitation gave us the opportunity to maximize efficiencies and streamline floor plans in the new locations to give Parkland areas that truly improved their ability to work and serve the Dallas community.
Providing Parkland with a realistic program for new spaces allowed them to vet nearby leasable locations as well as available space within the new hospital. As the LEO A DALY and Parkland teams worked together through scheduling and logistics of the relocations, the requirement for several short-term enabling moves were identified. Using the developed program, our team was able to quickly pivot and assist Parkland with identifying vacant spaces within their campus that could accommodate these departments using existing room layouts and making minimal modifications.  This enabled the departments to relocate quickly but still operate effectively in their interim locations.  When complications arise on complex projects, a nimble, creative, and collaborative team ready to roll up their sleeves to provide new solutions can be the difference between a project completely halting and one that continues.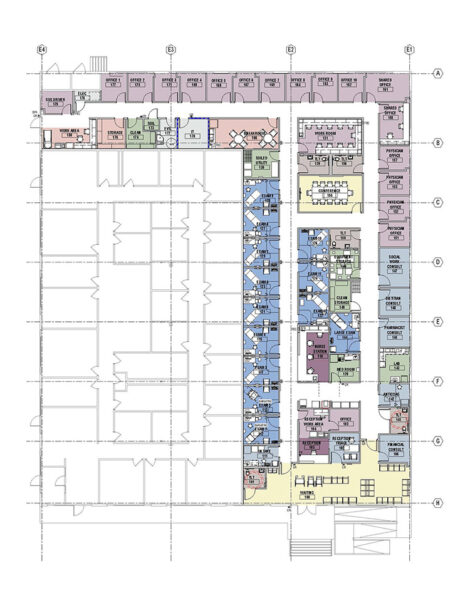 Though all eleven departments are a part of Parkland, each is also an individual client with their own unique processes and needs – this was certainly not a case of one solution fits all. LEO A DALY incorporated feedback from patient round table discussions and hosted multiple design meetings with each department, inviting representatives from all levels, from receptionist through care providers, to ensure the new design would accommodate the needs of everyone.
During planning and design of the Geriatrics Clinic, ongoing discussions revolved around the design, layout, and equipment configuration of the exam room. The team determined a full-scale mock-up of the exam room would be more beneficial than 2D or 3D drawings. In a mock-up, users experience the space as it would exist in its final state and are to make modifications and adjustments – from small changes such as moving an outlet six inches to larger modifications such as moving a sink or door. Without the mock-up, the functionality of the space isn't realized until well into construction, at which point modifications would impact both budget and schedule. Our team has employed mock-ups in a variety of projects and sizes, from individual rooms to whole departments, to help our clients make the right operational decisions at the right time.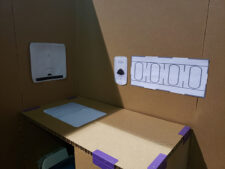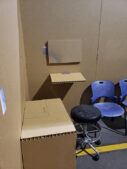 Planning projects within limited space is an exercise in give and take, requiring care and thought while helping clients navigate prioritizing needs and minimizing excess. One example would be a client's decision to incorporate six-foot-wide patient corridors in a clinic early in planning due to a high level of wheelchair and mobility impaired circulation. Prioritizing this decision early allowed us to thoughtfully and proactively plan the clinic to accommodate wider than required corridors and deliver a functional department layout instead of a reactionary design.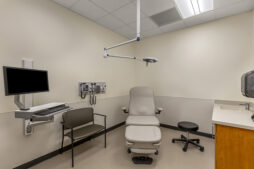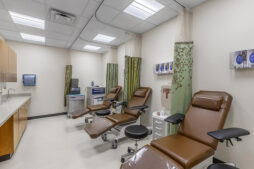 Setting a project up for success starts on day one before the team hits the drawing board. My team finds success when, in partnership with the client, we:
Set goals early and for all aspects of the project
Revisit project and client goals periodically and evaluate the current design against them to ensure the project is progressing towards them.
Gain an understanding of the functional and operational needs of the space
Invite the right people to the table to deliver a solution that considers all users
Identify necessities and wish list items in order to prioritize program and design elements
Our world is always changing, from building and health codes to unprecedented events like pandemics. Our team looks at each design challenge from multiple perspectives and strives to stay up to date on best practices, incorporating our expertise to provide the best individualized solutions for our clients. We understand every decision has an impact on the schedule, budget, care provider, and patient experience. We want to help you provide the best care and better serve your community.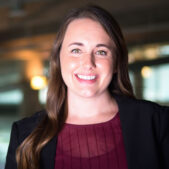 About the author
Katelyn has spent 5 years designing healthcare environments throughout the country for both public and private clients and has extensive experience in renovation and repositioning existing spaces. She is passionate about designing healthcare environments that aid in overall healing process by focusing on improving user experiences. Katelyn looks for comprehensive solutions that meet the needs of all those will interact with her projects after completion, from patients to care providers to staff.
About the author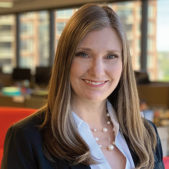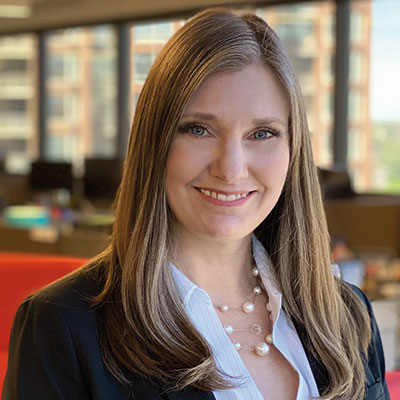 Rebecca Davis focuses on creating healthcare spaces with holistic experiences to enrich the patient experience. During her 20 years of practice, Rebecca has been dedicated to the planning, design and management of healthcare projects, with a passion and expertise in behavioral health spaces, oncology and support services departments, such as labs and pharmacies. Her portfolio includes more than 6 million SF of facilities, from small renovations and community hospitals to specialty medical centers and research facilities.