How can design contribute to the fight against hunger?
by Meagan McColloch-Vencil, AICP and Cindy McCleary, AIA
A unique design opportunity
What do you do when you have a client that needs a warehouse, cold storage, distribution center, office, volunteer center and food market and wants it all to feel like a community center? Enter David Laskey, director of facility design and operations of Second Harvest Heartland (SHH), the largest foodbank in the Midwest and second largest in the nation. His enthusiasm is infectious.
"Our multi-function facility has finally come to life and everywhere you look it is telling the story about what we do and how we are working in partnership with our community to achieve our mission of "ending hunger together,'" Laskey said.
If you ever volunteered in the Twin Cities, chances are you have been to a food packing event at SHH. They host groups of individuals from the community to assist in packing food that is shipped to their agency partners and distributed around the Midwest region. According to SHH, last year alone, they provided more than 97 million meals to nearly 1,000 food shelves and meal programs around 59 counties in Minnesota and western Wisconsin.
An operation of this scale requires a facility with all the classic components of any food distributor; a warehouse and distribution center complete with commercial racking and office space, as well as a space unique to SHH, a volunteer center.
What is a volunteer center?
Pre-COVID 19, SHH hosted as many as 50 to 100 volunteers each day and wanted to expand that capability in their new facility. In the volunteer center, members of the community are briefed about SHH's mission, trained in the work they will be doing and receive safety instructions. Groups then move onto the floor of the center where they work at stations packing food for people in the community.
According to David, volunteers are essential to SHH's business model and exemplify what SHH is all about, so creating a volunteer center that enhances the experience of the volunteers and provides a connection to their mission was critical to this project's success. The operation of a volunteer center involves more than just volunteers, however. It requires office personnel to procure the product and coordinate delivery, truck drivers and warehouse workers to get it to the volunteer center, volunteer experience ambassadors to provide a great experience and a maintenance staff to keep the space in tip top shape.
A day in the life
Fully understanding the complex operations of the SHH organization was key to meeting project goals. Our team used LEO A DALY's "Day in the Life" tool to track key players in the organization from the moment they arrived on-site to their departure at the end of a shift. Using the data provided by this tool regarding flow of individuals through the space, we created a facility layout that provides seamless and efficient movement whether within the volunteer center, office space or warehouse, including the incoming and outgoing product.
Community feel community access
Nailing the function and flow of the volunteer center wasn't the only critical component to project success. The design and feel of the space are equally important as fostering and growing a sense of community, which is at the heart of SHH's mission. As such, creating a welcoming space fit for everyone that raises the spirit and celebrates the art of giving was at the forefront throughout design.
Upon entering the volunteer center, visitors and volunteers are greeted by a bright and open space with ample room to circulate throughout, allowing it to flex each day to accommodate the varying sizes of volunteer groups. The space can also be rented out by community groups or organizations, furthering the flexibility and the extension of volunteer center as community center.
"Our new facility enables us to not only increase our community connection and meet the extremely fast-growing need for our food resources, but it prepares us to be able to expand our services in the future," Laskey said. "The flexible design provides us the space necessary to fully explore innovative ideas such as a commercial kitchen or other food production operations to meet the needs of our hungry neighbors."
Aesthetics also contribute to the community feel within the facility. Throughout design we integrated the idea of connecting "carpet to concrete." This means that back-of-house operations like the warehouse are visually connected to front-of-house functions, such as the offices and volunteer center, reinforcing the mission and creating energy within each space.
Connecting the two types of spaces was primarily achieved using large expanses of transparent curtainwall to divide the volunteer center from the warehouse (important for food safety), and from the production area (where volunteers package food) to the welcome area of the volunteer center. Volunteers can see the food they've packaged as it is stacked and moved on for shipping to agencies, while warehouse and office employees can see food being packaged and boxed by volunteers in preparation for distribution to individuals in need. The visual connections to the work being done keep the SHH mission top of mind for everyone.
Rewarding work with a dedicated client
Working with SHH has been an outstanding and rewarding experience for our team. Providing our services to help them further their mission has been so meaningful and being one of the first groups to test out the volunteer center while packing food was amazing! Working closely with those who wear their hearts and missions on their sleeves to combat food insecurity in our region has been a true honor.
Since the COVID 19 pandemic started, SHH has increased food distribution and redesigned their services to address the significant increase in local hunger. Visit their website to find out how you can help.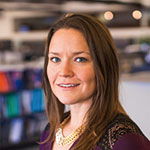 About the author
Meagan is a planner and architect with a background in urban and regional planning, architecture and art. Her responsibilities have included site assessments, field surveys, data collection, policy and prescriptive requirements development, public outreach, historic building assessments, architectural design, code compliance and site planning. Prior to joining
LEO A DALY, Meagan served as a city planner for communities in Colorado and Wyoming.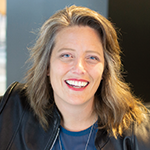 About the author
Cindy has focused her 18-year career on public and educational architecture. An expert in visioning and consensus building, she is particularly adept at guiding and facilitating special interest groups, public sector clients and multiple stakeholders to realize strategically driven results. Cindy's multi-faceted experience as a programmer and planner has earned her a reputation for advanced thinking and strategically driven design processes. Cindy can be contacted at 612.341.9588 or camccleary@leoadaly.com.