Evaluating design trends in workplace and commercial development
As the world responds to the global pandemic, LEO A DALY is working closely with workplace and commercial clients to address their changing needs
Global Commercial Practice Leader Kristina Crawley, AIA, NCARB, LEED AP, recently sat down with Washington, D.C., Market Sector Leader Dianne Oroz, Assoc. AIA, Assoc. IIDA, to discuss the accelerations of pre-COVID trends and the evolutions witnessed in office design and commercial development over the past year as well as the changes expected in these markets long-term. The following is an edited excerpt of their discussion.
Kristina Crawley: Thank you for joining me, Dianne. Now that we are more than a year into the pandemic, how would you describe the effects COVID-19 has had on the workplace market?
Dianne Oroz: Very good question, Krissy. In looking at pre-COVID trends, one might argue that there was a glut of office space, which encouraged things like amenity wars. There was a lot of progress being made in terms of workplace design, with many positive changes taking shape for individual tenants, but we also saw a lot of buildings still lacking a true sense of multifunctionality.
KC: LEO A DALY is actively involved in the Urban Land Institute, whose recent discussions in the Washington, D.C., region include considering what will entice a return to the downtown area and the workplace. Local and national expertise shows a deeper discussion into thinking beyond the "free lunch." LEO A DALY has been on the forefront of this discussion, considering and designing for flexibility, 4D programming and space as a collaborative service, and strategic tactics to the workplace that can be taken now—all of which can have a variety of meaning depending upon the client or development type. What do you think some short-term trends will be?
DO: As companies ease back into the workplace, it's important for us as designers to first listen to see how are clients are feeling since the pandemic started, and what they are experiencing within their workforces. We have seen many companies work hard to leverage their technology in order to bridge the gap between home and the office, and it's been proven that people are able to work from home and be productive. But moving forward, we know employees are missing the experience of collaboration within a shared physical space and many are feeling a bit "Zoom-ed" out. We believe strongly in the importance of a shared workplace and its ability to enhance collaboration, and we are cognizant of a company's bottom line. We understand many companies are continuing in their current lease arrangement, but we're engaging in discussions about phasing as well as creating or converting some of their spaces or furniture systems in ways that can be more multifunctional or flexible.
KC: We have also paid close attention to trends that have accelerated over the past year, with lots of talk around hybridized scheduling, shared amenities, providing access to the outdoors and mental health and wellness. We've seen with our own clients that culture is at a premium, and the return to the workplace is successfully focused around company culture. That includes flexibility and autonomy, tech integration with working-from-anywhere, and hybridized scheduling with maximum flexibility and connectivity being key. What do you think are some of the specific resilient factors for development and workplace in the Washington, D.C., region long-term?
DO: We've been tracking quite a few trends and considering what will continue as workplaces reopen as well as what we see as opportunities for improving how we work and how we plan and program commercial developments moving forward. We're having discussions with clients about whether to increase their footprint or whether to decrease it. Both options have validity, and it's really important to understand the end user to determine which strategy might be beneficial. We are also considering options that would create several types of office spaces for the end user. For example, a company's portfolio may include dispersed office locations in the suburbs, while maintaining a headquarters location downtown, with specific types of tasks and activities intended for each space.
We're also interested in the design of multi-use projects that create value moving forward. Commercial developments often include a mix of retail, office space, hospitality, residential, entertainment and medical—there's a lot that can go under that umbrella of commercial—and we're very focused on how our design can be more efficient for the end user, and how we can create value and contribute to a potential de-risking strategy for the developer.
KC: Yes, as we've seen COVID-19 accelerate many real estate trends, there's still an underlying understanding and foundation that there can be an analysis done to provide the correct and appropriate mix of use that makes commercial development and placemaking more resilient and more prepared to face future economic uncertainties. A couple of conversations have been elevated around this topic, including developing the 24-hour city, understanding resilient, urban placemaking strategies, and asking ourselves, how do we bring these cities back to life? One incredibly exciting project we have about to break ground is the 20 Massachusetts Avenue project here in Washington, D.C. This project combines a Class A office space, ground floor retail and a hotel into one adaptive reuse redevelopment.
DO: Absolutely! This project is so exciting to work on. It really is a wonderful example of multi-use, including retail, hospitality and office space, and we believe the final product is going to be a tremendous asset to the urban fabric and both the developer and the end user.
KC: It has been particularly interesting to see this design take shape over the course of the pandemic as we have been in a remote, work-from-anywhere environment. It's now become second nature to be able to provide flexibility for our clients and our teams moving forward.
Over the last three-plus decades of commercial and workplace design, which included other recessions like the one we're in, we have learned that change is a constant. The workplace will continuously evolve, development will continue to explore new meanings, our technological abilities and approach to design will continuously improve, and creative placemaking will continue to provide new opportunities for engagement and discovery. We are excited for the future and excited to bring Dianne on board at LEO A DALY.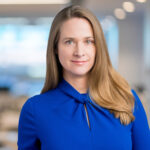 Dianne Oroz, Assoc. AIA, Assoc. IIDA, leads LEO A DALY's commercial and workplace design studio in Washington, D.C. With a strong interdisciplinary background in architecture, interior design and urban planning, she has worked on and led teams for some of the largest, most complicated mixed-use, workplace and residential projects in the world, including Burj Khalifa, Kirkland & Ellis, Caterpillar Headquarters and NATO Headquarters.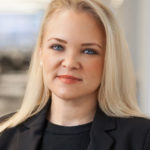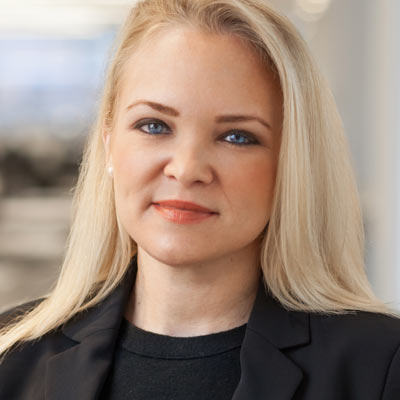 Kristina Crawley, AIA, NCARB, LEED AP, has nearly 20 years of experience in commercial mixed-use, hospitality, retail, restaurant and workplace design in the United States and abroad, including commercial and mixed-use projects from Shanghai to South Korea to Dubai. As LEO A DALY's Global Commercial Practice Leader, she leads market strategy and business development for the firm's corporate workplace and commercial placemaking design teams.