Celebrating Boys Town's centennial – reflecting on design's social impact
by Christopher J. Johnson , AIA, LEED AP
This year, Boys Town, the Omaha institution that has become a household name for its support of at-risk youth, celebrates its 100th anniversary. As the managing principal of LEO A DALY's Omaha office – the same office that created the first master plan for Boys Town 95 years ago – I have spent time reflecting on what this anniversary means to our company, and to me personally as an architect.
In its 100-year history, Boys Town has transformed the lives of countless young people. From humble beginnings working out of a tattered Victorian house in 1917, the organization now has nine locations around the nation, multiple hospitals, and clinics and is a widely recognized leader for childhood hearing, vision and communication disorder clinical care and research. In short, Boys Town is a palpable force for good.
Designing for Future Development
LEO A DALY became involved in the development of Boys Town in 1922, when our founder, Leo A. Daly, Sr., was commissioned by Boys Town founder Father Flanagan to create a growth strategy for Overlook Farm – a 160-acre parcel of land than 10 miles west of Omaha.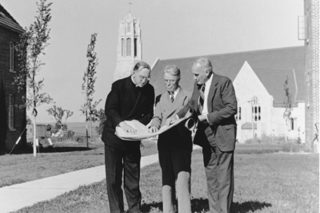 Under the guidance of Father Flanagan and Leo A. Daly Sr., the firm gradually added to the Boys Town campus, creating structures as simple as a dairy barn and as elaborate as the Dowd Memorial Chapel.
When Father Flanagan passed away in 1948, Leo A. Daly, Sr. stayed committed to the building program that the pair had started, calling it his "masterpiece."
Under the leadership of his son, Leo A. Daly, Jr., and grandson, Leo A. Daly III, the firm has continuously supported Boys Town through design. Today, we consider it a cornerstone of the firm's legacy, with about 90 percent of Boys Town's buildings bearing our stamp.
Designing for Children's Development
When Boys Town expanded its focus to include healthcare programs and research, we responded with innovative facilities to make it a world-class center for care. Today, as Boys Town grows its behavioral health services and neuroscience research, we continue to respond with designs to meet its mission.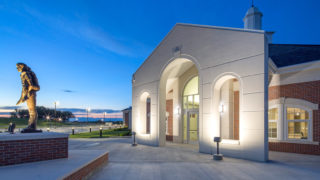 Earlier this year, Pat Connell, who leads behavioral health programs for Boys Town National Research Hospital in Omaha, visited our office. He said something profound to our team, and somewhat counterintuitive in the flashy world of architecture in which we sometimes find ourselves.
"Father Flanagan wanted Boys Town's facilities to be durable, attractive and low maintenance," he said. "If you visit the buildings he designed with LEO A DALY back in those days, they are still standing and functional, so we still incorporate those design principles into our healthcare projects."
Designing for Change
When young architects embark on their careers, they often start thinking about all the daring forms and bold gestures they will express in their work. They might aspire to create skyscrapers and sleek glass buildings that will leave a mark on the landscape.
But what Pat Connell said disrupts that architectural reflex. As I reflect on the legacy of Boys Town, it reminds me that the true value of architecture is in facilitating the life-changing work of our clients. A phrase we often say at LEO A DALY is that our "why" is to create the environment for our client to create its "why."
By humbly serving Boys Town's mission, and giving them quality that stands the test of time, our lives become elevated. Their meaning becomes our meaning; their success, our success.
Congratulations on Boys Town's 100th Anniversary
On this occasion of Boys Town's centennial, we at LEO A DALY are exceptionally proud to have served its life-changing mission. So I say, on behalf of the entire firm, congratulations to Boys Town on 100 years!
Learn more about Boys Town's 100th anniversary celebration and the transformations it has had on children and families for a century. Join the celebration on social media with #BoysTown100 and #FlatFlanagan.
Christopher J. Johnson has nearly three decades of architecture, construction and management experience. A registered architect with deep knowledge of both the design and construction industries, he is an exceptional leader and client steward.