Best places to work: enhancing company culture through design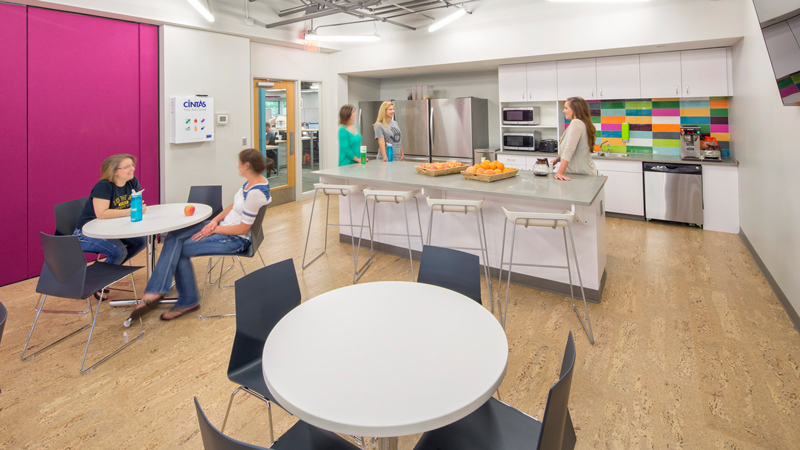 by Martin J. Janousek, AIA, Director of Design, Omaha
402.390.4213
Over the last several years, I've witnessed our top commercial clients shift their priorities. Instead of a focus on a company's output, there's more conversation about office culture and the happiness of employees.
This trend is backed by science: a Social Market Foundation study covered by Fortune magazine found that employees who report being happy have a 12 percent increase in productivity.
As the director of design at LEO A DALY Omaha, this shift in focus inspires me. When companies invest in the happiness of their employees, well-designed office spaces follow. And that's exactly what we've seen with our award-winning clients Fusion, QLI, KETV and SAC Federal Credit Union.
To take a quick look into how these successful companies use the built environment to boost office culture – and ultimately improve revenue, recruiting/retention and public perception – I spoke with these clients and a few of our top designers to share some real-world strategies.
In the stories below, you'll find ways in which the built environment expresses a company's vision, connects its employees and empowers them to do their best work – all while enjoying the job.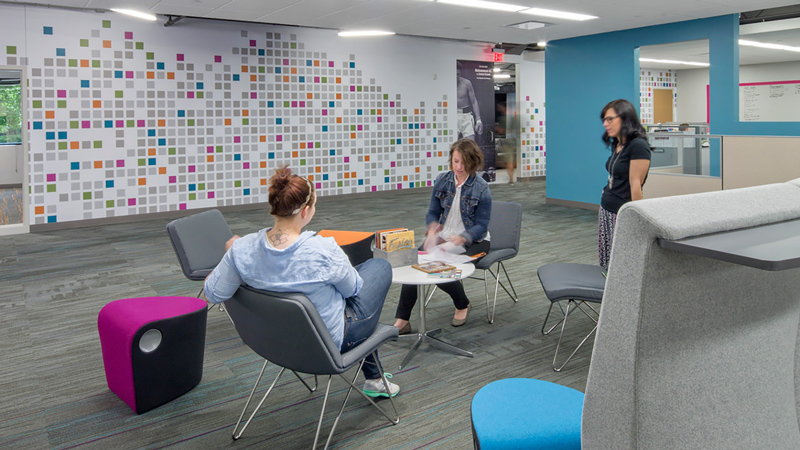 Flexibility at Fusion
"Businesses like Fusion follow an office culture credo that, 'if people are happy, the work will follow,'" said my colleague, Interior Designer Sabrina Ahern.
Entrepreneur magazine named Omaha's Fusion Medical Staffing as the No. 1 pick for "Top Company Cultures 2017" in the medium-sized category.
We designed a number of fun perks for Fusion employees, such as a 6,000-square foot fitness center equipped with yoga classes and an in-house personal trainer. In the break room you'll find a fridge stocked with complimentary healthy snacks alongside a pool table and golfing video game. And to top it off, there's a designated room where employees can schedule time for a massage or chiropractic treatment.
While these sorts of amenities may not be practical for every business, a more relatable lesson at Fusion is the flexibility of its working spaces. Ahern designed collaborative break-out spaces in each department, helping to "create a culture of openness that keeps the team feeling tight," Ahern said.
"With the mobility of today's technology, people aren't tethered to their desks anymore," said Senior Interior Designer Heather Robbins. "People have different work styles, so some are going to perform better if they can migrate to collaborative areas to exchange ideas quickly."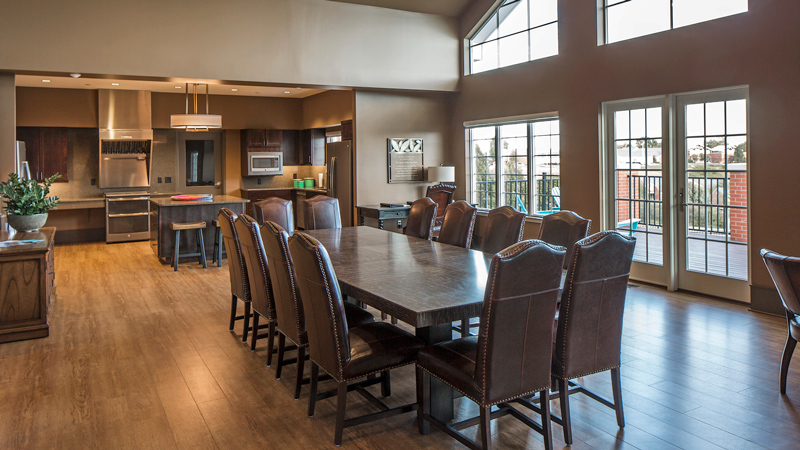 Crafting Pride at QLI
For QLI, a company that has received the No. 1 spot on the Omaha World-Herald's annual "Best Places to Work" list on several occasions, it was important for its employees to feel their work environment gave them a sense of pride.
When the time came to build new facilities on the campus, we invited QLI employees into the design process.
"Our team was able to dream about what they wanted, see those dreams move onto paper and finally come to life in the form of a building," said QLI President and CEO Patricia Kearns.
The result was a boost in morale.
"We felt like we were building our own home," Kearns said. "It becomes an experience that really helps our team feel a part of the process, which gives them a sense of ownership and pride. Our new space has also had a big impact on appealing to donors. Having a well-constructed campus helps to build trust with donors, letting them know you'll be here for years to come."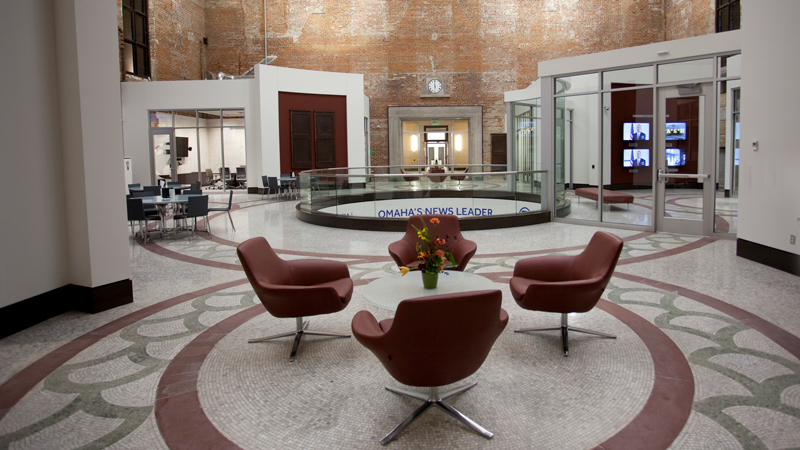 Communication at KETV
Over at KETV NewsWatch 7, "we discovered that people from lots of departments never spoke to each other," said Hearst Television – KETV President and GM Ariel Roblin. "Many of the employees had a habit of eating lunch at their desk."
So when KETV chose to renovate an 1898 Greek Revival train station that had sat vacant for four decades, we tapped into the ability of food to bring people together by transforming the grand hall into a lunchroom.
Employees now congregate in the lunch room, creating opportunities for chance encounters and comradery.
"The new building is wonderful for the culture of our station," Roblin said.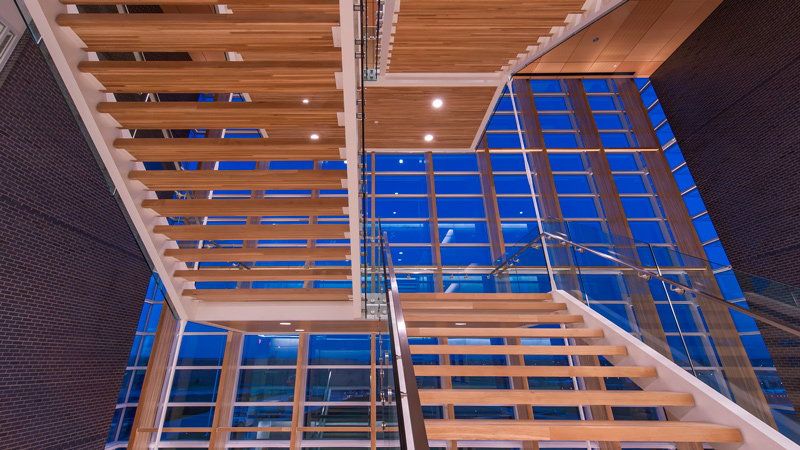 Taking the Stairs at SAC Federal Credit Union
When SAC Federal Credit Union was planning for its new corporate headquarters, President and CEO Gail DeBoer had to find a way to bring together hundreds of employees for the first time. She needed a space that created cohesion, maintained access to upper level management, and inspired her employees.
"I knew we had one shot at this," DeBoer said. "You want to pick a firm that you really trust if you're going into a project that large without a whole lot of experience."
Inspiration for DeBoer came when she noticed the power of a good staircase. Unlike an elevator, where people usually experience awkward silence, stairs encourage interaction.
In response, we designed a suspended wooden stairwell in an open atrium that connects all four floors. Incentivized through a wellness program, employees forego the elevator and walk the stairs. DeBoer regularly witnesses employees speaking to each other while going up and down, even occasionally stopping on a landing to extend conversation, or communicate between floors through the open atrium.
DeBoer said that strategic planning among her managers improved, and with chance encounters throughout the day, the departments feel connected.
"I do know for a fact that the new facility took the culture that existed and made it better," DeBoer said. "You can sense employees feel better about their jobs."
We Listen
From designing collaborative work spaces, crafting pride, enhancing culture through food or increasing communication with a stairwell, there are several ways that the built environment can boost employee happiness and set up a business for success.
Ultimately, every project requires a unique solution. Since design can define or reinforce the culture of a company, it's the duty of the designer to listen, then bring the company to the next level.
Contact me so we can discuss how your organization nourishes its culture, and how your facilities can make it even better.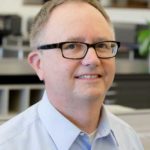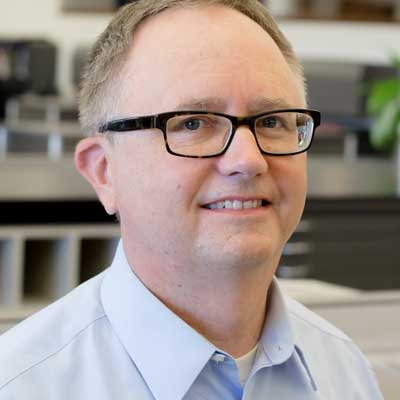 About the author
Martin J. Janousek AIA, considers it his responsibility to ensure that the client's vision is reflected in a fun and efficient solution. His process for producing design solutions involves remaining focused on individual client's needs and working collaboratively with owners.