Hennepin County Medical Examiner's Office and the Historic Fort Snelling Revitalization Plank Museum & Visitors Center receive Best of B3 Recognitions from the State of Minnesota.
Omaha transit stations awarded 'Outstanding Achievement' for concrete design
The American Concrete Institute's Nebraska chapter recognized Omaha Rapid Bus Transit (ORBT) stations for outstanding concrete design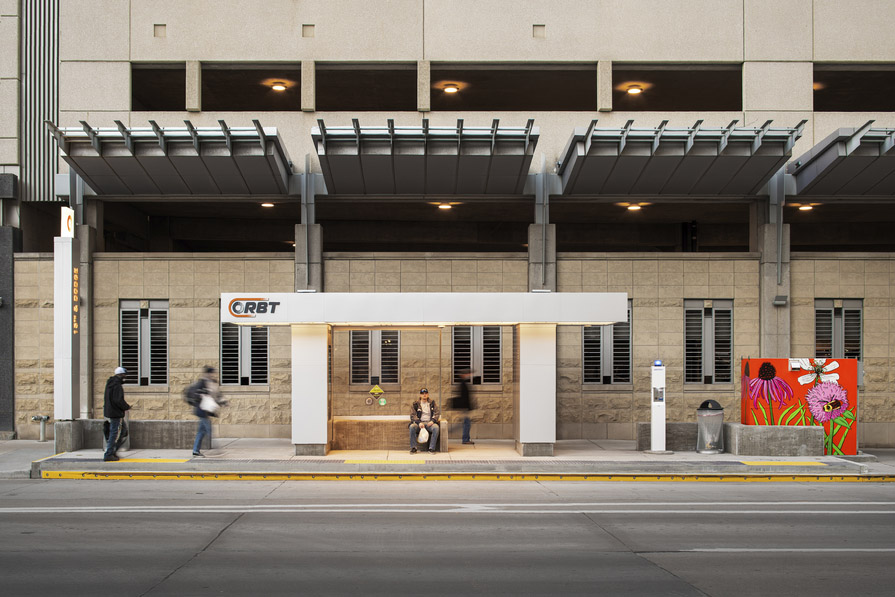 LEO A DALY's design for Omaha Rapid Bus Transit's 24 stations has received the Outstanding Achievement Award from the Nebraska chapter of the American Concrete Institute. The award was presented during a virtual awards banquet April 22. LEO A DALY led structural engineering as well as architecture, technology design, and electrical and mechanical engineering.
Stations for Metro Transit's Omaha Rapid Bus Transit (ORBT) system used concrete for foundations, station platforms, piers and pilasters. The material was selected to achieve multiple design goals in 24 unique of configurations while achieving a premium, easily recognizable brand appearance.
LEO A DALY's structural engineers calculated specific properties to ensure a high aesthetic value as well as user-friendliness and durability — all while meeting challenges unique to each of the station's 24 sites. For example, pier heights at each station vary according to the slope of the ground, and foundation design minimized impacts to underground utilities. Engineers also specified concrete characteristics that facilitate rapid constructability to minimize road closures during construction.
Thoughtful concrete design and specification helped ORBT transit stations achieve their signature brand appearance to aid in wayfinding and usability.  At the same time, it enhanced transit-user experiences and the longevity of infrastructure at each station.