Hennepin County Medical Examiner's Office and the Historic Fort Snelling Revitalization Plank Museum & Visitors Center receive Best of B3 Recognitions from the State of Minnesota.
Minneapolis studio expands healthcare team
Project Managers Allison Dvorak, AIA, and Michael Nelson, AIA, bring a focus on supporting medical professionals through design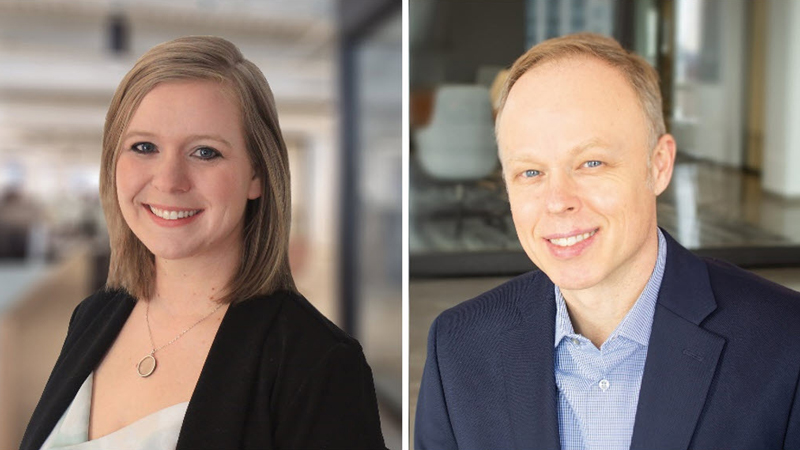 LEO A DALY is pleased to announce the expansion of our healthcare design practice with the hiring of two project managers in the Minneapolis studio: Allison Dvorak and Michael Nelson.
"We've continued to experience tremendous growth over the last year. By leveraging this additional project management expertise, we will continue to serve our healthcare clients at the high level they've come to expect from our team. Allison and Michael bring a wealth of ability in carrying forward our vision for this practice," said Market Sector Leader Daniel Abeln, AIA.
Allison Dvorak has 10 years of experience in architecture including serving as facility architect for Avera in South Dakota. Her expertise includes design and management of multi-departmental healthcare projects. She draws on this diverse background to provide her clients with a deep understanding of their process and an elevated level of service. An active member of American Institute of Architects South Dakota, Dvorak is a 2018 recipient of the AIA South Dakota Young Architects Award. She has spoken at numerous regional conferences on topics including human-centered design. Dvorak is a registered architect in South Dakota and earned a Bachelor of Environmental Science and Master of Architecture from North Dakota State University.
With 23 years of experience, Nelson brings expertise in management of healthcare projects from small renovations to major hospital expansions. Nelson is an active member of the community serving the Midtown Greenway Coalition on its executive committee and as board secretary and as former executive board president. He is a registered architect in Minnesota with a Bachelor of Environmental Design from Miami University, Oxford Ohio and a Master of Architecture from the University of Minnesota.
Dvorak and Nelson have dedicated their careers to serving clients and improving the healthcare industry. Supporting medical professionals through design is what they do best. They are a perfect fit with LEO A DALY, and our vision of enhancing the human experience through design.