Award-winning supportive housing experience earns passionate team another opportunity to engage the community to uncover best design solution.
LEO A DALY's Kim Cowman named to HCD 10 by Healthcare Design
A leader in sustainability and high-performance buildings, Cowman has been named among outstanding professionals who are influencing healthcare-facility design.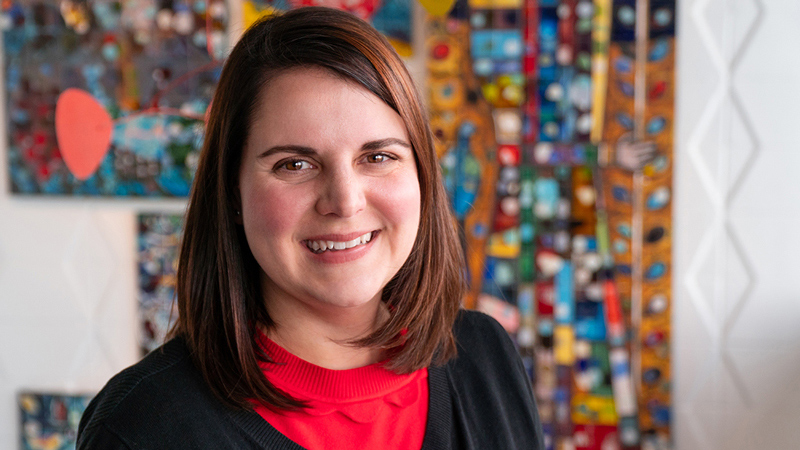 National Director of Engineering Kim Cowman has been named the
HCD 10 Building Professional of the Year
by Healthcare Design magazine. The award program recognizes 10 professionals each year, including designers, clinicians, researchers and educators.
Cowman is the first in LEO A DALY history to occupy her role as national director, which was created three years ago. Her leadership is already emerging as a powerful force for sustainable, high-performance and integrated design. In the past five years, she has been named to the 40 Under 40 lists for both Consulting-Specifying Engineer and Building Design + Construction.
"As designers, we have a direct impact not just on the climate-related outcomes of communities, but on the health outcomes of the people who occupy healthcare facilities," Cowman said.
Influencing healthcare design
In 2021, Cowman helped form the LEO A DALY Design Integration Group (DIG), which acts to advance an integrated design agenda. The group benchmarks building-energy use and carbon emissions in healthcare and other markets It also amplifies cross-discipline efforts to elevate sustainability on an occupant-by-occupant level, identifying strategies to create community connections, enhance indoor air quality and harvest daylighting, all of which impact wellness. In 2017, she authored "Unpacking USP 800," which firmly established her authority in the latest mechanical-system requirements for hospital pharmacies that prepare medication for applications such as chemotherapy.
A leader in high-performance buildings
Cowman's mechanical design work on the Omaha VA Ambulatory Care Center in Omaha helped the project cut energy use 26.2 percent below the Energy Policy Act of 2017, and to reduce water use by 23.6 percent versus code. The project has won more than 15 industry awards, including this year's apex Project of the Year Award from Engineering-News Record. Her leadership post-design on the 200,000 SF Carson HQ campus led to real-world benchmarking of an innovative electrochromic envelope. Early next year, she will present the findings at the national Winter Conference for the American Society of Heating, Refrigerating and Air-Conditioning Engineers (ASHRAE). Her leadership during internal design integration workshops offered designers additional tools to maximize high-performance design decisions for the VA's first-ever adaptive-reuse hospital, in Tulsa, Oklahoma. This healthcare project will reuse structure from existing office buildings, cutting embodied carbon by about 50 percent.
Cowman's insights have appeared in Forbes, ENR and Architectural Digest, following LEO A DALY's 2020 whitepaper on reducing pathogens through healthier humidity levels. She holds Professional Engineer licenses in eight U.S. States and the Island of Guam. She was an early adopter of sustainable design. In 2005, she co-authored an academic paper titled "Survey of sustainable building design practices in North America, Europe and Asia," which was subsequently identified by Google Scholar as a "Classic Paper." It was the seventh most-cited paper in 2006 from the peer-reviewed Journal of Architectural Engineering.
Engineering mentorship
And outside of work, Cowman has lent her expertise to the community. She served a 3-year appointment on the Omaha Property Maintenance Appeals Board, which evaluates building improvements. She is a regular guest-lecturer at the University of Nebraska's Durham School of Architectural Engineering. She served a six-year appointment on the Durham School's Industry Advisory Committee, where she mentored students engaged in team-design projects, mentored freshmen engineering students, and where she acted as a liaison between practicing engineers and educators, helping ensure the highest quality of engineering education. In 2019, she won the school's Outstanding Alumni Award.
"Kim is uniquely passionate about advancing high-performance design in ways that fuel innovative solutions for our healthcare clients," said LEO A DALY President Steve Lichtenberger. "Her incredible capacity for solving problems combined with her rigorous execution and vibrant personality make her a standout even among exceptional healthcare designers. This is an award well-deserved, and I am beyond excited to be a part of her very bright future in healthcare design."