The accomplished HR strategist enjoys a reputation for leadership development, innovation, data-driven analysis and risk management
Leo A. Daly III receives 2018 Joseph Miller Award from Catholic University's School of Architecture and Planning
The third-generation chairman of LEO A DALY honored for significant contributions to the architectural profession, the University, and the broader community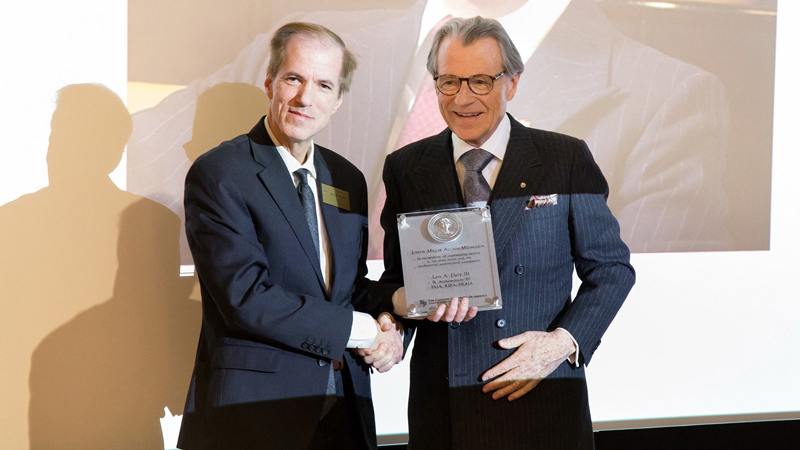 Leo A. Daly III, FAIA, RIBA, FRAIA, is the recipient of the 2018 Joseph Miller Award. Bestowed by the School of Architecture and Planning at The Catholic University of America, the award is given to leaders who have made significant contributions to the architectural profession, the University, and the broader community.
Mr. Daly received the award March 14, at the Saint John Paul II National Shrine in Washington, D.C. – a building designed by LEO A DALY.
The award is named for Joseph Miller, a legendary alumnus, respected architect and professor at Catholic University. As a teenager, Joseph Miller was recognized as a young person with promising design talent. Being from a Jewish family of modest means, he had limited options for higher education, but was embraced by the University and graduated with a bachelor's degree in Architecture in 1938.
"Joseph Miller instructed me when I attended Catholic University's School of Architecture and Planning in the mid-sixties," said Leo A. Daly III. "He was also a friend and classmate of my father, architect Leo A. Daly, Jr. This personal connection, and my long association with the University, makes this award especially significant to me. I am also proud to receive it at the Saint John Paul II Shrine, an important building designed by my firm in 2004."
Leo A. Daly III is Chairman and CEO of LEO A DALY, an international architecture, planning, engineering and interiors firm founded in 1915 by his grandfather. Mr. Daly opened the firm's Washington, D.C. office, in 1964, while a student at Catholic University. He is currently leading its transition into a new 21st century studio that will support cutting-edge design technology and client collaboration. The new Washington, D.C. office will open in May 2018.
Mr. Daly, a Fellow of the American Institute of Architects and the Royal Australian Institute of Architects, is licensed in 48 states, the District of Columbia, Australia, and the United Kingdom. His roster of honors includes: The Order of Independence, Knight/Commander from the Hashemite Kingdom of Jordon, and the Silver Bauhinia Star from the Government of Hong Kong, SAR.  A former board member of Catholic University, he currently serves on The Trustees' Council of the National Gallery of Art in Washington, D.C.