Award-winning supportive housing experience earns passionate team another opportunity to engage the community to uncover best design solution.
LEO A DALY completes new IH Mississippi Valley Credit Union headquarters
The $26 million office building embraces its riverside setting, leverages technology and fosters a vibrant workplace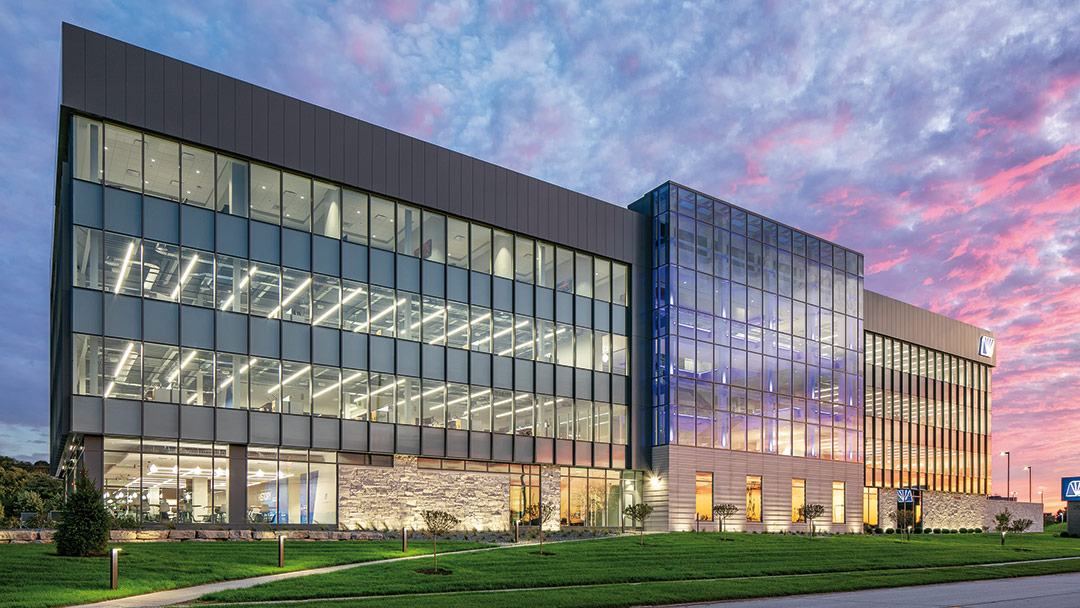 IH Mississippi Valley Credit Union celebrated completion of its new headquarters Oct. 17, commemorating a building whose design and amenities reflect an employee-centered culture.
Sited adjacent to the Mississippi River, the 92,000-square-foot facility consolidates about 300 employees from other locations throughout the Quad Cities. At a construction cost of roughly $26 million, the headquarters now serves as the center of operations among IHMVCU's 13 locations in Western Illinois and Eastern Iowa.
The credit union partnered with LEO A DALY in 2016 to design a facility that embraced the river, leveraged technology and fostered a vibrant workplace. LEO A DALY led all design services, including architecture, interior design, and electrical, mechanical and structural engineering.
The new headquarters in Moline includes amenities such as a member zone, fitness area, café, and indoor and outdoor community spaces. Taking a lead in understanding the changing dynamics of the workplace, IHMVCU incorporated diverse workspaces for their employees, from individual offices and workstations to a variety of spaces for collaboration. A covered fourth floor patio anchors the east side of the building and overlooks a green space designed for community and credit union events.
Health and wellness played a role in providing ample daylighting throughout the facility. A three-story atrium that faces the Mississippi River encourages occupants to take the stairs as passive exercise while enjoying sweeping views of the river valley. Interior daylighting is made possible by the building's near-translucent north façade and punched windows on the other three building faces, which together use more than 600 panes of vision glass. A signature feature, the three-story atrium is illuminated by a digital multiplex system used to express the IHMVCU brand through LED lighting. For special occasions, the lighting can be programmed for an array of colors — for example, red, white and blue on the Fourth of July.
Inside, outlets near most pieces of furniture coupled with a robust technology framework encourage untethered productivity. Distinctive coffee-bar style lounges, located on three of the building's four stories, invite employees to collaborate against a panorama of the Mississippi.
The uppermost floor offers indoor and outdoor socializing areas with warm and inviting amenities such as fireplaces, granite counter tops and supplies for post-workday events or entertaining clients.
"LEO A DALY intently listened to our needs and produced a timeless building with a sensational interior," said IHMVCU CFO Allan Hosack. "They worked very closely with our contractors throughout the entire process, providing highly specialized technical guidance drawn from years of experience to make sure our vision came to life."