University of Maryland's Thurgood Thomas Hall earns Global Architecture & Design Award.
Kim Cowman Awarded "40 Under 40" by Building Design & Construction
LEO A DALY's National Director of Engineering is one of 40 AEC stars making their mark in business, philanthropy and in their communities.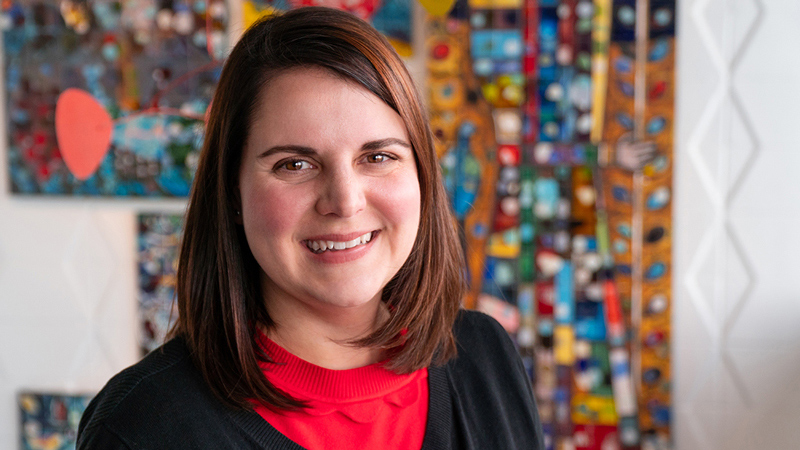 LEO A DALY's Kim Cowman has received the 40 Under 40 award from Building Design & Construction, earning national recognition as an industry superstar.
This highly competitive award recognizes 40 AEC industry leaders each year who are successful and well-rounded individuals under 40 years old. Judges selected Kim from a pool of 160 candidates based on her contributions in a wide range of categories, including leadership skills, inventiveness, sustained career progress, "people" skills, client relations, academic training, dedication, personal integrity, technical skills and volunteer work.
In January of 2020, after 18 years with LEO A DALY, Kim was named National Director of Engineering for the integrated design firm. She is the first in the company's 106-year history to hold the position. She is also a mentor at work and in the community, a volunteer and a service-oriented leader as well as a dedicated wife and mother of two. She recently co-authored a white paper on building-system modifications to reduce the transmission of pathogens, and her expertise has been featured in Forbes, Engineering-News Record and Healthcare Design, among others.
Kim started her career in 2002 as an intern with LEO A DALY, becoming a mechanical engineer-in-training two years later. She rose through the ranks performing mechanical-engineering analysis and design focused on healthcare facilities. Today, among the firm's clients and colleagues, she is regarded as an expert in healthcare's nuanced mechanical infrastructure and has led sophisticated design for high-profile projects such as the trailblazing Omaha VA Ambulatory Care Center.
Her role in the firm grew as she became a licensed professional engineer in 2007 and acted as the primary mechanical design engineer for multiple large-scale projects. Today, Kim holds Professional Engineer licenses in eight U.S. states and the island of Guam. She earned her Healthcare Facility Design Professional (HFDP) certification in 2011 from the American Society of Heating, Refrigerating and Air-Conditioning Engineers, better known as ASHRAE, and she has served as secretary, treasurer and president of ASHRAE's Nebraska chapter. She also continues to serve on national committees for ASHRAE exams and certifications.
In 2014, Kim was promoted to the position of mechanical discipline lead for the Omaha studio healthcare team and appointed Senior Associate in the firm. Her leadership spurred growth and success across the mechanical discipline, including project delivery, technical processes, quality control and resource allocation.
Throughout her career, Kim has advocated for sustainable design. She earned her LEED AP credential from the U.S. Green Building Council in 2003 to better help clients leverage high-efficiency systems. In 2005, Kim co-authored a paper titled "Survey of sustainable building design practices in North America, Europe and Asia."
In 2017, she authored "Unpacking USP 800," published in Healthcare Design magazine, which firmly established her as an authority in the latest mechanical-system requirements for hospital pharmacies that prepare medication such as chemotherapy.
Kim earned the 2019 Outstanding Alumni Award from the Durham School of Architectural Engineering at the University of Nebraska. She is a regular guest-lecturer at the University of Nebraska and a mentor to its engineering students. She served a six-year appointment on the Durham School's Industry Advisory Committee, where she mentored students engaged in team-design projects, mentored freshmen engineering students, and where she acted as a liaison between practicing engineers and educators, helping ensure the highest quality of engineering education. In 2016 and 2017, Kim served as a featured speaker for the Nebraska Society of Healthcare Engineers, and in 2016 she lectured at the Nebraska Architectural Engineering Conference. She received the Consulting-Specifying Engineer 40 Under 40 Award in 2018.
Despite her heavy community and industry involvement, Kim still finds time for fun. She frequently participates in charity runs and golf tournaments as well as trivia events, and enjoys travel with her husband Jeff and their 3- and 7-year-old sons.
Learn more about Kim and the other 40 Under 40 winners in Building Design & Construction's announcement.