University of Maryland's Thurgood Thomas Hall earns Global Architecture & Design Award.
First P3-funded VA healthcare facility opens in Omaha
Symbolic architecture and innovative engineering create world-class healthcare experience for veterans in new $86M ambulatory care center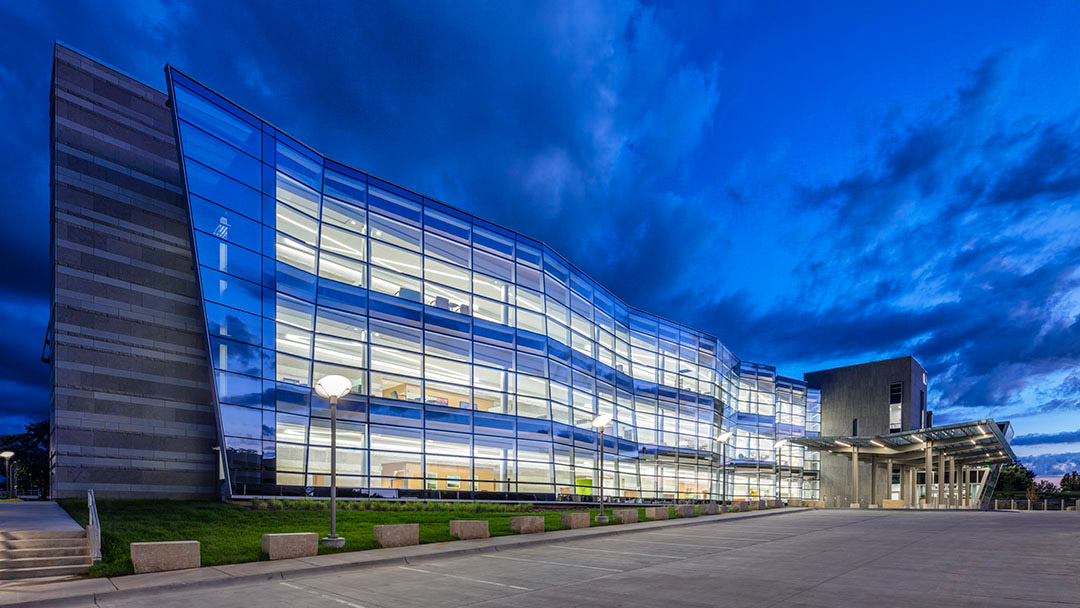 OMAHA, Neb. (Aug. 3, 2020) – After three years of design and construction, the landmark Omaha VA Ambulatory Care Center opened August 3 on the campus of the Omaha Veterans Administration Medical Center. LEO A DALY led all architectural, engineering and interior design services for the $86 million facility, which was delivered through a public-private partnership (P3) thanks to $30 million in private contributions and the balance from federal funds. The facility will provide state-of-the-art healthcare to the region's roughly 40,000 veterans, with capacity for about 400 patients each day.
The facility's architectural features honor military service throughout its three levels and 157,000 square feet of floor space. Collaboration between architecture and engineering created unique expressions of freedom, sacrifice, honor and duty. For example, a signature "flag wall" encases waiting areas that run the length of the building's north side. Sophisticated structural and architectural coordination created the folded glass form. Viewed from either side, the wall appears to undulate as capriciously as an American flag rippling in the wind. Meanwhile, against the western façade, alternating colors symbolize the "colored bars" earned by military servicemen and women for acts of gallantry and heroism. Both walls use transparent glazing to stream abundant daylighting into the interior spaces.
Inside are eight primary care clinics, including a separate clinic for women veterans, as well as a specialty care clinic to be shared by orthopedics, cardiology and other specialty medicine practices.  All clinics employ Patient Aligned Care Team (PACT) programming to enhance patient privacy and navigation. By centralizing clinical staff and resources, the PACT model also promotes collaboration. A new outpatient surgery center occupies the third floor, along with radiology. On the first level, a new connector building provides direct indoor access to the existing hospital and its services.
The new facility's interior spaces are designed to foster feelings of comfort, refuge and reflection, with additional amenities added to support patients and loved ones as they wait. These include an outdoor healing garden and specially commissioned artwork installed in the facility's public spaces. Every piece of art showcases a connection to local veterans, and many of them were created by veteran-artists.
The Omaha VA Ambulatory Care Center is the first P3 project to be delivered since Congress passed the Communities Helping Invest through Property and Improvements Needed (CHIP IN) for Vets Act in 2016. Its unique funding mechanism created efficiencies that shortened construction time and aligned design specifications with those used in private healthcare projects. The innovative delivery method was spurred on by local business leaders, who wanted to expand access to quality healthcare for local veterans and build a new model for Veterans Affairs medical facilities across the country.