Hennepin County Medical Examiner's Office and the Historic Fort Snelling Revitalization Plank Museum & Visitors Center receive Best of B3 Recognitions from the State of Minnesota.
Doug Nelsen named 2022 Outstanding Alumni by Durham School of Architectural Engineering and Construction
LEO A DALY's director of electrical engineering recognized by the University of Nebraska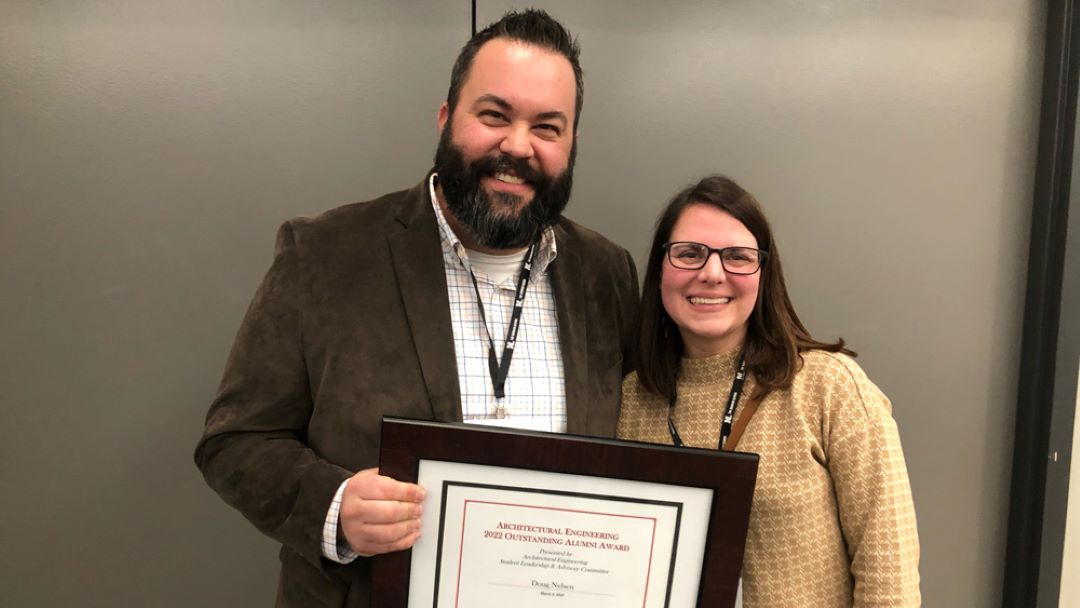 Doug Nelsen, PE, LC, Assoc. IALD, received the 2022 Outstanding Alumni Award Thursday from the Durham School of Architectural Engineering and Construction at the University of Nebraska. The award was presented during the school's annual awards banquet. Doug earned his bachelor's of architectural engineering from the Durham school in 2005, and his MAE in 2006. He was nominated for the award by National Director of Engineering Kim Cowman, PE, LEED AP, HFDP.
"Doug improves everything he undertakes, whether it's the skills and sportsmanship of teams he coaches or the problem-solving skills of engineering students he mentors," Kim said. "As an electrical engineer and lighting designer, Doug enhances building energy profiles, occupant experiences and our project teams. When Doug is involved, he inexorably makes things better."
Last year, Doug's work for the Omaha VA Ambulatory Care Center  earned a Global Award of Merit for interior lighting from the Illuminating Engineering Society.
For years, Doug has served as an "industry mentor" for the Team Design course at the University of Nebraska's Durham School of Architectural Engineering and Construction. In 2006, he earned his Lighting Certification from the National Council of Qualifications for the Lighting Professions (NCQLP). He continued mentoring for 13 years, during which time he passed his PE exam and then became PE licensed in 19 states and the District of Columbia.
In 2013, Doug helped design a 1.2 million square-foot military-hospital campus in Abu Dhabi.  During the project, Doug led design of a 6,000 SF utility building to serve a 10-story hospital. His work to improve energy efficiency helped the project target the Estidama 2 Pearl Rating for sustainability.
In 2019, after 15 years with  LEO A DALY, Doug was promoted to director of electrical engineering.  He now leads the discipline  across the firm.
That same year, the University of Nebraska offered Doug a faculty position as an Industry Fellow to assist with the Team Design course. And a team he mentored won national honors for their project.  Doug accompanied them to Washington, D.C., where the team was awarded the Engineering Education grand prize from the National Council of Examiners of Engineering and Surveying (NCEES).