Hennepin County Medical Examiner's Office and the Historic Fort Snelling Revitalization Plank Museum & Visitors Center receive Best of B3 Recognitions from the State of Minnesota.
6 ways to help stop coronavirus
Advisory Board asked LEO A DALY's healthcare team for ways hospitals can free up bed capacity to treat COVID-19 patients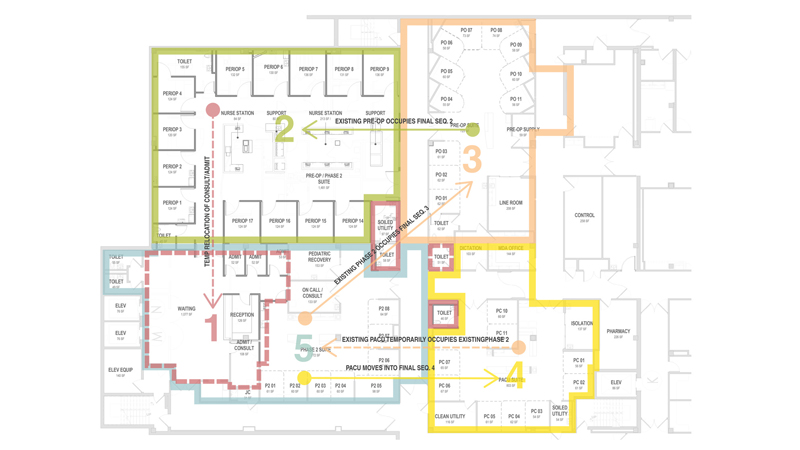 The following is excerpted from the Advisory Board article:
Current projections vary, but most models indicate that without immediate action to curb the spread of the new coronavirus hospitals will soon be overrun with patients.
Advisory Board experts recently spoke with members of Leo A Daly's health care team to identify unique ways hospitals can safely free up hospital bed capacity to treat COVID-19 patients.
6 ways to increase capacity (quickly)
Free up as many patient beds as possible: One of the first steps a health system can take is to ensure all their inpatients actually need to be in the hospital. Hospital staff should be taking a close look at patients' status and care and identify cases in which it makes sense to discharge patients to free up space for those with confirmed or suspected cases of COVID-19. This has the added benefit of reducing the risk that inpatients will be exposed to COVID-19 patients coming in the door. As COVID-19 cases begin to rise, hospitals can consider reducing the number of barriers for patients to be discharged from the hospital and set up a triage process at their EDs.
Rethink how to use patient rooms: If health systems have acuity adjustable rooms, now is the time to consider when and how to shift them from general beds to ICU beds. These rooms should already be set up to handle the additional electrical, med gas, and care needs of an ICU bed. But hospitals that do this must also ensure that staff assigned to these rooms receive the proper coaching and cross-training needed to treat patients with higher acuity.
Go bigger and rethink how to use entire floors or units: Under current CDC guidance, providers should care for patients with suspected or confirmed cases of COVID-19 in a single-person room with a door and bathroom, while reserving ICU and higher acuity beds for those patients that need intense care. To limit the spread of the novel coronavirus and conserve personal protective equipment (PPE), health systems can designate an entire wing or unit of a hospital for patients with COVID-19.
Some health systems also are considering adding an anteroom to the entrance of a dedicated wing or unit for patients with COVID-19. This ensures that providers only enter and exit the wing from one direction, isolating the wing from the rest of the facility. Creating this isolated wing can help staff preserve PPE and allows staff to properly discard waste without tracking it through the whole facility.
Read the whole article: