Women's History Month kicks off at LEO A DALY
March is Women's History Month! To celebrate, LEO A DALY is honoring just a handful of our women colleagues from across the firm who bring invaluable experience, ideas and insight. Look for blogs and videos throughout the month showcasing them.
Dorinda Shabazz, Associate, IT Project Manager
Dorinda, based in our Houston studio, speaks a lot about the importance others have had in shaping who she is, but also stresses that women need to take ownership of their own careers.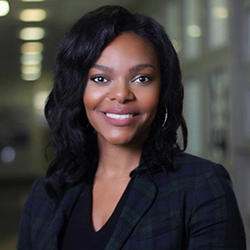 Q:  What words of advice do you have for passionate young women early in their career?
A:  Find a mentor. It doesn't have to be formal. The mentorship can develop by building a relationship, learning their story, asking questions, "How did you end up in this position or this company" or "what is your why?" Life is short and we should not have to learn every lesson through our own experiences. Having the ability to learn from the experiences of others is invaluable.
Q:   What advice do you have for women who want to pursue a career in the AEC industry?
A:   In a traditionally male-dominated industry, women must speak up, express their points-of-view, bring up issues that need to be addressed and highlight when praise is deserved.
Q:   What's the best advice you've ever received?
A:   The best advice I've received is to take ownership of my career. No one else is going to do that for me, nor should they. That is my responsibility.
Q:   Who do you look up to and why?
A:   Honestly, I look up to both of my grandmothers, who are no longer with me. They both had careers well before it was the norm for women to work outside of the home. They managed the responsibilities of being wives; mothers to seven children; one had a career as a nurse, the other owned several businesses. They grew their own produce and prepared home-cooked meals each day for their family. Whenever I have a bad day or feel like giving up, I think about them. They both had so much more on their shoulders than I could ever imagine.
Q:   Who/what sources do you look to for drive and inspiration?
A:   Individuals who have overcome difficult situations in life and remain positive and humble, while they welcome the next opportunity to learn and grow. The first person I can think of is my dad. He's a true example of having the right perspective, determination and drive; he has been an inspiration to everyone he's encountered.
Q:   How have you found other women in the firm invaluable?
A:   I've found women in the firm extremely valuable. I feel we have an unspoken communication; we can look at each other in a meeting and know what each other is thinking. My earliest supporters and sponsors were women who wouldn't let me settle for mediocre. They pushed me to reach for more than I ever envisioned for myself. To this day, I have a group of women I can go to about anything and can trust them in being a sounding board.