Furniture inspired by design
Sleek lines, hand-welded framing and comfortable proportions set the Leo Collection apart from traditional wait-seating furniture. Instantaneous impressions are of a hospitality aesthetic. Meanwhile, accurate human-scaling combines with artisan construction and cleanability to enhance public settings for guests and owners, in a variety of building typologies. Our celebrated team of interior designers combined the elegance of a boutique hotel with the features and flexibility needed in healthcare settings and other high-volume public environments.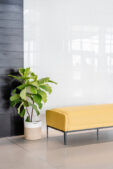 The design carves an eye-pleasing silhouette for each chair, table and bench while incorporating subtle aesthetic details that create cohesion as a group. And every piece responds to real-world usage, informed by decades of design experience in public environments for a variety of clients. The design process deliberately abandoned cold, sterile seating environments and replaced them with attractively welcoming pieces that could easily crossover between healthcare and hospitality applications.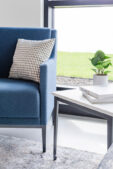 Available with and without armrests, chairs feature a depth and posture that considers comfort and ease-of-movement for the mobility challenged. Armrest angles are precisely measured to ease the mechanics of sitting and standing. A wide selection of fabrics are available in complementary colorways, any of which are bleach-cleanable and can be specified with a moisture barrier — and each piece can be specified independently. Sturdy thread-down adjustable glides simplify leveling on uneven surfaces. Standard and bariatric options are available.
LEO A DALY collaborated closely with IOA, renowned for its quality manufacturing, to meticulously craft the Leo Collection. Our collaborative focus was creating public spaces that elevate experiences for guests, visitors or patients while enhancing maintainability and cost of ownership.
Dimensions and specifications