Research-powered design thinking
Combining academic research with design thinking to create innovative healthcare environments
by Eduardo Egea, AIA, NCARB
A lot has changed since I completed my M.Arch degree in health facility design and planning 25 years ago. In school, when we were given guidelines on how to configure a patient room or operating room, we took it as gospel. Today, this approach is bolstered by a relentless drive to innovate based on in-depth research. Designers are expected to be dynamic participants, along with clinicians, researchers, and administrators, in the development of new methods of care delivery.
At LEO A DALY, we are always looking for new ways to be inventive. That aim is supported by a collaborative and iterative design process. Together with clients and academic researchers, we employ simulation and prototyping to study and test the effectiveness of promising design solutions, seeking to improve patient safety in high-stress healthcare environments.
The addition of academic researchers into our design teams has become a critical part of our success. Right now, my team is working with Clemson University's Center for Health Facilities Design and Testing to reimagine the c-section suite for a client in Miami. The project builds on the work of Anjali Joseph, Ph.D., EDAC, Deborah M. Wingler, Ph.D., MDS-HHE, EDAC, David Allison, FAIA, FACHA and others in their 4-year patient safety learning lab, "Realizing Improved Patient Care through Human-centered Design in the OR (RIPCHD.OR)," studying operating-room configurations and their relationship to quality, safety and patient outcomes. Because the project is still confidential, I can't share many specifics yet. What I can share, for now, is insight into our process.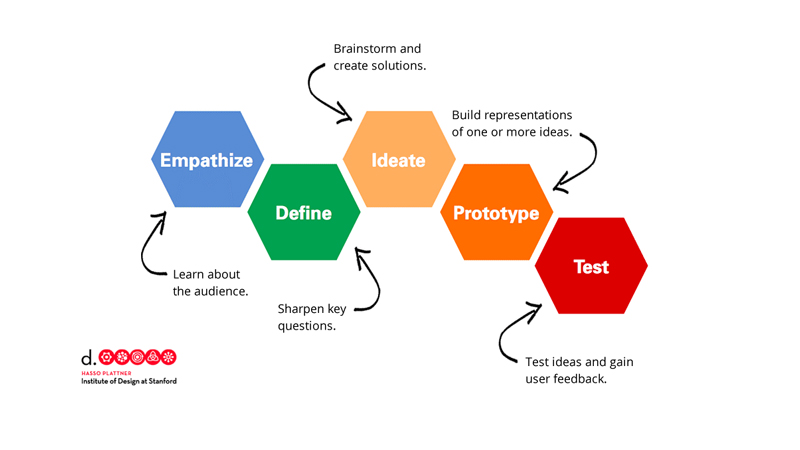 Empathize and define
By now, design thinking is a fairly well-known concept. The process starts with empathizing: conducting a deep dive into the user's challenges. This problem-seeking step helps uncover hidden challenges and creates a platform for questioning untested assumptions. Adding researchers into the design thinking process, as we're doing with Clemson, enables a more rigorous approach to the empathizing and defining phases of design thinking.
Over the last four years, the RIPCHD.OR team has been immersed in an in-depth study of the operating-room environment in collaboration with the Medical University of South Carolina (MUSC). Using video capture and simulation, they have created the most detailed understanding yet of how physicians, nurses and anesthesiologists use operating rooms. During procedures simulated or real, cameras track clinicians' every movement. The researchers then use the data collected to identify factors that may impact patient or staff safety.
That body of knowledge forms the foundation of our c-section suite of the future. At the start of the project, Drs. Joseph and Wingler joined the LEO A DALY design team, which includes members of our Miami and Dallas design studios, and our client for the first in a series of workshops. They presented their research to date, creating a shared understanding of how the dimensioning and flow of traditional OR design affects surgical operations and patient safety.
Our next step was to go from the general to the specific. Drs. Joseph and Wingler led our design team and a cross-section of client-side clinicians through an in-depth study of the client's existing c-section suite. Using LEAN process mapping, we followed the patient's journey through every step in a procedure, documenting the impact of each step on the other steps. This process resulted in a comprehensive definition of the client's challenges and set us up for a successful problem-solving process.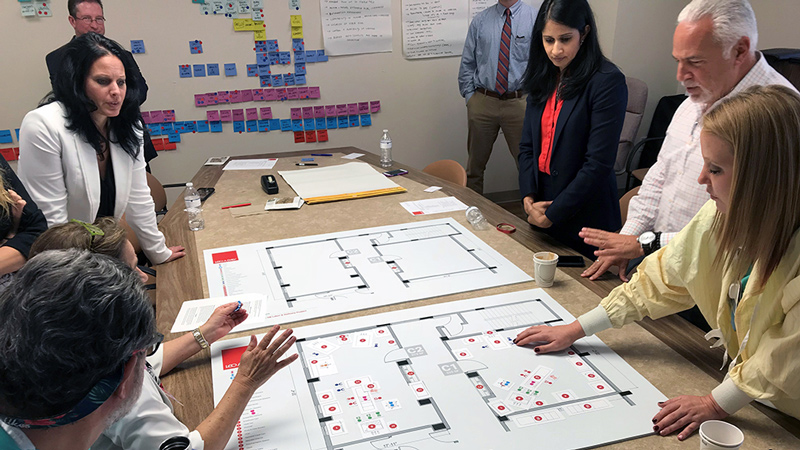 Ideate-prototype-test repeat
The second half of the design-thinking process is not as linear as it looks on paper. In reality, design thinking is cyclical. The process of ideate, prototype, and test is repeated over and over, with each iteration gaining a level of detail.
For this project, our first iteration was very low-tech – simply a large board representing a prototype floor plan. To test that prototype, we stood around a table with clinicians, nurses, administrators, Drs. Joseph and Wingler, and our LEO A DALY design team, to conduct a simulation of various c-section scenarios. We used simple shapes to represent equipment and people, moving them around noting challenges and outcomes. As different scenarios played out, the clinicians provided feedback on how the prototype either addressed their issues or missed the mark in some way.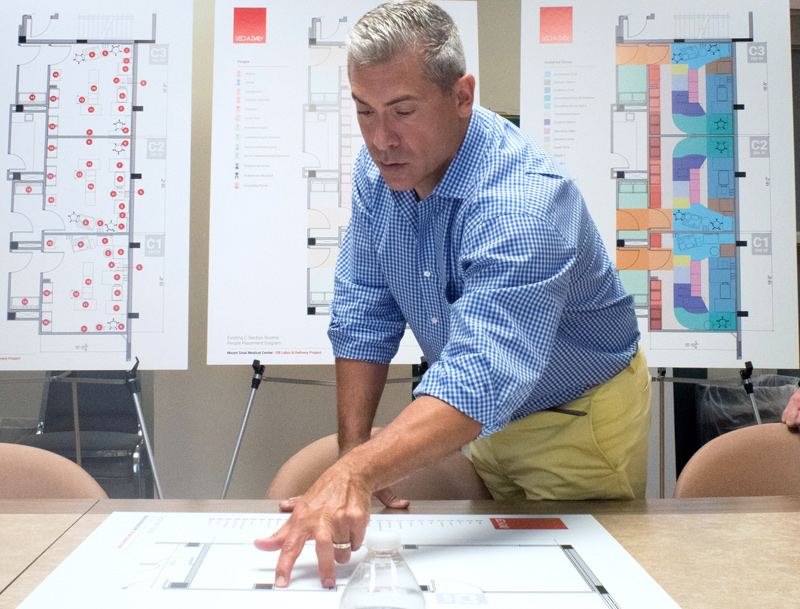 And repeat, and repeat
With that information in hand, my team is currently returning to the prototype and incorporating the client's feedback into a three-dimensional model. In our next workshop, we will place the clinicians into the model using virtual reality. Our gaming engine will allow the clinicians to test the space virtually, manipulating equipment as they conduct a mock surgery. In the same way, we will document their interaction with the design to inform another round of prototyping.
After VR testing, our next step will be to create a high-fidelity mockup of the c-section suite with full equipment built out. Clinicians will occupy the room and conduct mock procedures, this time with dummy or actor playing the patient. Just like before, the combined design and research team will document every move, seeking opportunities to improve the dimensions and flow of the room.
After multiple iterations, the result will be a c-section suite that is more fine-tuned, and more responsive to challenges to patient safety, than any before it. As an added benefit, we will work with the Clemson researchers to publish our findings, allowing the industry to benefit from our findings.
By incorporating research into the design-thinking process, we reach a more profound level of empathy with our clients, allowing them to think differently about how they work. The results are no less profound: a continuously improving healthcare system generating steadily improving healthcare outcomes for patients.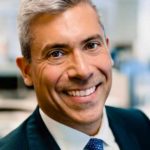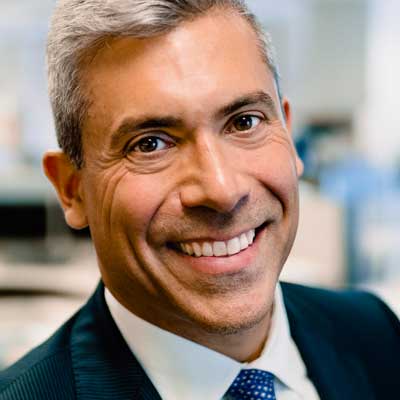 About the author
Eduardo Egea, AIA, NCARB, is vice president and managing principal of LEO A DALY's Miami design studio. In this role, Eduardo facilitates a collaborative and iterative design process, using simulation and prototyping, to research and test the effectiveness of promising design solutions that may impact patient safety in high-stress healthcare environments. He has focused his 25-year career on using a multidisciplinary approach to improve patient safety in healthcare through the development of tools and built-environment solutions. He can be reached at esegea@leoadaly.com.