MSY celebrates major milestone with North Terminal Project
The North Terminal Project at the Louis Armstrong New Orleans International Airport (MSY) reached a milestone on November 17, 2017. Local leaders and hundreds of construction workers celebrated as the highest steel beam was installed. Before it was hoisted into place, our Jason Levy and Jay Seastrunk, along with Mayor Mitch Landrieu (pictured below with Jason), city officials and others involved in design and construction of the terminal, signed the steel beam marking the terminal's highest elevation.
About the North Terminal Project
Conceived as a major economic driver for post-Katrina New Orleans, the new North Terminal has been called "the most transformative project for New Orleans since the Superdome" by Mayor Landrieu. The approximately 800,000-SF terminal replaces MSY's outdated, operationally inefficient terminal with a modern, 35-gate international gateway serving 12 million passengers a year.
LEO A DALY worked with joint venture partner Atkins, design consultants Pelli Clarke Pelli and local firms Manning Architects and Hewitt-Washington & Associates to design an iconic terminal for the city of New Orleans. Convenient access, intuitive wayfinding, spacious departure and arrival halls and increased international capacity position the airport and the city for economic growth.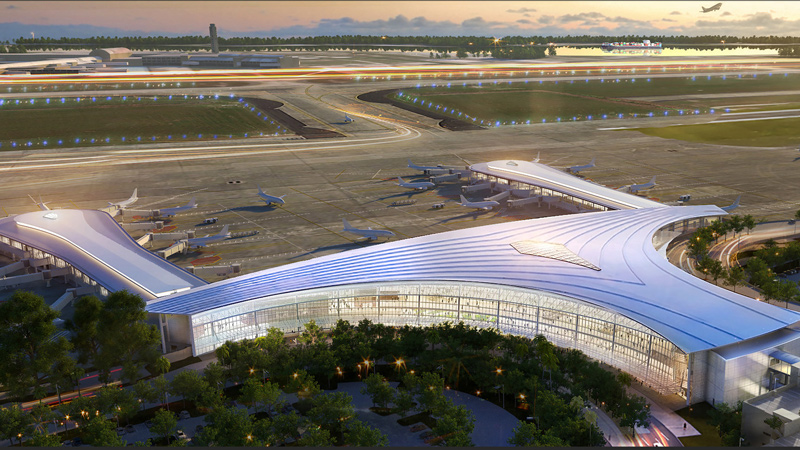 Architectural Form
The terminal's architectural form evokes the geography of the Delta region and the soft curves of the Mississippi with a symmetrical plan formed from gentle arcs on three sides. A monumental roof rises toward the building's centerline, where it crests over a large central skylight. The terminal facades are primarily glass, with trellis-like shading used to evoke New Orleans' distinctive architecture, while providing an optimal balance of daylight and thermal comfort.
Local Influence
The interior design alludes to the culture, ecology and urban fabric of New Orleans with colors and textures derived from the neighborhoods of the city. Interior green spaces with performance venues built in recall the public squares and courts that differentiate the city. Numerous skylights brighten the public spaces and filter daylight, filling the interiors with dappled light often found in the many shaded parks and pedestrian malls of New Orleans. Retail and concession areas feature local food, marketplace shopping, and musical performances.The design supports a passenger experience that is unique among terminals worldwide. Departure and arrival terminals occupy opposite sides of the t-shaped building, connected visually and programmatically between floors via punched openings. This lends the terminal a layered, open feeling, while also making the airport easier to navigate. Views to the exterior abound, with security strategically located in direct view of the airfield for an inspiring wait. Retail environments evoke a New Orleans city street, with cafe-like spaces occupying the center lane of each concourse.
Innovation
Innovations during the planning process resulted in passenger flow that increases efficiency and flexibility, including combined international and domestic security. A single security checkpoint serves all passengers, foreign and domestic, consolidating to maximize staffing efficiency while adapting to accommodate large tourist crowds during special events, such as Jazz Fest. Swing gates designed to serve international or domestic travel provide flexibility as demand shifts.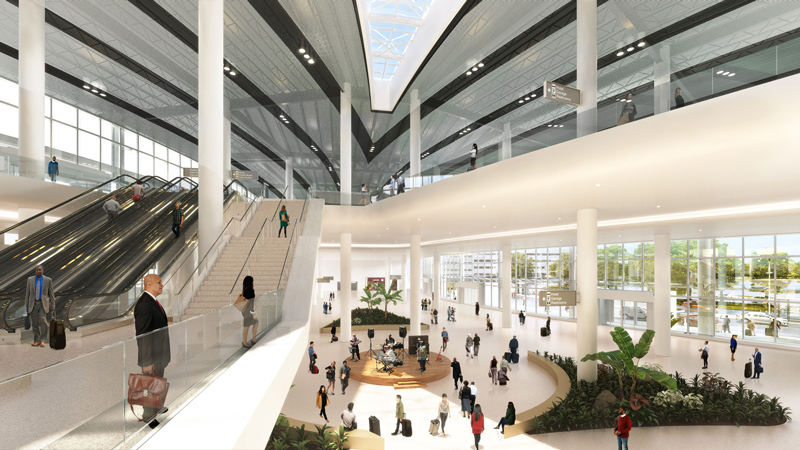 The need for resiliency drove many technical innovations in executing the city's first major public project since Katrina. Marshy soil on a site two feet below sea level required 4,000 piles to be driven into bedrock, essentially creating an airport on stilts. The spherical roof shape was designed to allow long spans while accommodating heavy rainfall. Extensive wind-tunnel modeling and on-site testing was done to test the blast-resistant curtain walls' ability to withstand category-4 hurricane winds.
Building information modeling (BIM) was used to streamline the design of an iconic structure within budget. The team developed and adhered to a BIM execution plan to accommodate an iterative process that would optimize the complex geometric design. As part of this process, the team used parametric modeling to redistribute the column grid, optimize the roof shape and right-size the building footprint. These efforts reduced months of design time to days and met a demanding schedule.
Forward-looking planning resulted in a design capable of expanding as growth dictates, initially with 30 gates expandable to 42. Earlier-than-expected demand increases resulted in five gates being added to the scope of the project during construction. The project team responded nimbly thanks to the BIM execution plan, which allowed design work to rapidly resume. The five extra gates, including two that provide international/domestic swing operations, were added without extending the project timeline.