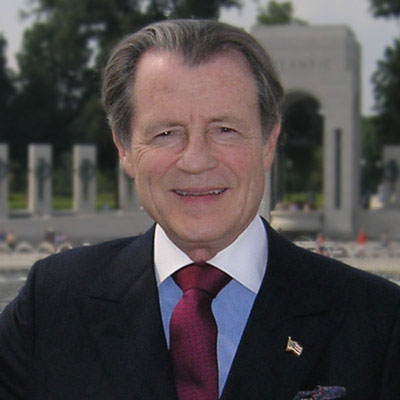 Leo A. Daly III is Chairman and CEO of LEO A DALY. He is the third generation of his family to lead the firm, which was founded in Omaha, Nebraska in July of 1915 by his grandfather, architect Leo A. Daly, Sr.
Since becoming chairman and chief executive officer in 1981, Mr. Daly has built upon the foundation laid by his grandfather and father. He has expanded LEO A DALY's global presence, and enlarged its client portfolio, while broadening the firm's professional expertise and services. Mr. Daly has enthusiastically championed the firm's core values of design excellence, creativity, innovation and client service.
Mr. Daly holds professional registration as an architect in 48 states and the District of Columbia, as well as in Australia, Guam, the United Kingdom and the city of Berlin. He received his architectural degree from the Catholic University of America in Washington, DC. A fellow of the American Institute of Architects (AIA) and the Royal Australian Institute of Architects (RAIA), he holds professional memberships in the Royal Institute of British Architects (RIBA), and the National Council of Architectural Registration Boards (NCARB).
A champion of architecture's role in fostering international relations, Mr. Daly has received several prestigious awards from foreign leaders including the Order of Independence, Knight/Commander from King of the Hashemite Kingdom of Jordan; the title of "Commendatore," conferred by the President of the Republic of Italy; and, the Silver Bauhinia Star from the Government of Hong Kong, SAR.
Mr. Daly serves on the Trustees' Council of the National Gallery of Art, Board of Trustees of The Catholic University of America, University of Nebraska Foundation, Board of the US-Saudi Business Council and is a Counselor of the Board of Directors of Meridian House International. He was formerly the Chairman of the Asia Society in Washington, DC and the Chairman of The Center for the Study of the Presidency, where he received its Franklin Delano Roosevelt Award.