Award-winning supportive housing experience earns passionate team another opportunity to engage the community to uncover best design solution.
New Omaha Police Department West Precinct opens
The secure but welcoming facility is steeped in community policing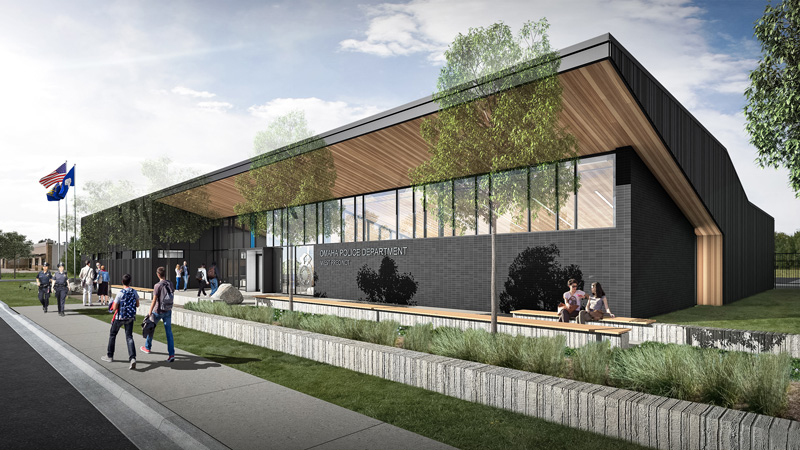 Omaha Police Department celebrated completion of its West Precinct Sept. 24, and the opening of a secure but welcoming facility steeped in community policing. LEO A DALY led architecture and engineering services for the 36,000 square-foot facility, which houses three police units, including emergency response, traffic investigations and patrol.
Amenities such as a community room, public workstations and Wi-Fi invite press members and neighborhood organizations to share space and engage with police, fostering transparency and partnership. Warm and inviting interior finishes adorn the precinct's public spaces, which are smartly aligned with entrances to provide staff with clear lines of site. Community members will enjoy comfortable surroundings, straightforward access to police services, and streamlined connectivity to file reports and search for information.
Construction costs for the facility came in under the $10 million budget at about $8.2 million, and on-schedule, following a sophisticated design-refinement process. The design team worked closely with Omaha police leadership, the city's public works department and the mayor's office to precisely program OPD's newest and westernmost precinct. During this process, designers evaluated dimensions, function, proximities, visibility and access.
As programming and design progressed, the project team priced materials and labor at key stages. The precinct's resulting, highly functional interior features flexible spaces capable of being repurposed as needed. For example, conference rooms and command offices share the same dimensions to accommodate changing needs and staff growth over time, and the community room can host press conferences as well as boy scout or neighborhood watch meetings. Multipurpose rooms are equipped for many types of training, which is frequent and ongoing for all public-safety employees.
"It was a pleasure working with the architects at LEO A DALY," said Omaha Police Chief Todd Schmaderer. "They came up with a state-of-the-art facility, tailor made to suit Omaha Police needs. The new West Precinct rounds out what is now uniform police coverage for the City of Omaha."
To address "targeting" concerns common to police nationwide, visibility of interior work areas is eliminated while high windows still allow occupants to benefit from workplace daylighting. Outside, a concrete "seating wall" forms a perimeter around a public plaza adjacent to the precinct's front entrance, simultaneously providing protection and buffer space while encouraging conversations.
Behind the scenes, functional details unseen to most include wide corridors that prevent individuals from blockading hallways, and hidden "distress" signals placed throughout the facility. Work areas use durable, industrial finishes to stand up to the rigors of police work in all seasons.
"We have an outstanding partnership with the Omaha Police Department," said Cindy McCleary, vice president of LEO A DALY. "Together, we created a building that provides transparency and a community connection, while also giving the department a safe and operationally efficient place to do the work of protecting the city."