University of Maryland's Thurgood Thomas Hall earns Global Architecture & Design Award.
LEO A DALY's Shore House to open a new chapter for the legendary Hotel del Coronado
Blending historic inspiration with modern luxury, Shore House

 will occupy the final parcel of developable land at the iconic resort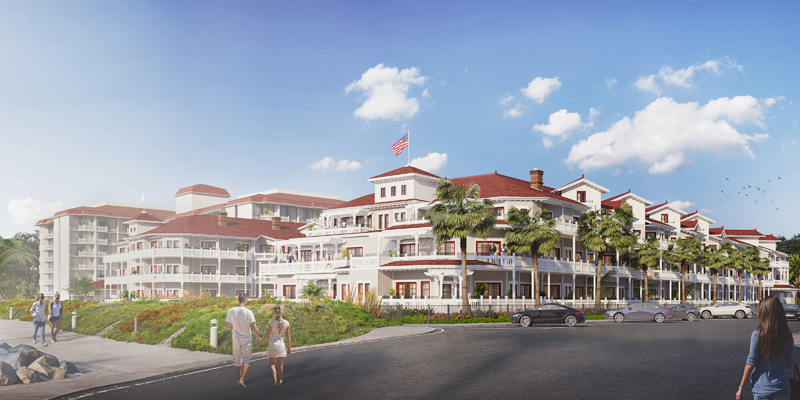 Construction is underway for Shore House at the Del, a major new hospitality offering designed by global planning, architecture, engineering and interiors firm LEO A DALY at the legendary Hotel del Coronado in Coronado, California.
Overlooking a golden stretch of Coronado beachfront, the three-story building will include 75 1-, 2- and 3-bedroom fully furnished residences, an ocean-view pool with cabanas, poolside bar, casual indoor-outdoor lounge, a 17,000-SF ballroom and event lawn and other amenities. When complete in 2022, Shore House will occupy the last parcel of developable land at the 28-acre resort and mark the completion of The Del's $400 million Master Plan reimagination.
"LEO A DALY is proud to write a new chapter in the story of this classic American landmark. Our design for Shore House honors The Del's rich legacy while creating the best, most innovative product the resort has to offer," said architect Ryan D. Martin, AIA, NCARB, Fitwel Ambassador, lead architect and director of design with LEO A DALY. 
LEO A DALY's design for Shore House pays homage to the Queen Anne Revival design of The Del's iconic Victorian Building, an architectural masterpiece that has captivated the American imagination since it opened in 1888. Host to 12 presidents and made famous as the setting of Some Like It Hot, the landmark resort is recognizable for its bold, red-roofed Rotunda. 
Shore House borrows period vernacular elements from the Victorian. Prominent gables, red shingle roofs, white ship-lap siding and crimson window sashes blend Shore House seamlessly into the historic fabric while adding a distinctive, new presence. The front façade takes inspiration from the Victorian's heyday, offering a wide veranda with two sets of entry stairs. Purposeful building placement and a terraced silhouette preserve and enhance the mystique and sense of history that makes The Del one-of-a-kind.
The 75 residences are designed with families and groups in mind, offering fully equipped kitchens, adjoining suite options and indoor-outdoor gathering spaces with fire pits. The interiors take cues from The Del's seaside setting, incorporating a modern, California coastal aesthetic with curated furniture and artwork collections that elevate the spaces and create a residential feel. In addition, the residences are part of the hotel's guestroom offerings for guests seeking a more residential experience. 
"Rich wood beams, natural textures and soft hues of cream and blue provide the perfect mix of classic and modern, setting the stage for families to gather, relax and create enduring memories," said Lara Rimes, RID, IIDA, LEED AP, senior interior designer with LEO A DALY.
Shore House replaces a surface parking lot on the southernmost point of The Del property – a fact which gave the design team freedom to completely rethink the guest's arrival experience. A new, brick-paved entry road greets guests, bordered by lush landscaping that recall the Victorian era. The entry route is carefully choreographed to reveal the property through a series of dramatically framed views.
"As a hospitality designer, The Del is hallowed ground. The opportunity to work with such a creative and committed ownership team, and to design a project with such a profound and long-lasting impact on this legendary resort, is a dream come true. LEO A DALY was privileged to provide both architecture and interior design on Shore House, enabling us to approach the project through a holistic, collaborative lens, choreographing every guest moment. The results are nothing less than spectacular," said Kathy Chavez, Hospitality market sector leader with LEO A DALY.