Public Safety and Drone Training Facility Designed by LEO A DALY and Partners
State-of-the-art public safety training facility is part of a 106-acre technology campus by Wake Tech Community College and Elizabeth City State University in North Carolina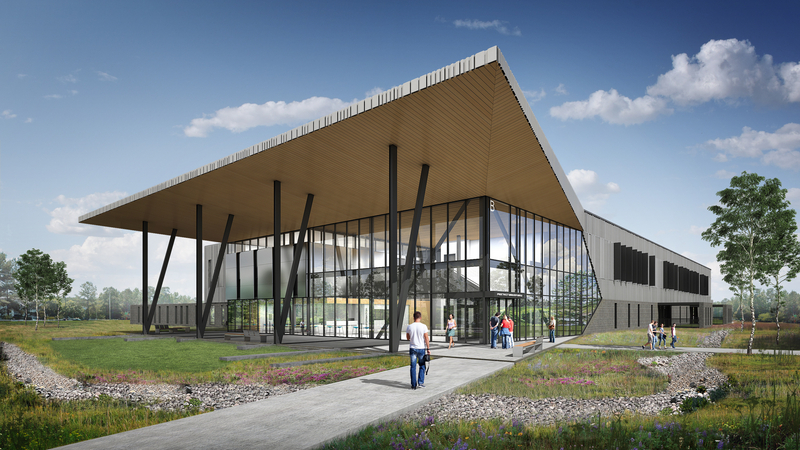 ​
Wake Tech Community College is developing a new 76,405-SF Public Safety Simulation Complex that will lead North Carolina, and likely the United States, in effective 4D public safety simulation training. The new facility will provide training for the College as well as state and local public safety agencies.
"Public safety officers are of paramount importance and serve a vital role in our communities so it's critical that we prepare them for realistic situations. This new building will allow the college to train law enforcement officers, EMS personnel and firefighters of the future in a model simulated training environment that will equip them to handle rapidly changing conditions."
– Dr. Scott Ralls, Wake Tech President
The new Public Safety Simulation Center is the first student-occupied facility on WTCC's Eastern Wake 4.0 Campus. The state-of-the-art simulation facility will provide cross-disciplined first responder training and will lead the state in training educational institutions, state, and local agencies on threat response. The program is designed with a full indoor simulation "streetway" village for first responder real-life scenario and de-escalation training, and the highlight of the center. This environment will support fire trucks, ambulances, and police cars with sidewalks, and 10+ simulation PODS that will emulate everything from bank and retail spaces, school environments, townhome and hotel with bar and restaurant, and corrections facilities.  A fully immersive, 3D virtual reality lab also provides for de-escalation, force, mental illness and human judgement training scenarios.
Unmanned aircraft systems (UAS) and flight training also tie into the future Industry 4.0 programs on the 4.0 Campus. The National UAS Training and Certification Center at Sinclair College consulted on the innovative curricula, cutting-edge technology, and industry-specific equipment that support the aviation-centric programming within the facility. Aimed at building a state-of-the-art environment for robotic development and testing that places demonstration space adjacent to development environments, new immersive environments will allow the College to integrate new program capabilities that will shape their drone/robotic training certificate program.
"Our collaboration with Wake Tech provides students with opportunities to explore advanced careers in drone medical delivery, disaster response, critical infrastructure monitoring, and homeland security. This partnership amplifies our efforts to produce a well-trained workforce to meet growing demand in unmanned aviation, as well as seamless transfer to ECSU's aviation and emergency management programs, which are in high demand."
– Karrie G. Dixon, ECSU chancellor
Through a partnership with Elizabeth City State University, WTCC and ECSU students will be able to easily transfer and work together on projects across institutions. Students can engage in immersive training scenarios within a VR Simulation Lab or experiential exercises via an outdoor training space that includes a rooftop helicopter pad.