Industrial safety study: employee health during and after a pandemic
These facility modifications can help protect warehouse workers and keep supply chains running
By Russell Schertz, Market Sector Leader, Food, Distribution & Manufacturing
Mentally count the number of times employees come into close contact during each shift. They may walk through the same turnstiles, brushing past each other at change over. They may use many of the same door handles, breakrooms and locker rooms. They may exchange paperwork with truckdrivers, share coffee pots, vending machines and watercoolers. They may share benches and tables in cafeterias.
What we all know as "social distancing" needs to be implemented as "occupational distancing" wherever possible. And because of the interaction of employees inside facilities, preventing potential COVID-19 exposure starts at the front door.
Eliminating viral spread inside your industrial facility is paramount to staying operational. In this whitepaper, we will explore facility modifications to keep employees safe and facilities operational in these unprecedented times.
Where should you start?
In and around the facility, surfaces should be marked to identify safe distances of separation.
Prop interior doors open to remove touch points at door handles.
Use construction trailers to separate operationally critical staff.
Institute practices of sanitizing workstations prior to the end of each shift. (Eliminating the potential of viral spread is worth the five minutes of production lost.)
Many facilities have a staffed window to welcome visitors. If you don't already have one, consider constructing a Plexiglas barrier at visitor desks and marking floor surfaces to remind visitors of social distancing protocol.
Controlled employee entries and augmented employee exits
Controlling entry and exit requires a multipronged approached centered on wellness evaluation. To reduce touchpoints, consider doorways operated by radio-frequency identification (RFID) card readers. Consider evaluating wellness at the beginning and end of each shift, starting with a temperature reading and wellness survey.
Employees need to be isolated before having their temperatures taken, which should be performed using non-contact temperature guns. Employees should also be surveyed about possible symptoms and recent travel. Potentially infected employees should be routed away from other employees and contacted by human resources.
In order to glean an accurate body temperature, employees' bodies may require a chance to normalize. This is especially true on days that are hot or cold. Consider using available space indoors where they can normalize as they wait. Cafeterias can be modified for this purpose. Modular exterior infrastructure can also be rapidly constructed.
The longer waits to enter the facility will cause queuing so rolling changeovers can reduce the potential for crowding. Employees can start in staggered groups organized by last name, team or work area.
Common areas: breakrooms, locker rooms and cafeterias
Throughout a facility, greater emphasis should be placed on sanitizing surfaces but especially in common spaces such as breakrooms, locker rooms and cafeterias. These areas can also be augmented using outdoor spaces or construction trailers to reduce employee densities.
Similar to shift starts, consider rolling break times to reduce the number of employees on break at any one time. Construction trailers and makeshift outdoor patios can augment space available for breaks, allowing employees to maintain safe distances.
Traditional water fountains can be replaced by bottle fillers. Infrastructure can be added or modified to increase circulation of fresh air. Consider eliminating coffee stations and adopting a BYOC (bring your own coffee) policy.
Lavatories
If you do not already have them, consider installing touchless toilets, sinks, soap dispensers and hand dryers. Consider closing every other urinal to increase separation between employees. Consider construction trailers to reduce employee density in these common spaces.
Loading and unloading
Where truck drivers must interact with employees to exchange paperwork, construct plexiglass barriers to create safe separation. Consider signs and facility truck entrances that instruct drivers to don masks.
Read the full whitepaper above to view illustrations of potential solutions. Each facility is unique and must apply these concepts in a unique way. For help with your facility, contact the author.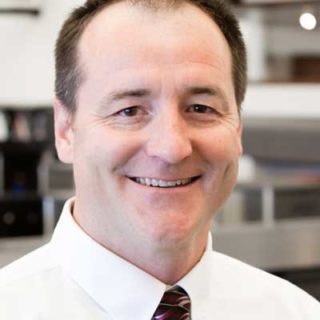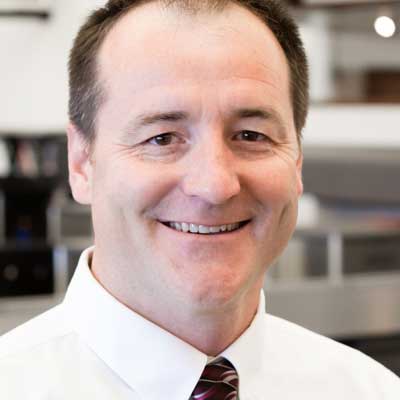 About the author
Russell Schertz leads our Food, Distribution & Manufacturing Market Sector in Omaha. His experience spans more than two decades of site design, building envelopes, utility systems, manufacturing lines, control systems, material handling and finished-goods distribution for both greenfield projects and plant expansions. With his unique perspective as an owner's representative, Russ always maintains focus on the owner's needs and expectations by continually communicating with the client and right-sizing the engineering effort to provide the best value.