E-Commerce and the workplace: four considerations for designing modern mailrooms
by Martin Janousek, AIA, Senior Design Architect
At the turn of the last century, it was part of daily life in a city to receive personal deliveries at home. There were clear separations between home life and work life. Some homes had specially designed ice boxes to hold perishable items when they were delivered, and in most cases, homeowners had the iconic "milk box" outside their doors. But as cars became mainstream, home delivery gave way to grocery stores with extensive product selection.
Throughout these changes, and until recently, workplaces have relied on mailroom staff to deliver almost exclusively business-related mail and packages throughout a building. Receiving docks generally handled packages limited to operations with occasional exceptions, when, sometimes under scrutiny, employees received packages at work.
Jump to 2019 and many employees view the workplace as an extension of their homes. Consequently, the mailroom today serves as an extension of their home mailboxes. This can place the responsibility of managing packages on facility managers.
Facility managers and business owners considering a new or renovated office building need to consider the following items when preparing for this trend.
Receiving: Facility owners need to start where packages are loaded and unloaded. With more frequent deliveries from different delivery services, parking spaces, loading zones and loading docks or receiving areas are important to review. Determine whether adequate parking and access exist in that location. Congestion and idling delivery trucks can be noisy and disruptive. The more urban the building, the more complicated package deliveries become.
Space: Depending on the location of the deliveries, facility owners need to determine where packages will be stored and sorted before they are delivered within the facility. These rooms need to consider security, temperature and additional paper waste from packaging. They may also need refrigeration for perishable items that now get delivered to the office. According to the Food Marketing Institute (FMI) and Nielsen, nearly half of all Americans now purchase their groceries online.
Security: One reason employees send packages to the workplace is a lack of security at home. Facility managers should consider how packages arrive, who has access to the building and where packages are stored before they are picked up by, or delivered to, their intended recipients. Some solutions include dedicated rooms with key code access, key cards and traditional "dumb" lockers.
Technology: Trends toward technology-enabled lockers and apps are emerging. They include smart lockers that send a text to employees once a package has been placed inside it. Solutions like this can improve efficiency on the part of the delivery service while providing security and convenience for the workforce. Smart lockers can reduce oversight required by facility managers and mailroom staff.
The days of the milk box on your porch are probably not making a comeback anytime soon, but online deliveries are impacting facility planning and management. The blurring of home life and work life will likely continue, and the convenience of online shopping increases year over year. The day-to-day function of your mailroom is well worth considering when building or renovating your office building.
Are you considering updating or building a facility and want to add amenities to attract and retain employees? Contact me at 402.390.4213 or [email protected] to discuss solutions, like a modern mailroom, that can help.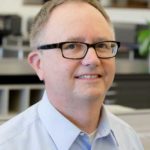 About the author
Martin Janousek, AIA, considers it his responsibility to ensure that the client's vision is reflected in a thoughtful and efficient solution. His process for producing design solutions involves remaining focused on individual client's needs and working collaboratively with owners.