"Coloring Outside the Lines": Pat Miller on Authenticity and Nature in Today's Hospitality Design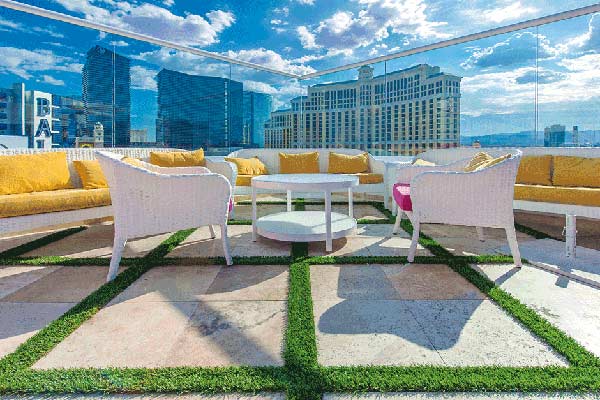 Coloring Outside the Lines
By Pat Miller, Managing Principal and Hospitality Practice Leader, LEO A DALY
(This content originally appeared in the November issue of Hotel Business Review. Reproduced with permission.)
Hospitality guests today want a more authentic experience connected to nature and local culture. Designers are responding with new schemes for public spaces that perforate the border between indoor and outdoor, opening up lobbies, lobby bars and restaurants to bring guests into the environment around the hotel. Whether creating unobstructed views of the mountain landscapes or physically opening the space to the neighboring waterfront, indoor/outdoor spaces create a whole new experience for guests and pays dividends for owners.
Targeting the Guest
Hotel brands today are about much more than branding. Rather than predictability, today's consumer wants a differentiator – something unique and unforgettable. Creating a connection to locale is key to the modern hospitality experience, requiring designers to take time in identifying what makes a place unique, and then create spaces that amplify that character and connect guests to it.
The methods designers use to create this connection depends on the business goals of the owner, the standards of the brand, the type of guest being targeted, and the unique assets of a particular place.
Different types of guests have different expectations. Business travelers want to relax and unwind after a long day of travel and meetings. This has driven a trend toward expanded bar spaces that include outdoor seating for a change of scenery. Convention-goers want places to meet up for casual sit-downs, leading to collision spaces becoming a main feature of lobby design. Families want places to play and socialize, which means providing outdoor multi-function spaces that serve as an extension of their living spaces. Vacationers want unique local experiences full of relaxation, play, and fun, leading to the popularity of rooftop spas, pool bars, and other amenities that allow guests to soak in the local atmosphere and climate. Local residents want a vibrant cultural center for a night out in-town, which has led to more hotels connecting to existing mixed-use amenities or creating new ones!
Discovering Authentic Opportunities
Understanding what makes a city or community unique can inspire amazing design experiences. If your local area has mountains, waterways, or skylines, those views should be valued for the assets that they are. One of my favorite examples of this is Colorado Springs Marriott. Nestled at the cusp between the high plains and the Northern Rockies, everything about the hotel's 2016 re-positioning is about entering the mountains. The high point of this experience is a redeveloped lobby and restaurant that gives fantastic views to Pike's Peak.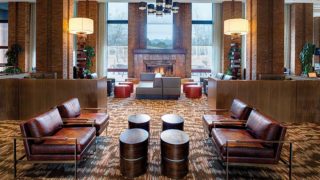 Where water is an amenity, full-service hotels are investing in outdoor living-room-like spaces to attract families and create a "home away from home" for entertainment. Anchoring Jupiter, Florida's new downtown mixed-use development, the Wyndham Grand Jupiter hotel at Harbourside Place sits right along the Jupiter Riverwalk, connecting guests to miles of trails, an amphitheater, and boat access to the Intracoastal waterway. Immediately upon entering the lobby, guests are greeted with a full end-to-end view of the waterway, creating a visual connection to these natural amenities City parks offer another opportunity to connect with the outdoors and local offerings.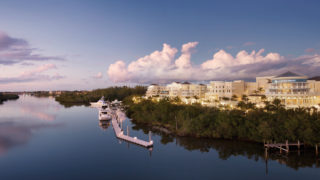 For a current confidential project, our design is based around the hotel's site on what is the city's equivalent to Central Park. Sprawling across 3 levels, a series of indoor/outdoor dining spaces, a pool, a ballroom, and a recreation area overlook the park, connecting on all levels by way of an exterior grand stair.
Where local nightlife is abundant, hotels have an opportunity to connect to that vibrant urban energy. Downtown Omaha's Capitol District Marriott, currently under construction, does this by creating a new outdoor entertainment district and plaza between buildings. The plaza will be surrounded on three sides by restaurants, entertainment and bars, with the fourth side open to a skyline view of the city's historic and picturesque Old Market area. Relaxed open container laws will allow guests and visitors to mingle with drinks in this energized outdoor space.
In locations known for athletic lifestyle amenities, designers can complement that energy with amenities focused on wellness. At a popular ski resort in Colorado currently under renovation, a new indoor/outdoor Nordic Spa experience will create a visual connection to the mountains, and a visceral connection to the outdoors – snow or shine.
Transforming Underutilized Spaces
Beyond local nature and nightlife, thoughtful designers also know how to find opportunities in unexpected places. Underutilized spaces such as pools, rooftops, or walkways, when properly transformed, can pull double- or triple-duty as places to unwind, socialize, and connect with nature.
One of the more exciting opportunities for enhancing an underutilized space is the swimming pool. When redesigning the gazebo area of the Houstonian Hotel, Club & Spa, we connected three existing pools with a new kitchen building. The result is a new amenity that goes way beyond swimming. Outdoor dining, functions and receptions, and a connection to the beautiful surrounds of Buffalo Bayou make the transformed outdoor area a destination all its own.
As anyone who has ever rented a tiny apartment in a dense city knows, rooftops can be great places to connect with friends above the urban din. Hotels are increasingly are taking advantage of that, creating bars, barbeque areas, social spaces, even basketball courts on the roof.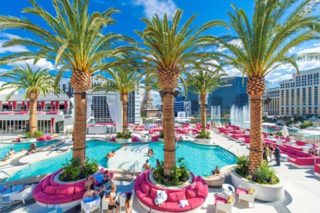 LEO A DALY's transformation of The Cromwell hotel in Las Vegas added three stories
to accommodate pools, cabanas, and a high-end nightclub to the roof.
Drai's Beach Club and Nightclub in Las Vegas is one particularly fabulous example. When transforming Bill's Gamblin' Hall and Saloon in Las Vegas into The Cromwell, LEO A DALY added three new stories to the top of the building to accommodate pools, cabanas, and a high-end nightclub where partygoers shell out up to $10,000 for a table. Amazing views of the fountains of the Bellagio help connect partygoers to an icon of Las Vegas, creating an authentic boutique hotel experience that is unique on the Las Vegas strip. The engineering work required to sustain multiple pools and dance floors on the rooftop entertainment complex is testament to the value these underappreciated spaces can create for owners.
At the Crowne Plaza Key West La Concha, a rooftop spa overlooks tropical treetops, offering phenomenal views to the Atlantic Ocean and Gulf of Mexico. To capture the serenity of those views, a rooftop bar was repurposed into an indoor/outdoor spa. Guests can now enjoy the best view in Key West while enjoying their spa treatment outside, or, in case of surprise rain showers, inside.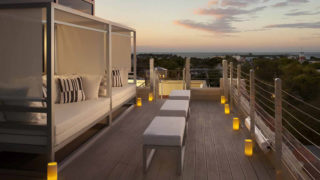 LEO A DALY transformed the rooftop of Crowne Plaza Key West into an indoor/outdoor spa. 
Some spaces require a little bit of re-imagining to unlock their hidden "dwell" potential. Sometimes that means removing an exterior wall, but the payoff can be transformational.

At the Irvine Marriott in Irvine, California, an outdoor space adjacent to the existing lobby bar was serving only as a functional passageway from the bar to the convention center. By removing the wall and opening up the bar to the outdoor platform, we formed a new space for business travelers to relax in the evenings. Installing furniture, partitions and fire pits created a unique new indoor/outdoor space connected to the outdoor urban environment, and perfect for the energy of the property.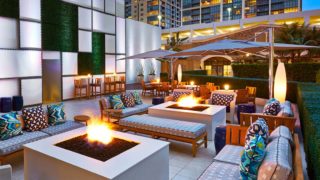 LEO A DALY's renovation of Irvine MarriottAt the Hilton Orlando Bonnet Creek, a repositioning provided the opportunity to reimagine the lobby as a place to see and be seen, while connecting with the great weather and world-famous country-club grounds next door. When renovating the bar and lobby, we removed significant portions of exterior wall, which opened up views to the golf course and pool while bringing in an abundance of natural light. The resulting indoor/outdoor lobby bar is now equipped with multiple collision spaces for group meetings or private one-on-ones, with fire pits creating an amazing ambience.
Unusual site limitations can be opportunities too, challenging designers to maximize the use of space. For the current repositioning of the Diplomat Resort and Spa in Hollywood for the Curio Collection by Hilton, the LEO A DALY design team is doing just that. Sited on a narrow strip of land between the Atlantic Ocean and the Intracoastal Waterway, the hotel property doesn't have a lot of room to spare. To maximize its use, we are reconditioning every outdoor space as a living area. We've created three different levels of activity at the property, each treated as a different venue. One is family-friendly, focused on the water activities that kids love. The second is a more serene relaxation area with pool and bar. The third is a beer garden for adults to socialize. Each of these pockets is designed with a different look suited to its personality and use.

Making It Count

Today's hotel guests come in many shapes and forms, but one common thread is a suspicion of canned experiences and overly branded, forgettable spaces. Connecting a property with its local culture and natural beauty creates a more authentic hospitality experience that appeals to this new generation of guest. Working with an imaginative designer who understands your needs and concerns, property owners can now re-look at their properties and find unexplored opportunities, create new experiences, and generate additional revenue.