University of Maryland's Thurgood Thomas Hall earns Global Architecture & Design Award.
Hennepin County Medical Examiner's Office receives architectural honor
A state-of-the-art medical examiner building designed by LEO A DALY and MWL Architects has received a Merit Award from the Minneapolis chapter of the American Institute of Architects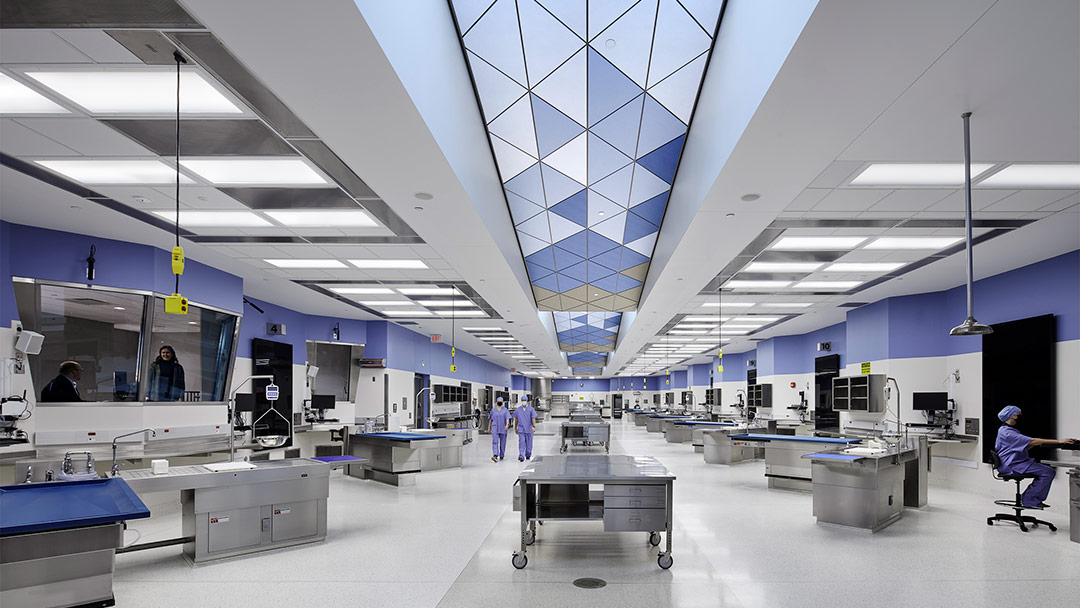 Reducing job stress for forensic death investigators is central to the design of a new, state-of-the-art medical examiner facility just outside of Minneapolis. The Hennepin County Medical Examiner's office, designed by LEO A DALY and MWL Architects, is the recipient of the 2022 Merit Award, given by the Minneapolis chapter of the American Institute of Architects. 
"The nexus of our design vision was to support the mental, emotional and social health of the staff and doctors involved in forensic death investigation," said Daniel Yudchitz, AIA, NCARB, LEED AP, director of design for LEO A DALY. "Laboratory space can often feel cold or sterile. The laboratories at the Hennepin County Medical Examiner's Office are flooded with refracted, ambient light by the unique detailing of centered skylights. It was a true design challenge to balance the privacy of the decedents with an uplifting, bright environment for the examiners." 
Nestled into the suburban woodland setting of Minnetonka, Minnesota, the building's placement on the site is intended to capture views from staff offices, training and break areas into natural forests, prairies and wetland areas. Daylight floods the interior through enormous sidelights in the office wing and skylights in the medical examiner wing. Natural materials and lighting strategies were used to reduce stress levels and to enable both social interaction between staff and personal reflection when needed. Security is carefully balanced with the designer's goal of giving workers direct access to daylight and outdoor break areas. 
The Hennepin County Medical Examiner's office is a regional Center-of-Excellence serving Hennepin, Dakota, and Scott Counties and other referral-based counties encompassing over half of Minnesota and Wisconsin. With the expressed goals of creating one of the most advanced facilities of its kind, the design team included a wealth of specialized lab, training and storage spaces with an emphasis placed on safety, security, efficiency, flexibility and achieving National Association of Medical Examiners certification.  
The layout is divided into two functions – administrative and laboratory – each with its distinct personality. Office areas are warm and inviting, while the laboratory spaces use a clean, crisp aesthetic that facilitates sanitization. A unifying hub provides spaces for relaxation, personal connection, and access to the naturally calming outdoor environment. 
Eleven autopsy and two infectious autopsy stations are provided, in addition to storage coolers and freezers for over 130 decedents; specialized examination and analysis areas; tissue recovery; investigations; and spaces for advanced observation and training. Secured evidence storage, mass casualty response, sally port, secured parking and other building functions are included.   
The facility enables in-depth educational opportunities for traveling fellows and doctoral students within the industry and serves as a feeder for recruitment. Education spaces include training autopsy stations with 180-degree visual table observation and 96″ vertical monitors for photographic, low-dose x-ray and investigative digital imagery.  
"The Hennepin County Medical Examiner's Office sets a new standard in medical examiner facilities. With an abundance of daylight, attention paid to connecting the building to the site, innovative sustainable strategies, state-of-the-art engineering, and patented autopsy stations, this facility sets a national standard for high-performing medical examiner buildings," said Steven Andersen, AIA, NCARB, LEED AP BD+C, senior architect and national lab specialist with LEO A DALY.